Opensignal has just released its user benchmark studies for 5G. It shows 5G is here (Australia). The who, what, when, where and why is more important.
First, let's look at the Global experience. The top ten 5G counties have a woeful 11.2% availability (Brazil) to 29.8% in Kuwait. The rest of the time they are on 4G. But even though 5G is here, we don't even rate (Its 9.2% of Australian users can get it).
More telling its Opensignal's users 'reach' where 5G availability (from the phone telemetry) ranged from 3 (Switzerland) to 5.6 (South Korea) on a 10-point scale.
5G is here – how fast?
Australia does indeed rate in the top ten for the three people that can get 5G 😁. Well to be fair in December 2020 Opensignal found that only 9.2% of Australians could get a 5G signal sometime. That compares to 94.1% of its users that can get a 4G signal and the 100% that can get a 3G signal.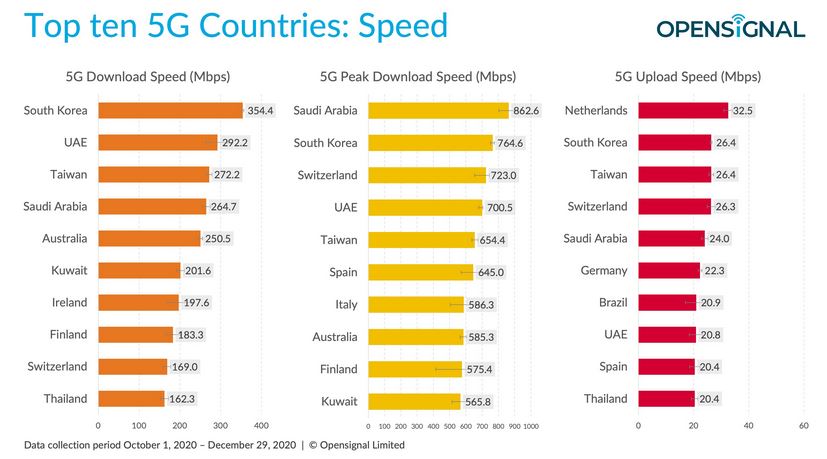 As for real speeds, the typical 5G download speed is 250.5Mbps – 9th globally. Some lucky users (the top 2%) experienced up to 585.3Mbps DL. Upload speeds are no more than 4G as we have sub-6Ghz Non-Standalone meaning it uses 4G infrastructure.
And the quality?
Opensignal uses a 100-point scale over covering video, games and voice. Australia scored 82, 85.5 and 83.9. A score of >85 is excellent, and we ranked 7th overall.
GadgetGuy's take – 5G is here
The biggest takeaway is that you can't believe Telco's speed, availability or experience claims. Opensignal has real user data.
For example, Optus has crowed that it got 362Mbps DL in Sydney and Melbourne with a top speed of 1431Mbps. Optus don't lie, but tests are optimised – the right location, right tower, dedicated backhaul, right phone, and probably sitting within a few metres of a dedicated transmitter dish with no other traffic.
This is akin to the hype we saw at 5G launch in May 2019 at Telstra George Street Sydney where we were told 5G would be up to 100X 4G and 20X NBN speeds. Sorry, that did not happen.
LG, Samsung and OPPO used the Telstra 'test rig' to show speeds. The OPPO Reno 5G topped 1944Mbps DL and 65.5Mbps UL. The Samsung Galaxy S10 5G was 1254Mbps and 63.5 upload. That rig was dedicated to 5G and journalists had to turn their phones off during testing.
And we have been chasing reliable and fast 5G ever since.