More than 700+ dodgy solar installers have gone broke or out of business since 2011 according to battery supplier LG Energy. This affects some 650,000 homeowners from over two million installs. No industry should have a 33% 'orphan rate'.
LG Energy took the bold step of publishing the list of 700+ dodgy solar installers here, but that is cold comfort for those who cannot get warranty on often very dodgy systems. In NSW alone the solar regulator has declared that some 20% of installations have severe faults, and 60% have serious deficiencies.
Recently news.com.au stated one of the big problems with the solar scheme is that despite guidelines and accreditation, dodgy panels are coming in from overseas disguised as approved products, leading to potential fires and electrocution risks. It estimates that 25% of systems have serious, potential life-threatening faults. Kind of reminds you of KRudd's pink batts insulation scheme all over again. How many have to die this time before the Government acts?
What are the main issues? Why are there 700+ dodgy solar installers avoiding obligations
According to Emberpulse MD Dom Gelonese (he does not sell solar instead an essential $500 Emberpulse energy monitoring and solar panel/battery health system) the dodgy installers face a perfect storm of issues. They sell cheap so-called 'tier one' panels (there is no such thing), low-cost inverters and have a lack of installation expertise. But they offer the bargain hunting Aussies a deal they find hard to refuse.
Then a tsunami of warranty claims starts coming in.
According to LG energy, there are two issues with warranty claims.
First, under stringent Australian Company Law (ACL) warranty rules the installer you buy from is liable to fix it. If they are not in business, at best you may be able to get some parts warranty if you can track it back to the manufacturer, but labour to fix it will be at your cost. In any case the pedigree of the parts may be suspect including directly imported low-efficiency panels and inverters, many sold to you as brand names.
Second, when a cheaper panel or an inverter fails inside the 'generous' [read unachievable] warranty period often it is not an isolated issue. Faced with replacing thousands of dodgy panels or inverters it is easier for those 700+ dodgy solar installers shut the doors. Or reopen as a phoenix company and move forward free of the warranty liabilities (although ASIC is attempting to stamp that practice out).
"Caveat Emptor" buyer beware says Gelonese. "I have been nagging the regulators about this for years, yet the pain persists. The rebate system is necessary to reduce grid load and help to achieve renewable energy targets, but the implementation sucks. It does not pass the pub test. Rather it focuses on producing statistics that support the politician's renewable energy targets".
Gelonese says the irony of the solar (STC) rebate system is that the installer collects the rebate upon installation and it cannot be clawed back when a system fails. "It still counts year-after-year towards Australia's renewable energy target, and it is ripping off millions of taxpayer dollars every year. It would pass the pub test to charge the full price of solar and pay the STC rebates to the owner over the system's expected life – the same end effect" he says.
According to the ABC 7.30 Report, Australia's obsession with cheap solar is derailing the market with shoddy systems lasting only a few years instead of the 'performance' warranty of 25 years.
It referred to Dr Michelle McCann runs one of the few laboratories in Australia that conducts commercial testing for solar panels.
One of the worst-performing panels tested produced 12% less electricity than its advertised rating. "[That] raises questions about what that panel's going to do after one year, or three or five years, let alone 25 years in the field,"
Dr McCann said some overseas manufacturers were sending poor-quality solar products to Australia, knowing they would not be caught.
"Unfortunately [panel makers] know that we are not really checking the quality of what is coming into Australia … and there are a lot of [installation] companies out there … some of them are cutting corners to make extra money."
Dodgy panel installations are causing roof fires
In Victoria, the acting commander of Fire Investigation and Analysis at Melbourne's Metropolitan Fire Brigade, Steve Attard, says, "We know of 25 fires in the Melbourne metropolitan area in the past five years that were started by problems with rooftop solar."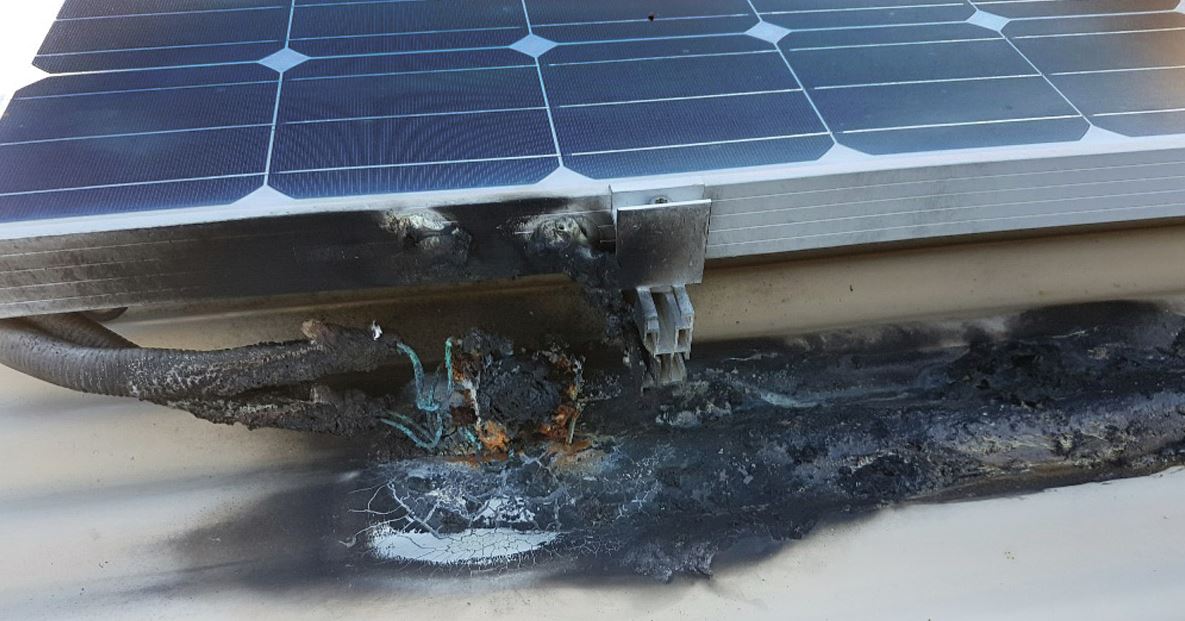 The regulator is not standing still
The Clean Energy Council (CEC), has the power to accredit rooftop solar products and installers. You can see accredited installers in your area here, but the list is fairly small – about 450 Australia wide.
Last year the CEC cancelled its accreditation of 12 installers and suspended the accreditation of 160 more. It also struck more than 5,500 models of solar panel from its list of approved products, along with 88 models of solar inverter. Shocking – to use a bad pun.
But according to CEC chief executive Kane Thornton, "I don't think it's up to the government to dictate exactly which product [or price] an Australian consumer might prefer." That is a very politically correct statement, but it means you cannot protect a bargain hunter from themselves.
But State rules hamstring the regulator
The ABC 7.30 report found that some parts of Australia have far more comprehensive checks than others.
Tasmania, ACT and Victoria: inspects every system.
Northern Territory: 295 rooftop solar systems in the past 12 months (a statistical sample methodology that is likely skewed towards convenience).
Queensland: installers with a history of substandard work receive audits.
New South Wales: a targeted compliance program for solar installations is under development.
South Australia: Almost 33% of homes now have rooftop solar, but it could not provide any information to 7.30.
South-west WA: State-owned Western Power is responsible for rooftop solar inspections, almost 10,000 checks in the past 18 months.
Rural and remote WA: Horizon Power failed to confirm whether it runs an inspections regime independently of the CER and failed to provide information to 7.30.
The Clean Energy Regulator (CER) that administers Australia's renewable energy target said it is required by law to inspect a statistically significant number of rooftop solar systems (about 5,500) over two years. That is a sick joke – a bit like asking the fox to mind the chickens!
And don't even start on batteries
Fortunately, only about 60,000 batteries have so-far been fitted to the two million solar panel installations by 950 CEC accredited installers. CEC says that there is no agreed Australian standard (there may be State standards, and it is working on an Australian one).
The National Audit Office found some of the risks of cheap or poorly installed batteries include electric shock, gas explosion, fire, and chemical exposure.
But more importantly, the payback argument used for solar panels is not so applicable to batteries.
According to Gelonese batteries vary in cost – the cheaper ones (with shorter life and recharge cycles) may cost $800 per kWh to the best at $2,000 per kWh. That 10kWh battery that ranges in price from $8,000 to $20,000 – can take up to 20 years to deliver a positive ROI. Catch 22 – the battery usually lasts up to 10-15 years – this is not cost-effective and no amount of sales person's hyperbole – OK bullshit – can disguise that.
 He also warns about the managed battery schemes where you pay a fixed price for power each month. "I know I am using strong words, but the last company you should sell your power to is the energy retailer or the battery maker that takes control of your battery. Those schemes are fraught with often impossible to meet conditions and hidden charges. For example,
"You agree to allow us and our service providers access and control of your battery, at our complete discretion and as we deem necessary."
GadgetGuy's take –700+ dodgy solar installers is a farce that needs fixing – fast
The more I investigate solar and battery power, the more I think it's a sick joke imposed on us by bureaucrats to meet theoretical renewable energy targets. And let's not get started on our artificially high energy prices either. The whole energy supply issue is a mess.
Now you have made it this far and are scared about solar you can read GadgetGuy's other articles about #Stop the energy rip-off.
The one that started our crusade – Ember pulse can stop the energy rip off
Why does our electricity cost so much?
The sad truth about energy price comparison websites
Now I have the data it is time to switch providers
A free LED replacement service for energy-hungry halogens