Ultrabooks aren't merely ultra thin laptops these days. No, they can be so much more, and Acer is out to prove just that, with the P3, a tablet that's classed like an Ultrabook thanks to similar innards and the addition of a keyboard case.
Features
Sporting an 11.6 inch IPS screen, the P3 looks like it should be a tablet, and yet thanks to some design and hardware choices, Acer has somehow made this machine into an Ultrabook, complete with the sticker that tells everyone this fact.
As such, you'll find an Intel Core i5 processor here, albeit one with the prior generation of Core processors from the third-generation, Ivy Bridge. Memory is set to 2GB in this model, with 120GB of storage inside and no microSD slot, as some other tablets support.
Connections are pretty standard here, with Bluetooth 4.0, WiFi 802.11 a/b/g/n, microHDMI, and a lone USB 3.0 port. Multimedia is catered for in the way we're used to seeing on tablets, with a 720p HD front-facing camera, and a 5 megapixel camera on the back.
All of this technology sits under the 11.6 inch touchscreen, which runs the HD resolution of 1366×768, and sits inside a frame made of aluminium.
The Aspire P3 also comes with a Bluetooth keyboard case which hugs the tablet and provides a keyboard with a vinyl protective covering. The case also blocks the rear camera.
Performance
Upon first glance, the design of Acer's P3 is familiar territory.
In some ways, we're reminded of the W7, one of the first Windows 8 models the company revealed to us last year, which took an 11.6 inch tablet with Full HD resolution, and threw in power that made it like an Ultrabook, except obviously not one. It was first and foremost a tablet, and even though you could find a similar keyboard case, it was a tablet with a keyboard case.
The P3 Ultrabook is different to the W7, because even though the first glance makes the two look similar – damn near identical, in fact – they are ever so slightly different.
They both run on a third generation Intel Core i5 processor, both feature solid state storage, and both rely on Windows 8 to get them through the course of the day.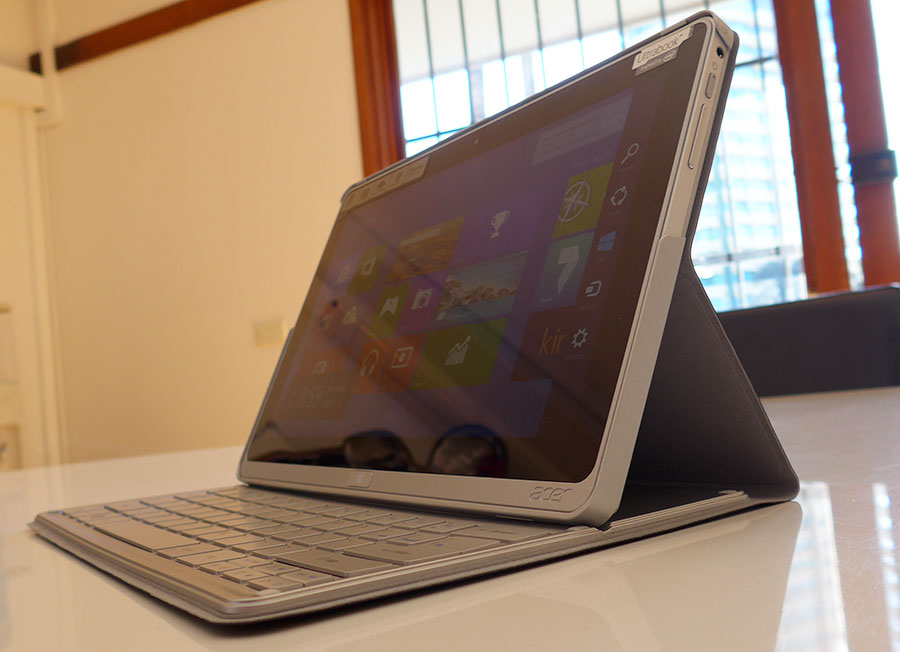 But there are differences, and quite noticeable ones if you know where to look. There's less memory in the P3, with 2GB against the W7's 4GB. The storage isn't quite 128GB here, with only a 120GB module used. Oh, and the 11.6 inch screen seems less impressive on the P3, with merely a HD-capable resolution of 1366×768, less than the Full HD offered.
These are pretty serious differences, and in some ways, it makes you feel like Acer has packed in a mid-range Ultrabook from 2012 into the body of a tablet.
When you start playing with the P3, that feeling is confirmed relatively quickly.
We'll start with the performance, and while it's acceptable, we're not hugely impressed here. Despite the decent Core i5 innards, the P3 does take its sweet time in choosing to run things.
Heavy applications – games, for instance – can take a full minute to run to their starting screen, not including the internal load time, and Notepad – yes, the basic writing tool that has come standard with Windows since, well, ever – managed around 20 seconds.
That's not a good time, and is likely something we can attribute to Acer's supplying of only 2GB memory to this system, which just doesn't seem enough for a machine matched with an Intel Core processor.
An Atom maybe, and Acer's W5 didn't seem to have any problems with both the 2GB and Intel's Atom system-on-a-chip working together, but here in the P3, it's just not the same.
It's a shame, too, as gestures on the touchscreen all work quickly, as does switching menus and using core Windows functionality.