Laptops aren't merely laptops anymore, and thanks to 360 degree hinges, computers can act more like tablets. Acer's R 14 embodies this philosophy, too, and even delivers a Full HD screen to a 14 inch form-factor.
Specs
It's a laptop. No wait, it's a media player. No wait again, it's a tablet! That's the general feeling you get when you hear about hybrid computers, with the two- or three-in-one philosophies brought to the computing arena, letting you have a laptop, an entertainment system, and a tablet all in the one device provided it has been designed with hybrid in mind.
Acer's latest take on that comes in the Aspire R 14, and this machine is spec'd out in much the way you might expect a modern computer to be, with Intel's latest chip generation featuring here in a Core i5 clocked at 2.3GHz and paired with 8GB RAM.
Storage on the Aspire R 14 is set to 256GB, though 128GB storage can also be found, meaning this computer relies on solid-state storage.
This is paired with Microsoft's Windows 10, and while you don't need one to make Windows 10 work, there is a touchscreen here, with a 14 inch Full HD (1920×1080) offered.
Connection wise, you'll find a fair amount of ports, with four USB ports in total, two of which are USB 3.0, one which is USB 2.0, and another that delivers USB 3.1 in the Type C port configuration, handy if you happen to have a new phone or other peripheral supporting the the Type C standard.
A single HDMI port can also be found here, as can an SD card slot and a 3.5mm headset slot, but that's it for wired connections.

Wireless offerings are fairly standard for a new computer, and you'll find support for WiFi over 802.11ac here, backwards compatible with 802.11a/b/g/n, while Bluetooth is also found on this model.
Everything else is probably what you'd expect a modern laptop to offer, with a keyboard, multi-touch gesture-friendly trackpad, and speakers, though this laptop does arrive with a 360 degree hinge that has been strengthened for the times when you want to have the Aspire R 14 work in tent or display mode.
Design
Let's get stuck into the computer, and design seems as good a place as any, so we'll go there.
In this computer, Acer is bringing a little more than just plastic to the table, which is predominantly what we're used to, so it's nice to see something else.
Granted, there's still plastic on the bottom, and a reasonable amount at that, with a rubberised bottom taking up the bulk of the R 14's chassis, but at least it is complimented by a little metal.
Along the inside and on the outside of the screen, Acer has provided a bit of brushed black aluminium, both of which help the Aspire R 14 feel a little more premium, even if that plastic undercarriage lets that feeling down.
The light use of metal on the inside also serves another purpose, and that is cool palms, because as you type, you won't feel your wrists or hands get too warm on the surface.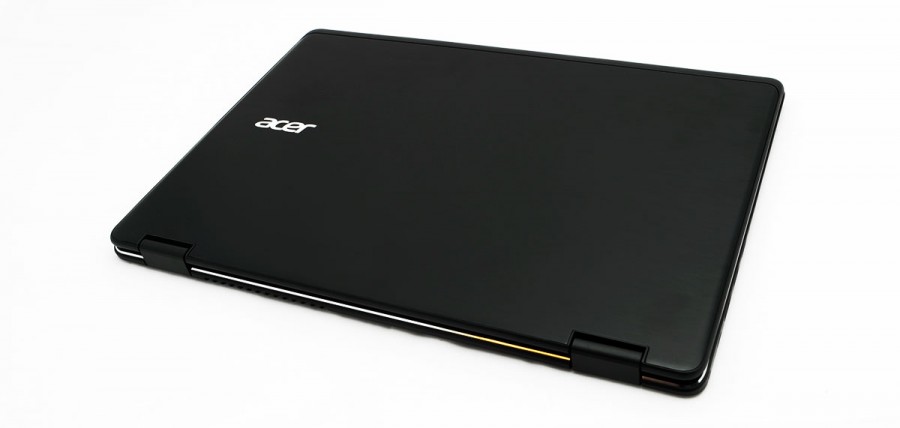 Design-wise, though, the Aspire R 14 is otherwise generic, but at least it looks pleasing to the eye. The lid can be a bit of a fingerprint nightmare, mind you, but a cloth should clean that right up.
Beyond the aesthetics, though, the hinge makes up the other part of the design, and that is actually quite useful.
Like so many computers today, Acer's Aspire R 14 works as a hybrid, complete with a 360 degree hinge that allows the screen to collapse flat and fold up against the back of the keyboard. The hinge has been tightened with a dual-torque design, and that should make the screen less likely to topple when you're pushing the Acer R 14 into its various modes over time.
Performance
Most of the time, though, you'll probably just end up using the computer in the traditional 90 degree perpendicular way, because even though you could turn the Aspire R 14 into a tablet, we're not sure why you'd want to with something that weighs nearly two kilograms (1.9kg to be precise).
So a regular laptop it is, and as you can probably imagine, this is about as easy to use as every other laptop you've seen, opening the machine up and switching it on using the power button on the right side. If the volume isn't right, there's even a volume rocker on that right edge, a button no doubt made for that massive tablet when the machine has collapsed.
Powering it on doesn't take long, and that's something you can thank the sixth-generation Intel Core i5 for, as well as the generous 8GB of RAM.
Windows 10 is ready out of the box, and while there's a degree of bloatware on the computer — some travel website shortcuts, Acer drivers and software, and a copy of McAfee Internet Security — it is pretty much ready to go.
And go it does, with neither Windows nor Acer's drivers really getting in the way, providing an experience that puts the R 14 in line with other mid-range computers.
After using the Aspire R 14 for some time on our lap, we did notice it occasionally getting warm, but it was nothing too serious to worry about, and your legs are in no danger. We've felt warmer computers elsewhere, that's for sure.
It does need to be said that this isn't a high end machine, and since the previous generation, Acer has even removed the discrete graphics, switching from an Nvidia graphics chip to an Intel one.
That being said, the allowance of 256GB storage makes the Acer Aspire R 14 still quite usable, even if you'll just be using it for office and productivity work.