I'm not a Mac, and I'm not a PC, but I can certainly work with both, and I'm less expensive than either. Hello, I'm a Chromebook.
It's the sort of advertisement you can imagine existing, and Google's Chromebook certainly needs something to explain what it is, because it's like no other computer out there, sitting in between any ecosystem, and allowing a sort of middle ground notebook computer to anyone who uses a Google service at home on their regular computer.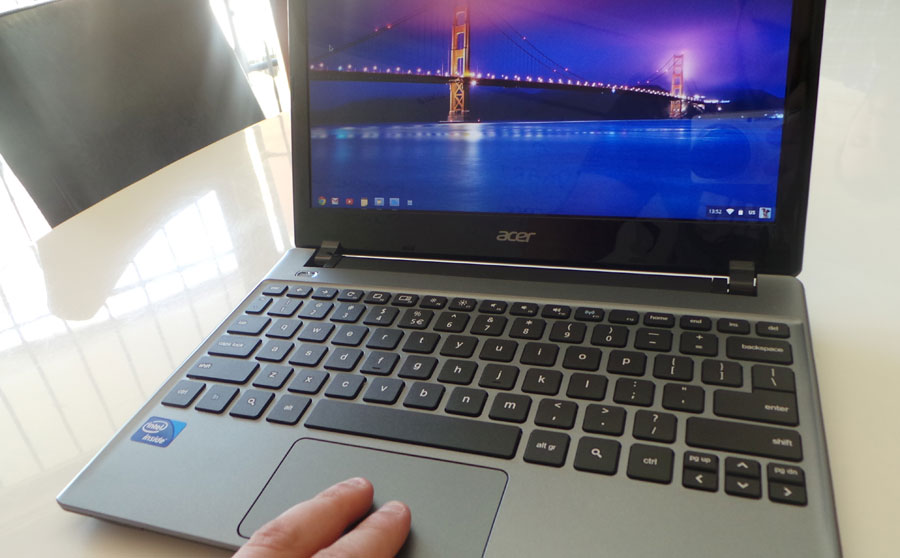 Features
Built from a similar design as previous Acer netbooks, the C7 Chromebook is an 11.6 inch laptop that carries a decent set of specs and an operating system unlike any you've ever seen, but we'll get to that later.
First up is the screen, and this goes beyond what most netbooks we've seen have had. Here, Acer has equipped the C7 Chromebook with a glossy 11.6 inch screen backlit with LEDs and running the HD capable 1366×768 resolution.
Then there's the hardware, which in this laptop includes an Intel Celeron 1.1GHz processor, 2GB RAM, a 320GB hard drive, and your regular bunch of connections, including 802.11 a/b/g/n WiFi, Ethernet wired networking, three USB 3.0 ports, VGA, HDMI, SD card slot, and headset jack.
A webcam and microphone are both built into the frame surrounding the screen too, so if you decide to use Google Hangouts for a video chat, this machine can serve that purpose too.
An online storage amount is added to your Google account too, with the Chromebook offering you 100GB free storage for two years on the service, over that of the 5GB limit you normally receive.
The battery is replaceable and the power pack is very small.
Google Chrome browser… as an operating system?!
The Chromebook is a bit of a new concept, so before we tackle whether or not this particular model is good or not, we should probably talk about what it is.
Instead of relying on a known operating system such as Windows or Mac OS, the Chromebook takes advantage of an operating system based on Google's own web browser, Chrome.
It's a custom operating system, and one that works similarly to the browser, with an emphasis on minimalism and tabs, and lacks the ability to install any apps you might already own for Windows, Mac, iOS, or even Android.
Rather, this computer installs "apps" made specifically for the Chrome browser, of which there are quite a few, and includes things such as music managers, video clients, games, and a whole lot more.
Because of its reliance on Google, you'd think that you would need to always be connected to use the Chromebook, but there's more to it than that, as you can actually do things offline and then have everything synchronise when you're in range of an internet connection at a later time.