Acer's second attempt at a Chromebook has a new processor, better keyboard, and a slightly slimmer build. Does Acer perfect the Chrome idea this time around, or will the third time be the charm?
Features
The next version of the Acer Chromebook isn't just a refresh with a new chip, as the company could have made it. No, there's a new keyboard to check out on top of the changes Acer has made for this incarnation.
First up is the screen which stays the same in this laptop from the previous model, the C710. That means you'll get the same 11.6 inch LCD running the high definition resolution of 1366×768.
Like most laptops, this is connected by hinges to the main body of the Chromebook, which on this computer features an Intel Celeron 2955U processor based on the technology used in Intel's fourth-generation Core processing technology. Not everything is here, and you don't get the same speed or graphics power, but with Google's Chrome OS operating here, you probably won't need it anyway.
Working alongside this is 2GB RAM and 16GB solid-state storage, with a version of Intel's HD graphics with 128MB RAM making up the video and 3D accelerator side of things.
Connections are all pretty standard fare here, with 802.11 a/b/g/n wireless networking as well as Bluetooth 4.0, while wired connections are mostly ports for you to plug stuff in, with the inclusion of a USB 2.0, USB 3.0, SD card slot, HDMI port, and a 3.5mm headset jack.
As part of the package that is Google's Chrome OS, all purchases of the Acer C720 will come with 100GB of Google Drive cloud storage for two years.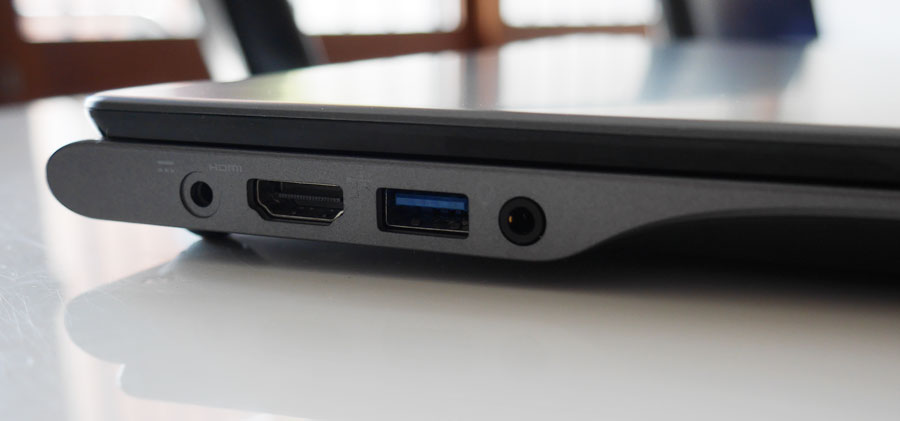 Performance
Acer has been making Chromebooks for about as long as any other major, possibly longer, and it was actually the first we had ever seen and reviewed.
That model was the C710, though, a $299 machine from early-2013 that offered up an Intel Celeron with a 320GB hard drive and an operating system that couldn't really make use of the technology.
Fast forward several months, though, and Acer has taken the Chromebook back to the drawing board, reworking the specifications considerably and building a machine that takes advantage of the cloud, lets you move files to and from it, and should even offer some decent battery life.
Acer won't exactly win any awards for the design, but at least there have been some changes from the first model we checked out last year.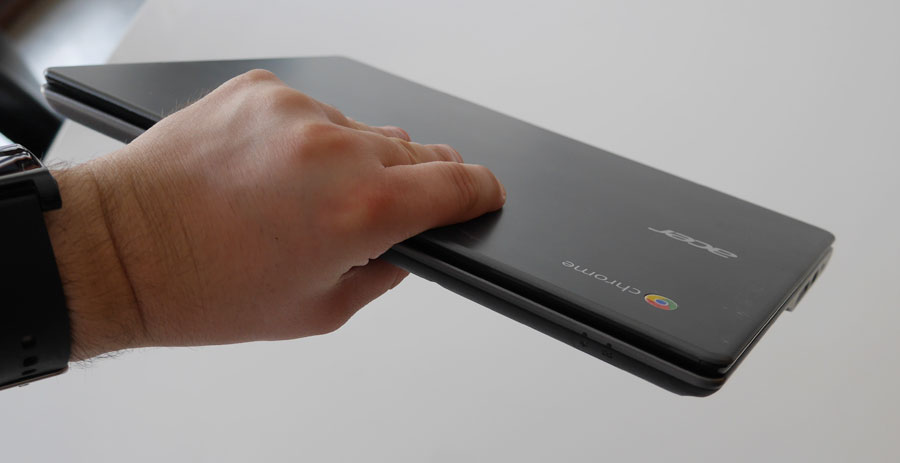 For starters, the computer is slimmer, with less of the bulky ports found in the previous model included in the design here. That means there's no wired network port or VGA monitor port, both of these taking a backseat to wireless networking only and the HDMI port, which has been left over from the last generation.
With less big ports, the machine has been put on a small diet, losing a millimetre in the build, but also having some of its design changed with more shaping at the front. This goes a long way to making you feeling like the C720 has been built to be a Chromebook, rather than just old netbook stock modified for Google's portable operating system.
But as we said before, it won't really win design awards, with a very plastic look across the board.
There's a faux metal lid made of plastic and coloured gunmetal grey, more of that same look inside, with black island keys on the keyboard, and a black textured plastic on the bottom. A glossy black frame surrounds the matt screen, and that's pretty much it.
It's easy on the eyes, that's for sure, but sit it next to Acer's other computers, like the R7 or S7, and it looks just like a netbook once again.
Open it up, though, and you'll quickly see some of that Haswell-based performance show through.
That's what Acer has used inside the C720, with technology similar to the fourth-generation Core processors used here, aimed at not only improving system performance, but also that of the battery life in general.