There's more to computers than just Windows or Mac, and Acer is looking beyond both of those (or the only one of those it's allowed to use) as the company embraces Google's Chrome in two laptops and one small desktop box.
If most of what you do is online and you can live without lots of applications, it might be time to take a gander at Chrome, Google's operating system based on its Chrome web browser, letting you surf the web, write documents, play music, watch videos, and do that social networking thing without needing to install a huge amount of apps on a computer made specifically for this purpose and an operating system that is a web browser.
We've played with a few of these Chrome systems in the past, and Acer is now getting really stuck into the platform with three computers, catering to price points as low as $329 and as high as $399, keeping a new computer to a relatively low price point.
"Acer's industry-leading range of affordable Chromebook devices is designed for the growing number of customers who enjoy the Google ecosystem for school, work and entertainment," said Katherine Nguyen, Head of Marketing at Acer Australia and New Zealand.
The computers start with the Chromebook 11, which offer two versions depending on how slim a computer you want.
There's the CB3-111 which is meant to be slim at 18.65mm closed and carries a weight of 1.1 kilograms, while its bigger C730 brother carries a structural design meant for students since it can withstand a larger drop than the slimline model and packs in a spill-resistant keyboard and touchpad with a drainage channel while keeping the weight to 1.4 kilograms.
Both models rely on an Intel Celeron to get its work done, working with either a 16 or 32GB drive, SD card reader for external storage, a battery supporting around 8.5 hours, and an increased wireless capacity due to 802.11ac technology.
Bluetooth 4.0 is also included as is USB 3.0, while the 11.6 inch screen runs the older 1366×768 screen resolution and uses what Acer calls a "ComfyView" LCD which we hope means expanded viewing angles.
If 11 inches is too low, Acer will have a 13 inch paired with the Nvidia Tegra K1 chip, making it an interesting choice for the slight amount of web-based gaming and graphics you can do, as well as keeping battery usage down.
Like the 11 inch Chromebooks, the upgrades here extend to wireless and USB, and 802.11ac supported as well as USB 3.0, and even a HDMI port.
The battery looks particularly interesting here, supporting as much as 13 hours of life, and providing a resolution of either Full HD 1920×1080 or HD 1366×768.
Finally, there's a small computer that can be disguised nicely, left at the back of a computer or made for desktops that don't want something big sitting on them.
This is the CXI, a machine meant for businesses, schools, or even homes that don't need a lot of power and would prefer a thin client running Google's Chrome OS to work for them.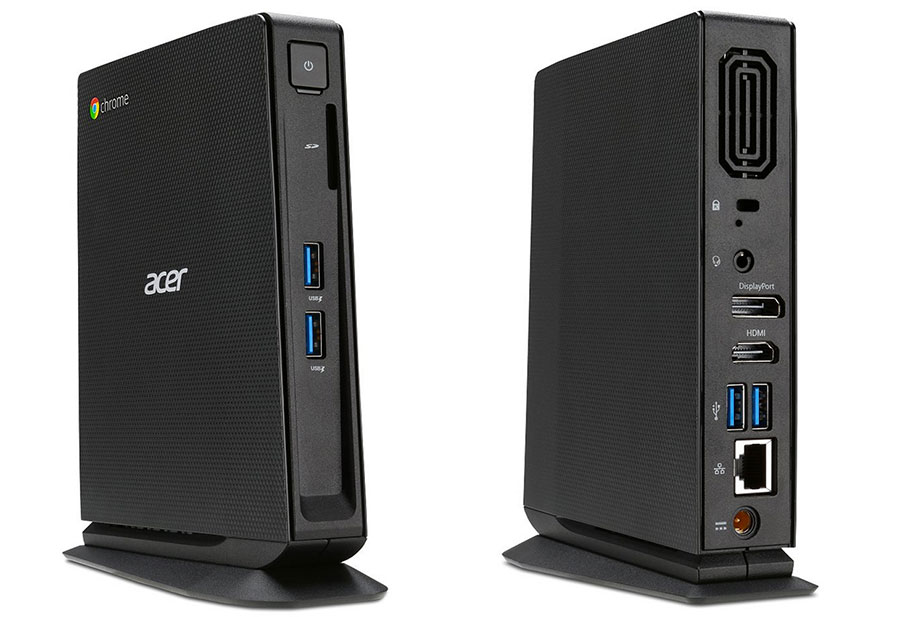 This machine will bring much the same technology as the Chromebook 11 to a small box, including a 16GB solid state drive, Intel Celeron, SD card reader, and support for USB 3.0 and Bluetooth 4.0 to a small box. There's no 802.11ac in this computer, sadly, though Acer has provided Gigabit ethernet, as well as connections for monitors using either HDMI or DisplayPort, as well as a VESA mount kit and Google approved keyboard and mouse made to work better for the operating system.
"Because Chrome devices are simple to use, they are ideal for sharing by multiple users, such as families, schools or at different shifts at a business," said Daniel Goffredo, Head of Commercial Products at Acer Australia and New Zealand.
"Users can log into their own account to access Gmail, Docs, website bookmarks and other information. Storage on Google Drive 4 protects files, documents and photos safely in the cloud, and ensures that the most current version of the file or document is always available and safe, even if the Chrome device is lost or stolen."
Pricing for the new computers starts at $329 for the Chromebook 11 in slimline (CB3-111), while the more durable model (C730) is priced at $399. The Chromebook 13 starts at $379 and the CXI at $359, with all of the models available from select retailers and computer stores now.