We're all for experimentation when it comes to companies making laptops, and with touchscreens part of the design, computer companies can go all out. That's essentially what Acer did with its Ezel frame in the R series, but for a new model, the company is apparently taking a more restrained look, focusing instead on a one-handed approach to making your laptop work for you.
And by one-handed, we mean it, as Acer's latest machine, the Aspire R14 Playbook has bee made with a heavier hinge with different torque depending on how you push on the lid.
From the first glance, the Acer R14 looks just a regular laptop. Clamshell design, keyboard, screen, that sort of thing, and for the most part, that's what exactly is: a regular laptop, bringing a 14 inch HD screen (1366×768), running Intel's Core i7 fifth-generation 5500U processor, Nvidia's GeForce 820M graphics chip with 2GB memory, a 1TB hard drive, and what we can only assume is 8GB RAM given the specs, with Windows 8.1 on-board.
Typical laptop, and there's a touchscreen here as well, making it a hybrid laptop-tablet machine, like so many these days.
Where it gets a little different, however, is that the hinge has been looked at for what Acer describes as having "dual-torque" for one handed opening conversion and yet still being wobble free.
This essentially means it should be easy to open the computer up with one hand, something laptops can struggle to provide, while the second level of torque should provide firm support to keep the screen stable when you prod and poke it.
Being a convertible style of machine, this is wanted because you have four specific modes you can set the computer up in, with conventional notebook mode (clamshell), display mode (keyboard on the bottom with the screen aimed at you), tent mode (laptop standing on its edges as if resembling an "A" or a tent on a desk), and pad (flat like a tablet).
"Pick up the versatile Aspire R 14 and you'll see the world in a new way," said Katherine Nguyen, Head of Marketing at Acer in Australia.
"From checking a recipe at the kitchen bench, watching a movie, reading before bed, or sharing content and collaborating in small group discussions, its four modes are designed to flow with you both at home and at work."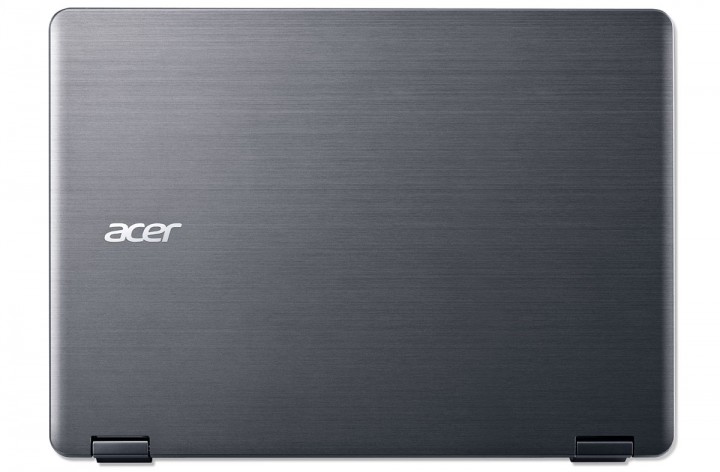 We'll be curious about this one when we see it, mostly because Acer's "R" series tends to focus on design angles that few companies are thinking about, and a reinforced dual-torque hinge is certainly an example of this.
Previous R series laptops from Acer have instead focused on different styles of screen hinges, making the machines closer to all-in-one desktops that you could take with you on the go, with the R often representing Acer's experimental side.
That said, the 2.2 kilogram weight and high definition only screen are a slight concern, partially because over two kilograms is too big for a tablet, and the display should be a higher resolution than 1366×768.
Still, if the concept interests you, and you can't wait for our thoughts on the Aspire R14 Playbook, you'll find it online and in JB HiFi now for a recommended retail price of $1499.