Keen to get more people playing Aussie Rules footy, a major update to the Footy Skills Lab web app will make the sport accessible to more people, including people with wheelchairs.
A collaboration between Google and the Australian Football League (AFL), Footy Skills Lab launched last year as a free web app designed to teach football fundamentals. Using your phone's camera and artificial intelligence, the app gives performance feedback across a range of drills. Video clips from players like AFLW 2020 Best and Fairest winner Maddy Prespakis and Melbourne forward Tayla Harris demonstrate expert technique before each session. One of the reasons behind the Footy Skills Lab was to provide a training method for community athletes during the pandemic.
The big Footy Skills Lab updates
Several new features headline the recent Footy Skills Lab update, many aimed at making it easier for people with accessibility needs to learn the sport. Upon launching the web app, you can now toggle settings like captions, video playback speed, and AFL Wheelchair mode. It's also easier to know when activities start and finish, thanks to new coloured visual cues and audio prompts to assist people who are deaf or hard of hearing. So you don't have to go through all the settings every time, accessibility features are saved to your device.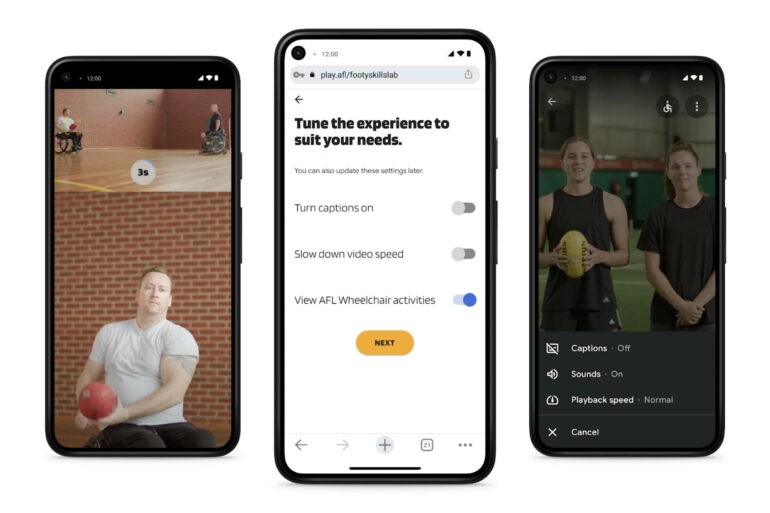 There are also new video coaches as part of the Footy Skills Lab update. Victorian Wheelchair Football League Captains Louis Roe and Chris Henderson host the AFL Wheelchair sessions, during which the app lets you know when you need space and a flat surface to complete an activity.
For the budding umpires, AFL umpire Nathan Williamson is another new coach available to choose from. He guides you through the technique behind bouncing the ball when restarting play – a tough skill to master.
It's a fantastic initiative from Google and the AFL's Disability Inclusion team that hopefully inspires other sporting codes to provide similarly accessible resources. Everyone should have the opportunity to play sport, so it's heartening to see more inclusive programs established.