Keen for a cup of coffee but don't want to pay too much? Aldi's Expressi machine may cater, and it'll even fit into the tightest of spots.
What is it?
Encapsulated coffee machines aren't anything new, but it's pretty clear they are taking off like wildfire.
Everyone has them: from the originals at Nestle (Nespresso) and Lavazza, with the latter of these even building something for the International Space Station so the people floating through a science-based home-away-from-home can have a nice cup of espresso whenever they want to.
It's not just the main two, either, with Nestle having a smaller "Nescafe" option for blended beverages sold at supermarkets, something Woolworths was keen to get in on with its own version of the Caffitaly MAP pods which are also used by Starbucks and Gloria Jeans.
There's even a type of pod called the "ESE" pod which more resembles an enclosed coffee filter (because it basically is) and allows people with proper coffee machines and removable group heads to make coffee using a style of coffee pod.
Indeed, encapsulated coffee — ahem, the coffee pod — is taking over.
Aldi is there, too, and has been since it saw the chance to disrupt the space occupied by Nespresso with its own cut-price concept a few years ago.
We first heard of these hitting the Aussie Aldi shops a few years ago, after Aldi had been testing its K-Fee capsule system for some time overseas.
Throughout the past few years, Aldi has apparently finessed the product, and the result for 2016 is a new model designed to be smaller, slimmer, hotter, and with a coffee you'd want to drink.
Aside for those qualities, Aldi's Expressi is also designed to be inexpensive, and since it carries a price of roughly $80, it's easy to see Aldi hitting that. Comparatively, Nespresso machines sell for at least $100, while Lavazza models tend to go for a little under that at a minimum.
This specifically budget pricing keeps Aldi's Expressi at a good entry level price for people keen to see what the fuss is about, so really, what's the fuss about?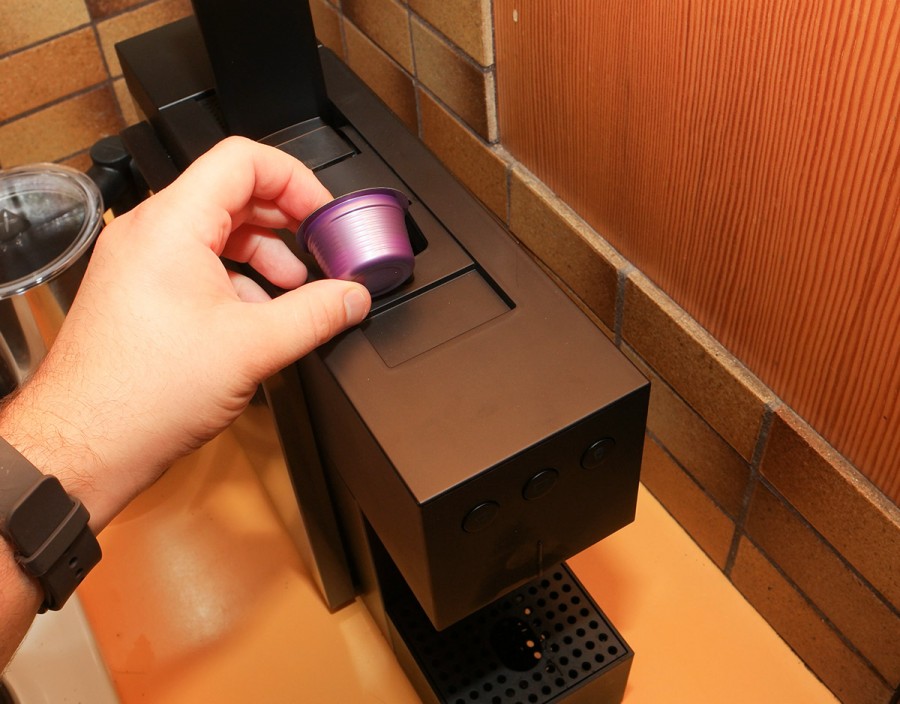 Performance
Take the Aldi Expressi 2015 model out of the box and you'll see what is easily one of the smaller coffee pod converters we've ever seen, with a svelte and pretty boxy little machine, though one that is definitely easy to look at and will fit into small locations.
Inside this machine, Aldi has provided a 19-bar pump and claims to have a 20 second warm up time. Pods are loaded into the machine one by one using the K-Fee variety of pods, while the water tank out the back holds just under a litre at 0.8L.
No milk frother is included by default with the Expressi 2015, though Aldi does make one available for $27.99 extra as a separate unit to be run along the side. This means if you want frothed milk, you'll need to use two power plugs, one for each appliance.
For now, let's just focus on the Aldi Expressi, because unless you only want textured milk, this is the appliance to take care of your needs: coffee.
We all want it (most of us, anyway), and Aldi's Expressi pods are designed to offer it when used with water, serving up up to 12 varieties of coffee, and two more options if you want milk based beverages (chocolate or chai).
Aldi's pods — like the machine — endeavour to be inexpensive, with a 16 pack of pods fetching $5.99, which Aldi says makes each cup of coffee translate to about 37 cents each.
That's a pretty hard price to argue with, so is the coffee any good?
It's not bad, that much we will say.
Granted, coffee blends tend to be an acquired taste, and we certainly found all four of the blends Aldi let us try — Reggio, Valleta, Calabrese, and Decaffi — relatively bitter in comparison to other blends used on other systems, though that's our preference.
In fact, it's likely these espresso varieties would pair better with milk, textured or otherwise, softening the strength each had instead of forcing themselves on your palette.
The crema certainly surprised us, with a relatively thick and certainly noticeable milky top that managed to look more pronounced than other pod systems, Nespresso's included.
The result was also hot, which is the way you want it, and given that the operation is as easy as you'd expect it to be — simply pop the pod in, close down the handle, and press the button to warm up the machine or (if it's already warm) to start the flow — there's no doubt that Aldi's Expressi is a good system for someone who likes coffee and doesn't want something complicated or pricey.
We did find a few issues with the Aldi Expressi, one of which being that it really does prefer small cups, and we're talking small.
Espresso glasses will be fine, as will glasses made for long runs of espresso and small mugs, but standard-sized mugs will pose a problem and won't fit. Tall cups aren't even worth trying.
To make the larger mugs and tall glasses fit, you'll need to remove that drip tray which clicks off quite easily and can be left to the side.
You may also find the buttons a little confusing, or just one of them. The first two are pretty obvious — short and long — while the third is for a milk cycle.
There's only one problem: the milk frother has nothing to do with the milk cycle button.
Instead, this button serves as a cleaning cycle, but we're a little unsure as to why the milk cycle button is even labelled as such.
It's minor, sure, but shouldn't it be an icon for cleaning if that's what the machine is going to do? Maybe it's just us that thinks this way.
Our one other concern happens on the inside of the machine, and it's something we saw, though we're not sure if any concern should be raised. Still, we're mentioning it in case it needs to be, because that's what we do.
Simply put, there is excess water dripping into the spent capsule holder, and we're not really sure as to why.
You'll see it if you look hard enough as the coffee finishes pouring into your glass, and this tends to accumulate in the spent capsule tray. It's not a terrible thing, mind you, and certainly not a deal breaker, but definitely worth pointing out why it's worth cleaning this section out on a semi-regular basis.
Conclusion
It's hard to imagine why someone would go out of their way to buy a mediocre coffee machine these days, especially when espresso makers are now down to sub-$100 price points and not bad for what you get.
Case in point, Aldi's 2015 series Expressi unit is tremendous value, offering a sleek yet boxy design that can fit into a slim spot on your kitchen counter with decent coffee that is very, very hot.
We're not sure everyone will take to the Aldi coffee, mind you, but it's not bad, and if you fancy a Nespresso-style unit but don't care for the $200-300 price, Aldi's Expressi is worth a look, especially if you're already a frequent Aldi customer, since you won't have to go out of your way to find coffee varieties.
Recommended.
Really hot coffee with great crema; Surprisingly well designed and quite modern; Quick to start up; Inexpensive;
Very plasticky; Milk button doesn't release milk, and is used to clean the machine; Large mugs won't easily fit in, with the drip tray needing to be removed (temporarily, though);