Amazon has announced that Alexa, the brain that powers the Echo family of devices, is coming to Australia, along with three Alexa-enabled devices: Amazon Echo, Echo Dot, and Echo Plus.
Alexa is the brain behind Echo—since it runs in the cloud, Alexa is always getting smarter. Just ask, and Alexa will answer questions, play music, read the news, control lights, read eBooks, and much more.
What that means is that the Alexa cloud will start to understand Australian accents and more importantly know when a port means a suitcase instead of a liqueur. It also will start to learn about location and Australian habits, in general, to be able to respond more accurately.
"Tens of millions of customers are already using Alexa, and we're excited to bring her to Australia with a localised experience designed for our Australian customers," said Dave Limp, Senior Vice President, Amazon Devices & Services. "The combination of Alexa and Echo provides customers with hands-free access to music, weather, news, information, and more—just ask."
Customers may pre-order devices at www.amazon.com.au/echo, www.amazon.com.au/echodot, and www.amazon.com.au/echoplus and devices will begin shipping in early February.
Echo, Echo Dot, and Echo Plus are voice-controlled speakers designed entirely around your voice—they are always ready, hands-free, and fast.
Echo—The Hands-Free, Always Ready Speaker for just A$149
A hands-free, voice-controlled speaker, uses on-device software to detect the wake word, "Alexa."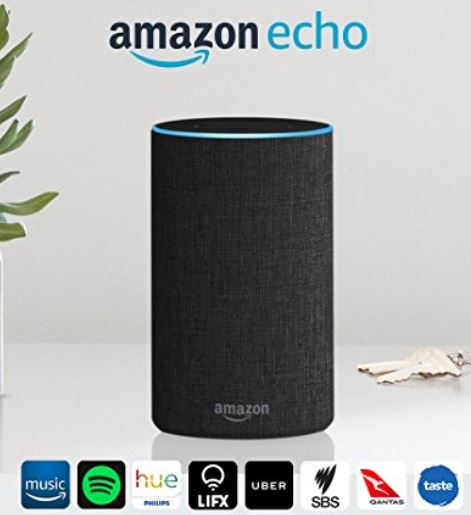 It has a seven microphone array that use beam-forming technology and noise cancellation so it can hear you from across the room.
As a Bluetooth speaker, Amazon Echo has been fine-tuned to deliver crisp vocals with dynamic bass response. Its 2.5" down-firing woofer, dedicated tweeter, Dolby processing, and 360° omnidirectional audio deliver crisp vocals and dynamic bass throughout the room. Echo can stream music directly from popular music services such as Amazon Music Unlimited, Spotify, iHeartRadio, and TuneIn.
Echo Dot—Add Alexa to Any Room for Only A$79
Echo Dot is a hands-free, voice-controlled device that is powered by Alexa with a sleek and compact design, comes in either black or white, and is designed to be placed in every room. Use the built-in speaker to talk with Alexa and listen to music, or directly connect speakers you already own through Bluetooth or a 3.5mm stereo cable.
Echo Plus—Set Up Your Smart Home in Minutes for A$229
Echo Plus includes all the features of Echo, including room-filling sound powered by Dolby and a far-field microphone array, and adds a built-in smart home hub.
With the built-in smart home hub and available in black, Echo Plus makes connecting to compatible smart home devices easy. Just say "Alexa, discover my devices," and Echo Plus will automatically discover and set up compatible lights, smart plugs, and switches without the need for additional hubs or apps. This simple set-up works initially with ZigBee-supported products from Philips Hue.
Third Party Skills
Developers can use the Alexa Skills Kit (ASK) to build skills. With over 10,000 skills available in Australia, including skills developed by local brands, you can get surf reports from Coastalwatch, prepare dinner with the help of recipes from Taste.com.au, check travel details and get loyalty program updates from Qantas, or check your account balance with Westpac or NAB, and more.
In fact, the email has been working overtime since the announcement – here are a few early adopters
Airtasker has announced Australians can now post tasks. Airtasker community members just need to link their account to the Alexa skill via the Alexa Skill Store and then say "Alexa, Open Airtasker". From there, users can simply ask Alexa to post a cleaning or gardening task by saying something like "Alexa, ask Airtasker to find me a cleaner".
Amaysim will use Alexa to help enrich customer experience and simplify account management. Customers will be able to use Alexa to 'find their mobile phones' by triggering a call. They can do a mobile balance check and data top-up.
Dominos registered customers can order their favourite pizza. Customers can check the status of their orders as well.
National Australia Bank (NAB) customers can now perform tasks such as requesting their account balance or getting details on their latest deposits, simply by asking their Amazon Alexa-enabled device. "Alexa, ask NAB how much do I owe on my credit card?"
Westpac Live customers will be able to access their most popular banking requirements – account balance, recent spending history, and reward points status – simply by using their voice. "Alexa, ask Westpac how much money …
GadgetGuy's Take
Its great to see Amazon bring Alexa cloud to Australia. While we speak the Queen's English, we have evolved a dialect and slang that it needs to learn. It learns by example – if you ask where the nearest watering hole is it will soon learn that that is slang for hotel.
At the recent CES, voice control was everywhere. Alexa is by Amazon, but it faces still competition from Google Home and to a lesser degree Cortana in Windows 10, Apple Siri in iOS, and Bixby in Samsung Smart Products.
All rely on the internet to connect to their voice cloud, and it's the quality of the cloud and how much learned intelligence it has that makes the difference.
Amazon was first to market but tends to rely on approved third party links to provide service. Google has the power of its search engine behind it and can handle more obscure requests, but it is advertising driven. It will be an interesting struggle for dominance. Frankly, I see a merging in the future.
Business Insider has one of the best overviews on Google and Alexa here.