PC gamers that don't mind sitting at their desks generally have three options when it comes to buying a computer these days: gaming laptop, build your own rig, or buy something built by the experts. In that last category, Alienware is pushing a new breed of rig, and boy, is it interesting.
Features
The desktop may be dying, but there's still a place for the taller computers, and if you need power, nothing beats a full-sized rig.
Gamers know this better than anyone, and those who don't need to take their rig anywhere will have a big computer built to handle the games that are made for these systems. The computers are often packed with storage, memory, and feature large graphic cards to render their games in the best resolutions possible.
Sometimes they even have lighting and water cooling and all sorts of bits and bobs to make them stand out, which you might not think would matter at home, and you're right, but the moment you want to take them out to a LAN party and play games against your friends, well, that's where it starts to become a thing.
So PC gamers have different needs, and often have different styles of computers to the rest of us, with the desktop still existing for their needs, as well as schools, libraries, offices, production houses, and all sorts of places that would prefer a machine that isn't going anywhere and can take larger than normal components for heavy processor lifting.
Alienware is a company that knows a thing or two about what gamers want, and pretty much exists to cater for that category, with gaming equipment made to perform and still made to look good.
Better, it's also usually tweakable by the person purchasing the system, with an inside you can easily get at provided you can work your way around an open case, hard drives, video card, cables, and a motherboard.
For its latest desktop, the Area 51, Alienware hasn't taken a typical stab at building a tower, throwing out the old design and coming up with something new.
Gone is the tall rectangular block, replaced by a triangular shape and a different style of design, with hard drives installed on the ride side of the case just behind the removable right side, while the left side lets you open the computer to reveal the insides just like a normal computer.
Everything in here appears to be user maintainable, and you'll find all manner of components available to be installed here from the get go, with the only thing being constant appearing to be the motherboard.
From a processor point of view, you'll find fourth-generation Intel Core i7 processors ("Haswell"), all Core i7 variants, starting with the six-core 5820K processor, and ranging up to the eight-core 5960X processor.
Memory on these computers starts with 8GB RAM, but can be configured to include either 16 or 32GB, and Windows 8.1 arrives with the computer out of the box, the very, very big box.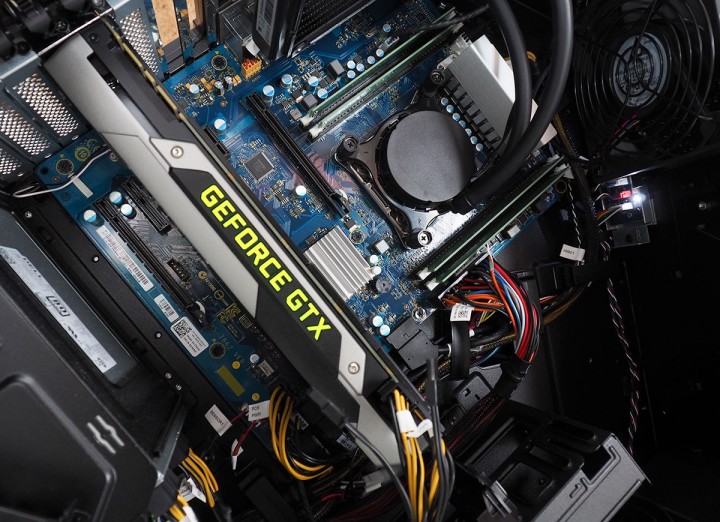 Hard drives are particularly varied, with choices of conventional hard drives and solid state drives, namely with 2 and 4TB in the regular moving part types and choices of 128, 256, and 512GB for the solid-state variety, and more room to move if you decide to open it up and throw some in yourself.
The video card is also quite varied in what you can choose, with options from both AMD (ATI) and Nvidia offered when you customise the computer, including the AMD Radeon R9 270 with 2GB graphics RAM being the standard card, and offering either an Nvidia GeForce GTX970 with 4GB, Nvidia GeForce GTX 980 with 4GB, two of either of those (dual GTX 970 or dual GTX 980), or a big whopper of a card, the Nvidia Geforce GTX Titan Z with 12GB graphics, a card that features two graphics processors on-board.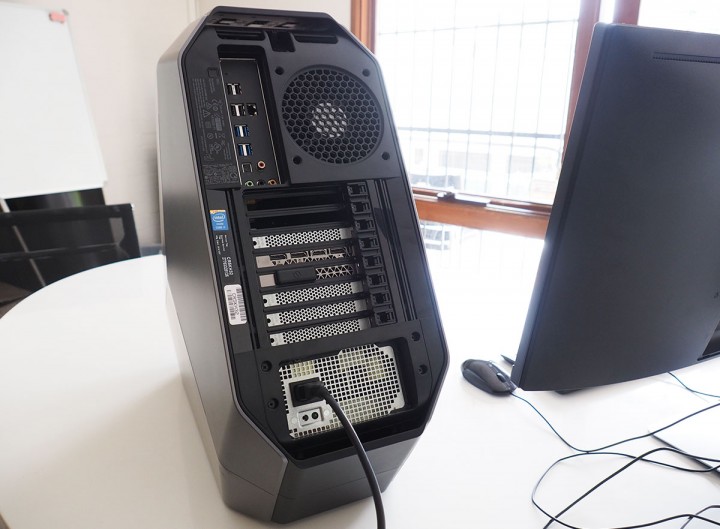 Connections for the computer are relatively varied, hardly a surprise given how big of a computer it is, with 802.11a/b/g/n/ac, Bluetooth 4.0, wired Gigabit Ethernet, two USB 2.0 ports, six USB 3.0 ports backwards compatible with USB 2.0, headphone out, microphone in, speaker ports for centre, rear, and side, with digital output connections for both coax and TOSLINK also provided and the sound technology handled by Creative Labs.
A DVD burner with Blu-ray reading is also part of the package, a slot-loader on these models, with a media reader for memory cards of the SD format also provided here.
Power supplies for the computers include 850 watt and 1500 watt options, and there's speciality cooling as well with liquid cooling supplied by Alienware for the processor, which itself is overclocked.
As is usual for Alienware products, a degree of lighting has been applied to the casing, with lights in nine sections that can be controlled by the Alienware AlienFX application found installed on the computer.
Pricing starts at $2999 for the Alienware Area 51, making it a computer not all people will go for, especially since it also arrives with a starting weight of 28 kilograms.
The review model supplied by Alienware is configured with an Intel Core i7 5930K, 16GB RAM, a 128GB SSD working alongside 2TB storage, and the top-end Nvidia GeForce GTX Titan Z with 12GB graphics RAM, resulting in a computer that should cost roughly $6000.
Yikes, we can't wait to push this one.