We're getting closer to digital paper, and Amazon is leading the charge with a new eReader that is lighter and thinner than anything else out there.
If you're an avid reader that has already made the transition from analog to digital and paper to screen, listen up because your digital world just got a little easier to carry around provided you're prepared to spend some money, and if you're curious about making the jump, the same applies to you.
This week, Amazon has announced that eReaders are about to get smaller with a new generation of the Kindle designed to really bring the future to today, with a new design aimed to feel lighter and be appropriate for whichever hand you hold the Kindle with.
Called the "Oasis", it has the design almost as if the Kindle had a folded over spine, like a book or a small magazine, with a 3.4mm thin side and a larger 8.5mm thickness on the other side — the spine — where the battery sits.
With this combination of thickness in design, the weight sits at 131 grams, lighter than some books.
The battery is smaller in this device, and that's part of the reason how Amazon has been able to get the size and thickness down, providing a couple of weeks of life, but because that's not enough, the Amazon Kindle Oasis will also have a magnetic docking mount on the design to support a leather cover with an extended battery built into this section, delivering up to two months of life.
"To lean back and read for hours, you need a sanctuary from distraction," said Jeff Bezos, Founder and CEO of Amazon.
"We want Kindle to disappear, and Kindle Oasis is the next big step in that mission. It's the most advanced Kindle we've ever built—thin and ultra-lightweight, it gets out of the way so you can lose yourself in the author's world."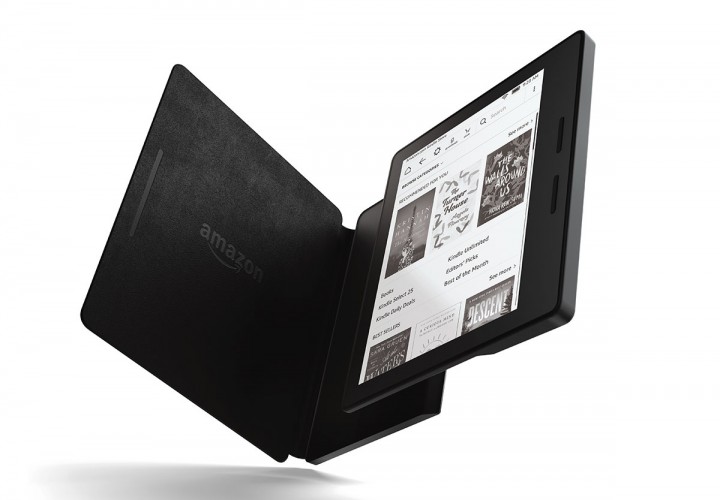 Technically, the screen hasn't changed from last year's Kindle Voyage or Paperwhite, but the technology is a little different overall, with a super light polymer frame plated with metal thanks to electroplating giving the whole device the solid feeling of a metal product without the fully metal design.
That grip is interesting too, because while the photos appear to make it held by the right hand, there's an accelerometer in the body making it possible for you to hold the Kindle Oasis in either hand, flipping the screen upside down so that it's the right side up regardless of how you old a book, left or right.
Buttons can be found on the side of the dominant hand, too, so turning pages is a thumb press away, or even a swipe thanks to the touchscreen being used.
And while the screen is technically the same, the 300 pixel per inch Paperwhite display has been boosted with a brighter front-lighting so that the brightness is brighter again, while the glass covering the screen has been chemically-reinforced to protect it from scratches and knocks.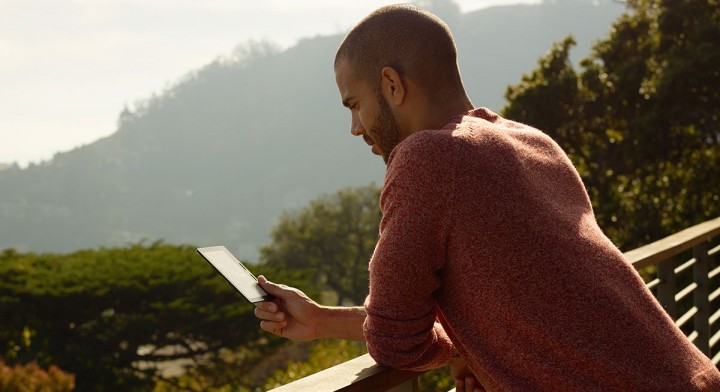 That makes it both light and durable, though it is not cheap, arriving in the next month or so for a recommended retail price of $449.
It will join its Kindle Voyage, Kindle Paperwhite, and standard Kindle siblings which still attract a $299, $179, and $109 price respectively, and mean the front-lighting eReading experience is spread out across a larger range in every device except for the $109 standard Kindle.
Finding the Oasis won't be as hard as an actual mirage or oasis, though, with Amazon selling it to Australians either at the Amazon store or through Officeworks.
There's no doubting that this does look like a premium product, but for many, this could raise the eReading experience significantly, which could be a good thing. You'll have to really like your reading, though, because near $500 is a lot to pay for a device that is only for books and newspapers, and really it's mostly the former in this country.
Still you'll find it shortly, and we hope to have a review soon, too, so if you're curious, you shouldn't have long until we're about to tell you whether it's worth the cash.