"Finally," say fans of the Apple iPad. "A new iPad Air is here." But is Apple's new iPad merely a follow-up or something more?
Specs
It's been a long time coming, but Apple's iPad Air 2 replacement is finally here. With the Air 2 first arriving at the end of 2014, many expected a new model last year, but we're being treated to that now, with the newly updated 9.7 inch iPad Pro popping up in March 2016.
Yes, the name has changed, and that's important, because while the iPad Air 2 was a great device, the next line of Apple tablets is about professional features, including the professional bits and bobs released on the 12.9 inch massive iPad Pro from last year.
For this model, though, it's about getting these features down into a smaller body, which is exactly what Apple has accomplished in the 9.7 inch iPad Pro.
You'll find much the same design as what occupied the 9.7 inch iPad Air 2, complete with a near identical chassis, screen, and thickness, but Apple has replaced the insides, opting for an Apple A9X processor alongside the M9 co-processor.
Storage inside device is set to either 32GB, 128GB, or 256GB, with no way of upgrading once you've purchased one. Meanwhile, Apple's iOS 9.3 arrives on the tablet out of the box.
Connections for the new iPad Pro arrive in the form of 802.11a/b/g/n/ac WiFi as well as Bluetooth 4.2, and if you opt for a 4G "cellular" variant, you'll find A-GPS and GLONASS support alongside 4G LTE for mobile broadband.
Cameras can be found in the 9.7 inch iPad Pro too, with a 12 megapixel camera support 4K and a True Tone flash found on the back, while a 5 megapixel front-facing camera can also be found on this model.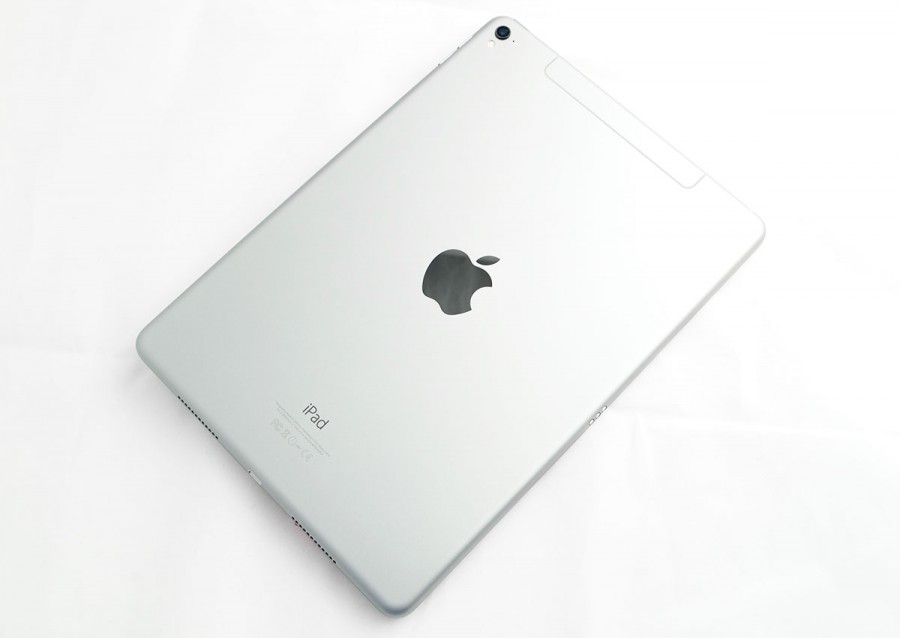 All of this sits under a 9.7 inch display showing a resolution of 2048×1536, which in turn translates to a clarity of 264 pixels per inch, in line with Apple's tablet point of view for "Retina" screens, and Apple has also brought in a new four-channel True Tone light tracker to calibrate the screen's colour based on your surroundings.
The speakers have been upped to four and you'll also find two microphones on this tablet, with remaining ports sitting at both the top and bottom, with a 3.5mm headset jack up top and an Apple Lightning port for charging and data transfer at the very bottom. If you opt for the cellular iPad Pro, your nanoSIM slot is available via a pin ejectable tray on the bottom right side.
Buttons are also low in number, part and parcel with Apple's design, and you'll find only a power button up top, individual volume buttons on the right edge, and a home button with Apple's Touch ID fingerprint scanner underneath on the very front under the screen.
Design
Apple may well be changing the specs, but it's not doing much over in the world of design, as the company employs a literal "if it ain't broke, don't fix it" policy for the new iPad.
And really, there's no reason why it should, as the iPad Air 2 already featured a lovely design that competitors in the tablet space are still fighting against.
The thickness is the same, as is the weight, with 6.1mm thickness still here alongside a weight of 441 grams.
One thing has changed on the design side of things, and that's the language is changing, with the plastic top section on the back becoming slimmer for the antenna, with more metal.
It's minor, and outside of speaker placement on the top and bottom, you'll find it's probably the only thing that allows you to tell the difference between this iPad Pro and the previous iPad Air 2. They're just that similar.
Performance
Inside the tablets, there are a few changes, with the still available iPad Air 2 relying on the A8X processor and M8 motion co-processor, slight increases on what appeared in the iPhone 6, while this new iPad Pro uses a variation on the chip in the iPhone 6S, with the A9X and M9 editions of the chips.
That puts the performance close to the high speed tech found inside the 12.9 inch iPad Pro, close only because Apple has pulled the performance down a little with a change in speeds for the smaller model.
In our testing, it's not enough to really make a huge difference, and we found games and apps opened with ease on the 9.7 inch iPad Pro, with load time pretty much the same as what we saw for the iPad Air 2.
Some games and apps may take advantage of the new Apple processors, but it's not a massive improvement to the point where your eyelids will sear off from the speed increase, so don't expect massive leaps and bounds.
Simply put, the jump is useful moving forward, as is the option for a 256GB model particularly if you plan on storing lots and lots and lots of files on the iPad Pro, making it your dedicated walk around machine.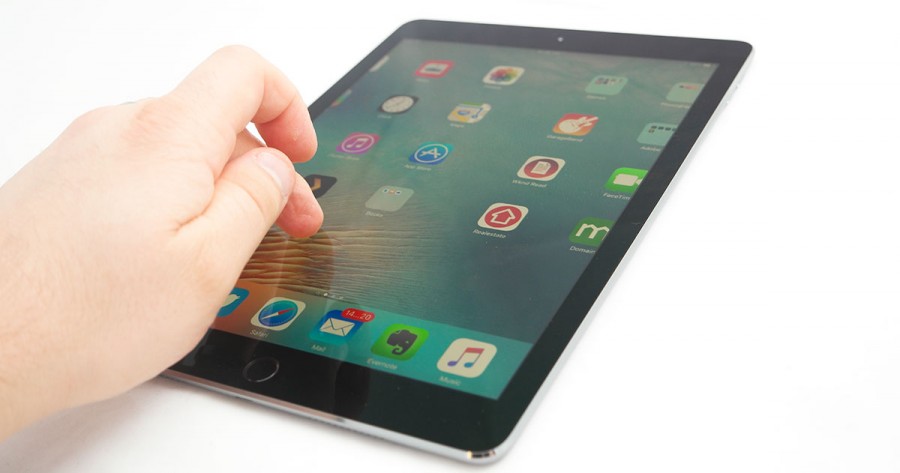 Display
While the performance has taken a bit of a jump up, so too has the screen, though not in the way you might expect.
Apple's still excellent 9.7 inch screen displaying a resolution of 2048×1536 is still here, and so is Apple's excellent homemade timing controller, which allows for super fast on-screen typing action with pretty much the bare minimum of mistakes. Hey, we even wrote portions of this review on the tablet and found none, making it just like typing on a proper keyboard.
What Apple has added to the package is quite creative, and feels like it takes a page out of one of Apple's other products, even if it isn't quite the portable variety.
When Apple first introduced the Retina iMac, we saw use of a colorimeter, a neat little gadget that essentially could keep the colour in check and balanced at all times, which would prove super handy for photographers and videographers where colour accuracy was a just have.
Here on the 9.7 inch iPad Pro, Apple has introduced something similar, with a four-channel colour sensor able to interpret the temperature of the light you're seeing and relate that back to the colour temperature of screen you're using.
Now this might sound like jargon, but the easiest way of explaining this is to say there is a little bit of gadgetry in the iPad Pro that can change the colour of the screen to help your eyes adjust, emulating the tone of paper and how it changes dependent when different colour light hits it.
Believe it or not, this is actually an important point, simply because white doesn't stay looking pure white when a tungsten light is on, shining a bright yellow that would change the colour of the white you're looking at. Screens don't normally have a way of responding to this, and so just continue shining white, forcing your eyes to adjust, and usually uncomfortable with or without you realising it, particularly since white screens have a lot of blue in them.
Apple's TrueTone technology gets around this, not because it is reducing the blue in the screen, but because it is picking up on the hue of the light around you — the tone of the light, so to speak — and adapting the screens you're using to a more comfortable white point.
This isn't just Apple's warm-inducing Night Shift mode in action, because that's about adjusting your eyes as the sun goes down and everything gets darker. No, this is more about knowing that a pure white screen is rarely needed and frequently inaccurate, so Apple is making an adjustment based on where you are and what the lighting is like.
And this helps the overall package, not just because it's fun to see a screen gradually change its white balance, but also because the automatic brightness technology in Apple's iPad now finally works properly, and it can be kind of fun to watch. All at once, you're seeing the colour and brightness change, and that is all kinds of cool, and very beneficial long term.
Seriously, we can't wait to try it in more places. It'll make the iPad Pro one of those devices that will work anywhere. Inside, outside, park, meeting room, where ever. Brilliant.