Apple has added the iPad Air and Mini to round out the iPad Pro and iPad range.
The iPad Air and Mini gain Apple's A12 Bionic chip with neural engine (the iPad has an A10), Apple 1st-gen pencil support and have 10.5-inch and 7.9-inch Retina displays.
They are not replacements for the 12.9 or 11-inch iPad Pro which has a more powerful A12X Bionic chip, higher Liquid Retina screen, 2nd-gen Apple Pencil support and the all-important USB-C port.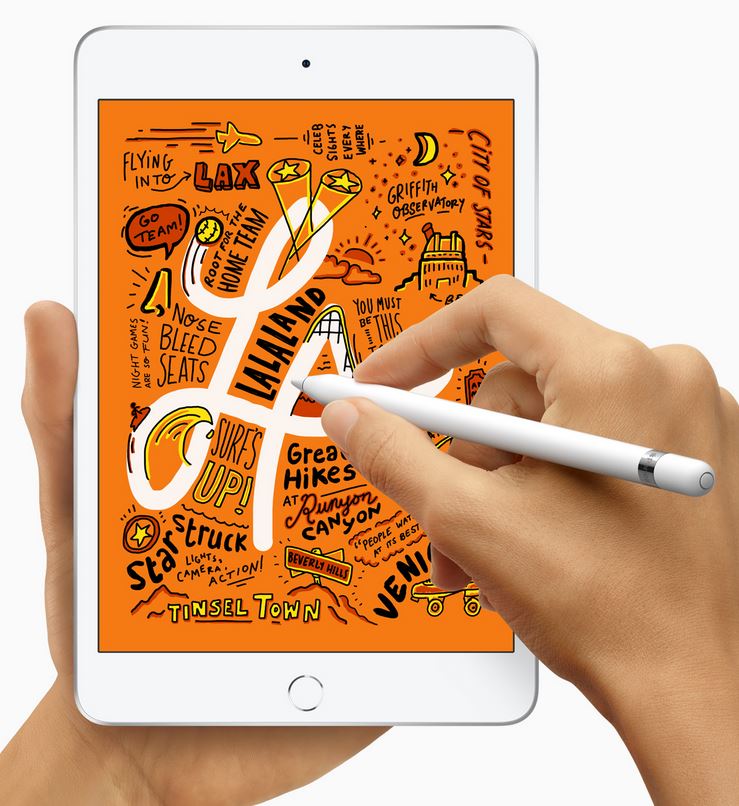 Apple iPad Air vs iPad Mini
Item
iPad Air
iPad Mini
Screen
10.5", 2224 x 1668, 264ppi, 500 nits, DCI-P3
7.9", 2048 x 1536, 326ppi, 500 nits, DCI-P3
Processor
A12 Bionic and M12 co-processor
same
Storage
RAM not specified. Choice of 64/256GB
same
Rear Camera
8MP, f/2.4, HDR, Auto-focus, 1080p@30fps video, EIS
same
Front camera
7MP, f/2.2, HDR, fixed focus, 1080p@30fps, Retina screen illumination
same
Speakers
Stereo with Facetime audio/video
same
Wi-Fi
Wi-Fi AC and BT 5.0
same
4G LTE option
Bands 1, 2, 3, 4, 5, 7, 8, 11, 12, 13, 14, 17, 18, 19, 20, 21, 25, 26, 29, 30, 34, 38, 39, 40, 41, 46, 66, 71 Data only
eSim and Nano-SIM
same
Sensors
GPS
Touch ID (fingerprint)
Gyro, Accelerometer, Barometer, Light
Supports Apple Pay
same
Battery
30.2 Wh up top 10 hours. Lightning connector
19.1 Wh – 10 hours use Wi-Fi, Lightning connector
Size/Weight
250.6 x 174.1 x 6.1mm x 456/464g
203.2 x 134.8 x 6.1mm x 300.5/308.2g
Colours
Silver, Space Grey, Gold
same
Option
Gen 1 Pencil only $145 Smart Keyboard $235 Air Smart cover $79/99
Same No keyboard Mini Smart cover $65
Price
64GB Wi-Fi $779
4G add $200
256GB add $220 AppleCare additional
64GB Wi-Fi $599
4G add $200
256GB add $220
URL
https://www.apple.com/au/ipad-air/
https://www.apple.com/au/ipad-mini/
Apple also offers a trade-in program – see here.
Apple updates iWork for iOS and macOS: Pages, Numbers and Keynote.
Top Features
Chinese, Japanese, and Korean languages can type vertically in text boxes, shapes, and in the body of Pages documents.
Draw a path with your finger or Apple Pencil to animate an object across a slide in Keynote (iOS only).
Use Keynote's animation engine to add action builds to objects including rotate, move, scale, and change opacity (iOS only)
Create and share an animated GIF by exporting one or more slides in keynote (both)
You can now edit grouped objects while collaborating. Maximum file size 2GB (both)
Save custom shapes, templates, and themes on iOS and sync across macOS and iOS devices using iCloud.
Create image placeholders to easily replace images without affecting the formatting of your page, slide, or spreadsheet (iOS only)
Keynote
Edit presenter notes in Keynote while presenting/rehearsing (iOS): Take notes, record feedback, or just improve your delivery without having to leave the presentation.
Pages
New table of contents view. Added the ability to insert a table of contents onto a page in a word-processing document (both).
A switch is now available on iOS that allows you to switch your document between word processing and page layout document types (both).
Numbers
Increase max zoom to 400% in Numbers (iOS)
Make precise changes to row and column sizes in Numbers (iOS)
Improved CSV/TSV import (both)