Apple's new-look airport base stations have grown up, literally. Their new taller, 'tower' shape isn't just for looks either, it's better for broadcasting wireless signals, which should mean stronger and faster connections with your Wi-Fi devices.
In typical Apple form, the new Airport Extreme is full of the latest technologies.
There's support for the new and ultra-quick 802.11ac Wi-Fi standard, which includes beam-forming technology and double the channel bandwidth, giving you up to three times the speed of older 802.11n Wi-Fi networks under the right circumstances
The Airport Extreme can also run both 5GHz and 2.4GHz networks simultaneously, and inside, there are a total of six antennas, three for the 5GHz band, and three for 2.4GHz networks. This means that the router will pick the best connection type for your Wi-Fi devices, depending on if they're the 802.11n variety, or older standards. Apple also places its antennas at the top of the unit, to help disperse the signals.
You can also opt for the Airport Time Capsule models, which have built-in hard drives, and are great for wireless Time Machine backups. Two sizes are available including 2TB and 3TB. Otherwise, the specifications and chassis are identical to the standard Airport Extreme unit.
Compared to many Wi-Fi routers, Apple's is quite stylish and has a minimalistic, white 'block' design.
Also, by switching to a 168mm high 'tower', the new Airport Extreme requires less space your desk, and has a 64 percent smaller footprint compared to its predecessor, with a base measuring 98mm x 98mm.
There's a small status light on the front, which glows yellow or green depending on the connection status.
Turn the unit around and you'll find the connections: there are three Gigabit Ethernet ports (for connecting cabled devices), a WAN port for plugging into your modem, and a single USB 2.0 port.
Given the other state-of-the-art components, we would have liked to see the faster USB 3.0 version used instead, especially as the Airport Extreme can connect to portable hard disks.
Also, while the sleek design is nice, you'll need to reach around to the back to access all the connections. Putting the USB port on the front would have been handy, and apart from giving you the ability to share a hard drive with other devices on your network, or even via the Internet, the USB port also gives you the ability to share a printer.
Setting up
Wi-Fi routers are probably the most counter-intuitive devices that people need to figure out how to use, so it's good that Apple has one of the easiest setups available.
Plug the Airport Extreme in, go to your Wi-Fi settings on either OSX, or your iPad or iPhone, and let the built-in Wizard guide you through the settings.
You can also use the Airport Utility, which runs on OSX or iOS for more advanced network management and trouble-shooting.
When we set up a network from scratch, the system worked flawlessly, but we did run into trouble with the auto-configuration when we added the Airport Extreme to a rather complicated existing network that consisted of multiple networks, base stations and settings.
In this case, we needed to make some settings manually to get it all working, but for most people and situations, setting up is very easy. This also extends to adding a wireless printer, hard drive, or configuring the built-in hard drive with the Time Capsule versions.
Performance and conclusion
The new 802.11ac Wi-Fi standard is certainly good news to business and home users.
With the ability to reach speeds that are up to three times faster (1.3 gigabits per second) than current 802.11 networks, we can finally approach the gigabit speeds that only wired networks have been capable of.
Still, to get these kinds of speeds, your devices also need to support 802.11ac, and be close enough for the full transmission speed. In general, 802.11ac will mean faster speeds and better transmit distances, but the overall performance will vary depending on your devices and environment.
But hey, fast is good, as it means less time waiting for files to transfer or streaming HD video to multiple devices around the home.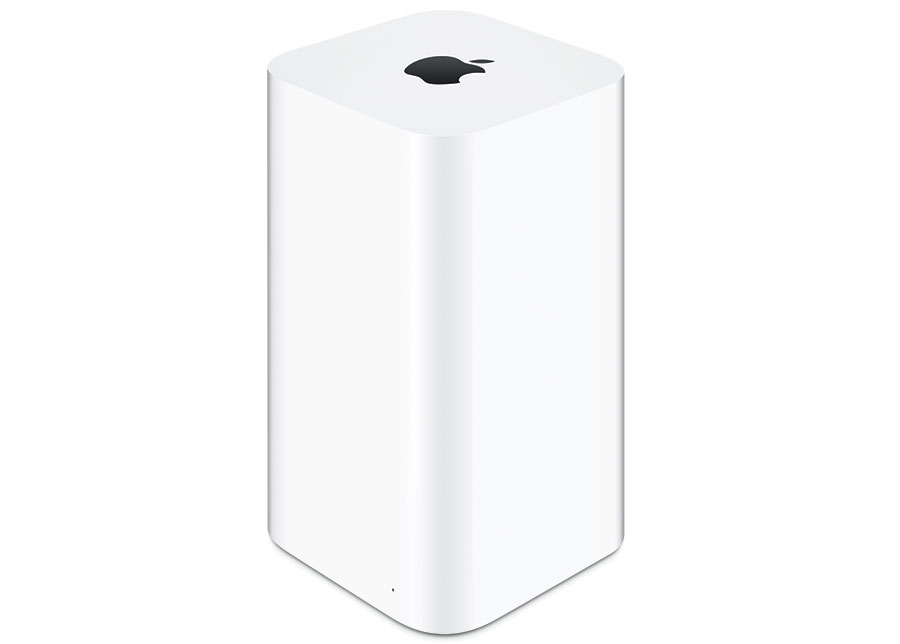 When connected to Apple's latest MacBook Air, which has the 802.11ac standard built-in, we found modest increases when transferring large files.
For example, a 3.1GB file transferred to the older 802.11n Airport Extreme took 3 minutes and 40 seconds, while the new Airport did it in 3 minutes and 19 seconds.
While we weren't able to see much by way of improvement in signal rage with the new Airport Extreme 802.11ac versus the older 802.11n version, it's still more than adequate. Also, when more 802.11ac devices become available, we'll be able to get a better picture of how the new Airport Extreme performs in the real world.
Overall, while you can shop around and find some 802.11ac Wi-Fi routers for less money, none provide Apple's solid combination of great looks, practical design, true 'set-up and forget' software and cross compatibility with iOS devices.
Attractive design; 802.11ac Wi-Fi support; Very easy setup;
Could use a USB connection on the front; Network Admins may want more settings;