The Apple AirTag, at its most basic, is a Bluetooth tracking tag that you can attach to almost anything. The secret sauce is the Apple Find-My ecosystem that uses the global iPhone users' network to expand its reach. Apple says that there's over a billion iOS devices participating in this network.
Update 6 May 2021. Big retailers Officeworks and JB Hifi have removed the AirTag tracking device from their stores following concerns about button batteries. Read more here. We will remove this update when appropriate.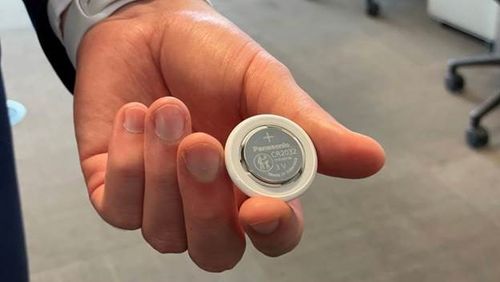 The tag transmits a Bluetooth signal to your iPhone. Simply ask Siri to locate the tag or use the map in the Find My app. If you have an iPhone 11 or later, the Ultra-wide-band chip enables precision location and guidance.
Put the tag into 'lost mode', and any iPhone within reach sends the location to the iCloud (don't worry – it is anonymous). From there, you can see the location of the tag. The app tracks all Apple devices as well as any tagged ones.
An iPhone will alert its user if an AirTag not registered to their iCloud account is following them to prevent malicious use. Additionally, an AirTag separated from its owner will play a sound when moved to draw attention to it.
Noted teardown experts iFixit have dissected the AirTag and said, "Not only did Apple make something tiny, sophisticated, and attractive, they also gave it a replaceable battery—a first (for Apple in a very, very long time)!"
It's a comprehensive analysis, and techy types will read every word, but here is the overview:
Replaceable 3V Lithium CR2032 battery
IP67 rating
3-axis accelerometer (presumably to measure if it is moving)
Apple U1 ultra-wide-band chip
Proper magnetic voice coil speaker (no piezo buzzer)
Range of accessory clips
78dB volume
Works with iPhone SE or later
Apple AirTag details
Website here
Price: One $45 and four-pack $149 with free engraving
AirTag accessories include strap holders, loop, keyring
Hermes version (Bag charm, keyring, luggage tag) from $449, 529 and 679.
Channel 7 GadgetGuy says they are straightforward to set up, gives a precise location, and the global feature is a real benefit when travelling.