Is your household an Apple household? Or would it like to become one? Xmas is a fine time to start the shift, and enhance life's Appleness, with a well chosen gift. As always, Gadget Guy is here to help with some of the most interesting Applish developments and products from the past few months.
The great news is that there have been some doozies!
iPhone 7 – $1079 to $1379
It kind of looks the same, you may think, as the iPhone 6s and even the iPhone 6, so why bother?
Well, there has been quite a bit of subtle stuff happening in there, behind the façade. Even including the façade, since the HD Retina screen has been enhanced with a wider range of colours, now conforming the P3 digital cinema standard. The camera now captures twelve megapixels and 4K video. The storage can be as high as 128GB (the different prices reflect the different amounts of storage). The processor is faster and smarter, allowing better battery life and higher performance.
And it even comes with an adaptor to overcome the loss of the 3.5mm headphone socket.
Belkin Lightning Audio + Charge RockStar – $59.95
The problem with using the headphone adaptor on the iPhone 7 is that it plugs into the Lightning port, which means you can't charge your phone while you're using it. But Belkin promptly came to the rescue with this very useful stocking filler: the Belkin Lightning Audio + Charge RockStar.
Essentially it's a double adaptor for the Lightning port. It plugs into the iPhone 7 or 7 Plus's port, and has two Lightning ports of its own. Then you plug the power into one and the headphone adaptor into the other. It should work with earlier models as well.
Apple AirPods – $229
Of course, iPhone users can skip the hole wired thing completely by using Apple's new AirPods wireless earphones. There are lots of wireless earphones, so why choose Apple's? They are not, after all, a particularly inexpensive option.
Integration is the word we'd use. They work extremely well in the Apple world (and won't, Apple tells us, work at all with non-Apple devices). Pairing is just a matter of holding them near your iPhone, and once paired, they'll immediately work with all the other devices attached to your Apple iCloud account.
MacBook Pro – $2199 to $4249
Sometimes we fear we're a little obsessive about iPhones to the point of not giving due weight to Apple's computers. These were, after all, the original basis of the company. The last couple of months have seen the rollout of Apple's latest MacBook Pro range, which are thinner, lighter, brighter and more powerful than the previous models.
Most models feature the new "Touch Bar", a new interface element which adapts to the software and job at hand. All have moved fully over to an exclusive implementation of USB Type C for connectivity. This includes Thunderbolt support.
Read all about it here, and come back in a few days for our review of the 13 inch "entry level" MacBook Pro.
Smart:)things sDock – $499 to $649
Remember not too many years ago when waiters and waitresses would take your order by tapping selections on some chunky hand-held device? And then, seemingly overnight, everyone switched to off the shelf devices – usually Apple iOS devices. Much much cheaper, and much more effective.
These days an Apple iPad or iPhone needn't be just a general purpose device. They can be dedicated smart home controllers or manage multiroom audio systems. In that role, having a specific place for the device is useful. That's where the sDock comes in. A wall mounted device, it charges the Apple unit and holds it in a stylish manner.
And it's secure, not just against falling off but against visitors who might want to take off with the device.
Beats Solo3 Wireless headphones — $399.95
In ear, over ear, on ear … what's your gift recipient's preference for personal audio? If it's on ear, then the Beats Solo3 Wireless headphones are an excellent way to go for those who live in an Apple world. Apple took over the brand a couple of years ago and did two very special things with its lineup.
First, it made them work very effectively with Apple devices (simple pairing, shared details with other Apple devices on the same iCloud account). Second, it made them sound good, something which had been missing previously from Beats.
And they still look as good as Beats headphones always have, with a wide colour range.
Belkin Valet Charger Power Pack – $149.95
The bane of the heavy smart watch user is their brief battery life. Even (yes, we're going there) the Apple Watch. Wireless charging makes life much easier, but only if you have your wireless charger to hand.
The Belkin Valet Charger Power Pack is one that you can indeed have to hand. It's a portable power bank with a mighty 6700mAh capacity. The tricky part is that in addition to plugging your iPhone into it for a refresh, you can drape your Apple Watch across it and charge that up as well.
It has sufficient capacity to charge an iPhone three times or an Apple Watch eight times. For peace of mind, it's certified until Apple's MFi Program.
Sennheiser Momentum In-Ear earphones – $169.95
Confession: this reviewer for one does not use Apple's earphones. Perhaps the AirPods will be an exception, but those hard plastic nubs have always managed to be both uncomfortable and insecure in my ears. I far prefer earphones with silicon tips. Amongst the best of these are the Sennheirser Momentum In-Ear earphones.
They deliver great sound quality and excellent control over the source device. They're wired, but will work fine with an iPhone 7 using that device's Lightning headphone adaptor.
Make sure you pick the Apple-compatible model. They also come in Android versions. Those ones will mostly work with Apple phones too but you'll lose the volume control function.
Lexar microSD Reader for iOS – $54.95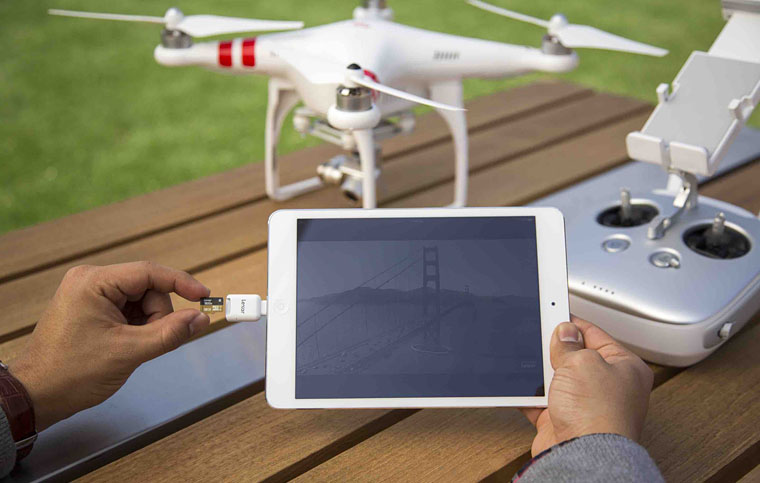 iPhones and iPads are great portable devices and with their first class screens are absolutely perfect for viewing footage from your action camera, your dash cam, or even your drone camera. But if that device uses – as so many do – a microSD card for recording, viewing the video or checking out the photos will require a microSD card reader for your device.
Lexar's device is another great stocking filler, and nicely inexpensive.
It's used by plugging it into the iPhone's or iPad's Lightning port and inserting the microSD card. And it's easy to use thanks to the free app from the app store.
Something (Red)
In keeping with the spirit of the season, why not extend your gift to others? As you're purchasing an Apple product, check to see if it's available in a (RED) version. Buy one them and a portion of the purchase price will go towards fighting AIDS.
There are a wide range of (RED) branded products – from Beats headphones and speakers through to Apple watch bands, plus protective cases and smart battery cases for a number of Apple products. You can even buy (RED) iPods.