Apple's iMac range has long been the envy of most of the all-in-one community, and now in its latest iteration, the company is putting the desktop computer on a diet, taking out what it thinks people don't need and making it look impossibly thin.
Features
The first generation of iMac without Steve Jobs pressing "go," the new iMac for the end of 2012 continues the evolution of Apple's all-in-one computer by making it thinner, lighter, and sprucing up the innards so that they're better for computing today.
We've lost count as to which generation the iMac range is now up to, but a quick glance at Apple's page on the model suggests we're on the eighth real design change.
The 2012 model comes in both a 21.5 and a 27 inch variant, both featuring In-Plane Switching displays, the same type of high resolution screen used on Apple's iPad range of products, albeit a bigger one in these machines.
While the 27 inch hasn't reached our reviews desk yet, the 21.5 inch is here, bringing with it Intel's latest generation of Core processor technology, the base model including a quad-core i5 chip running at 2.7GHz.
A minimum of 8GB RAM is included, though it's configurable to 16GB in the 21.5 inch Apple iMac, with 1TB of storage included natively, too.
You can, of course, opt to include Apple's 1.12TB "Fusion Drive" technology, which pairs a 1TB drive with 128GB of solid-state storage, as well as some advanced software trickery in Mac OS that works out what you're using most and moves those files dynamically to the faster section of the drive, the solid-state memory.
Graphics on the 21.5 inch 2012 iMac arrives with the Nvidia GeForce GT 640M and 512MB RAM, as well as a 1920×1080 Full HD resolution for the 21.5 inch screen.
Our review model was much higher than the base model, however, with Apple throwing in the heaviest specifications possible, including a quad-core Intel Core i7 3.1GHz processor, 16GB RAM, 1.12TB storage using Apple's "Fusion Drive", and the Nvidia GeForce GT 650M graphics card with 512MB RAM.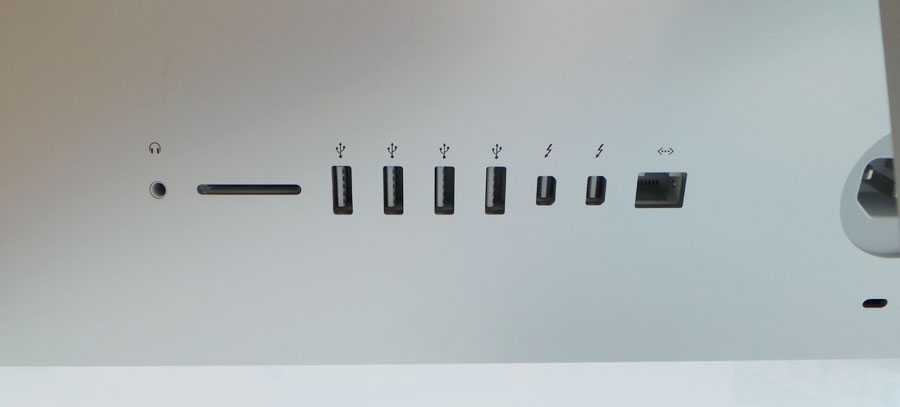 Regardless of the configuration you go for, connections are fairly generous here, including a headset jack, four USB 3.0 ports, two Thunderbolt ports, wired Gigabit Ethernet, and an SDXC card slot, all available on the back.
WiFi is of course here, running on 802.11 a/b/g/n, while Bluetooth 4.0 is also supported. Speakers, a microphone, and a FaceTime HD camera are built into computer, too.
The iMac 2012 arrives with Apple's wireless keyboard, as well as the Magic Mouse.
Performance
Apple practically reinvented the desktop when it put out its first iMac in 1998, and since then, the company has made improvements as the years have passed.
In its latest iteration, the company has tried to make the desktop even thinner, incorporating a new welding process to make it happen, while improving the hardware and making the monitor just a touch better.
That last point – the screen – seems like a perfect place to start, and here in the new iMac, the display is just simply gorgeous, and has been built with a new process that brings the display closer than ever to the glass, making the visuals just pop.
Apple's new iMac screen uses a similar process to what's being used in the latest generation of iPhone – as well as LG's Nexus 4 and Optimus G smartphones – whereby the gap between the LCD and the covering glass is removed, with a thinner LCD panel pressed against the screen resulting in less reflection and better colours.
Sure, it's not the "Retina-grade" panel everyone was hoping for, but it is a Full HD 1920×1080 display in a 21.5 inch size, which is fantastic.
And it just looks awesome.