Apple may have kickstarted the whole "Retina" high-resolution screen thing in computers with its MacBook Pro, but its desktop computers have never really shared the love. Until now, that is, as Apple's iMac gets a dose of a Retina reality, and we wish it never had to leave.
Features
A new iMac is here, but it's not necessarily an iMac for everyone, as Apple finds a way to make its all-in-one even better by making the screen revolutionary.
The new machine starts at $2999 in Australia, and while that's a far cry and nearly a grand off the base model 27 inch iMac, the machine is a little different, with faster innards, more graphical grunt, and a screen that will make other computer makers go scrambling to update their competitors.
First, though, let's get to the insides, because in the iMac 27 inch Retina, you'll find Intel's fourth-generation processors, with two options available, the quad-core i5 clocked at 3.5GHz in the base model, though it can be upgraded to a 4GHz quad-core i7, as well.
System memory starts at 8GB, though like the processor, this can be upgraded too, with 16 and 32GB choices, with upgrades also available on the storage side of things, starting at 1TB Fusion Drive (Apple's combined conventional hard disk drive and solid-state drive concept), but providing either a 3TB Fusion Drive, or several flash-based choices with either 256GB, 512GB, or 1TB.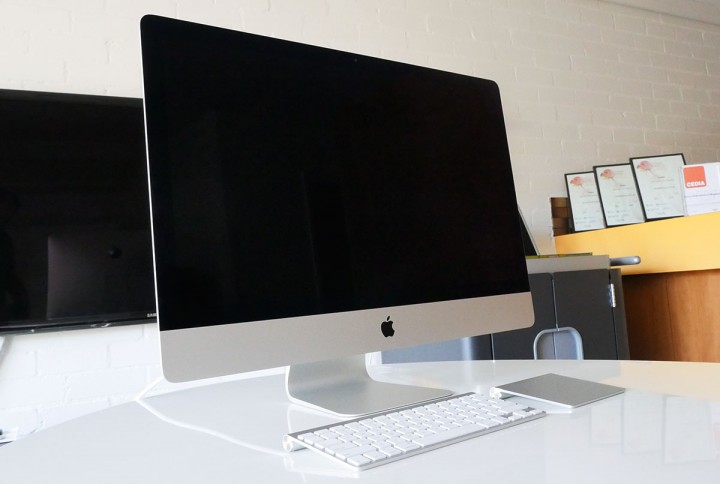 And there are even choices on the graphics side of things, as Apple moves to AMD for providing the graphics on this generation of iMac, starting with the Radeon R9 M290X with 2GB on the base model, but expanding it to a 4GB variant of the M295X graphics processor.
The display can't be changed or upgraded, but if you head the way of the iMac with Retina, you're getting a different screen than the convention iMac, regardless.
While a regular iMac 27 inch relies on an In-Plane Switching (IPS) display supporting a resolution of 2560×1440, the Retina version of the iMac takes the same sized screen and uses an IPS panel sporting the resolution of 5120×2880, a resolution which is technically classed as 5K, higher than that of the 4K displays we're seeing coming out now both on various laptops, computer monitors, and even TVs.
Beyond this, though, and a few other chips inside the computer to keep that 5K screen from misbehaving, the iMac is mostly the same thing you're used to seeing in the past, with stereo speakers, two microphones, and a FaceTime HD camera up front above the display.
Wireless technologies are still included, with 802.11ac support found on the iMac with Retina 5K, with backwards compatibility for 802.11a/b/g/n networks, while also including support for Bluetooth 4.0.
The iMac is still very thin, and still made with the same aluminium chassis Apple has been using for a few years now, with the back featuring ports for headphone, SDXC memory card, four USB 3.0 ports, Gigabit Ethernet, and two Thunderbolt ports that are now rated for the faster version, Thunderbolt 2, making these a slight change on other iMac models.
Thunderbolt 2 is backwards compatible with Thunderbolt (1), and supports 20Gbps, which is twice the maximum speed of the first-generation, which only reached 10Gbps.
It also still supports Mini DisplayPort through this port, making it the port to use if you need to plug in a separate monitor.
Performance
Is it really time for a new iMac?
Depending on how old the one you currently have sitting on your desk is, or if you've been thinking of buying one anyway, the answer might be yes, and that's because Apple has something new for people who want something evolutionary.
The iMac has been through some changes over the years, from humble beginnings as a quirky little education-friendly machine to something far thinner and still great for the home, but while the design is generally the area Apple focuses on, for this release, it has its eyes on something else altogether.
In fact, Apple has its eyes on a component that will make your eyes jump for joy when you see it, when you take it in, because it's the screen that Apple is looking at, and changing for the better.
In 2012, when Apple rethought the design for the iMac for its current incarnation, it also thought about laptop screens, and found a way to make them better, releasing the first generation of Retina screens for the MacBook Pro 15, a machine that featured a display with roughly double the pixels as many of the 15 inch screens out there.
At the time, many 15 inch laptops were relying on resolutions closer to to 1366×768 — just above high definition — and possibly a bit bigger, with 1440×900, 1680×1080, and the odd Full HD 1920×1080 panel making an appearance.
But most sat around the 1366×768 mark, and it was always a sore point with us, because that resolution on a screen on 13 or 15 inches would always look big and pixelated, and while it was often easy to read, it wasn't particularly good looking, and for some people wasn't thoroughly comfortable, either.
So Apple doubled the pixel amount, doing what it first did on the iPhone 4 with its phone-based "Retina" display that started the whole high-end screen revolution on portable devices, and eventually made a beautifully high resolution display for a laptop, a move that PC makers only started properly competing with last year.
For the iMac, Apple has long been rumoured to be doing something similar, with a higher quality screen hitting the rumour mill often.
Fortunately, it's here, and it could just be the best desktop you'll see all year, so let's get stuck into it.