Apple may have reinvented the tablet for today, but it has plans to give artists a tablet for tomorrow, and it arrives in the form of the iPad Pro, Apple's biggest tablet yet.
What's inside
A new iPad is here, and with it new internals, a new screen, and pretty much new everything. What is this iPad Pro thing?
It starts with a new processor, as Apple jumps to the A9X 64-bit processor in this device, relying on what we've heard is 4GB RAM and either 32 or 128GB storage alongside it. Complimenting this is Apple's M9 motion co-processor.
Apple's iOS 9 arrives on the iPad Pro out of the box, and you'll find connection options are pretty much on par with Apple's regular iPad offering, regardless of the tablet being new or not, with support for 802.11a/b/g/n and 802.11ac WiFi, Bluetooth 4.2, GPS, and wired Lightning. An optional variant has support for 4G LTE.
Cameras come part and parcel with tablets these days, and the iPad Pro is no exception, offering a 1.2 megapixel FaceTime HD front-facing camera, as well as an 8 megapixel rear camera for the back capable of handling Full HD 1080p video capture.
Sensors are also included, with an ambient light sensor, the usual accelerometer, a barometer, gyroscope with three-axis pickup, and Apple's Touch ID fingerprint sensor, just in case you value your security and want to entrust it to fingerprints over passwords.
And all of this sits under a specialty 12.9 inch In-Plane Switching (IPS) display, offering a resolution of 2732×2048, which translates roughly to 264 pixels per inch, where Apple's iPad Air 2 and iPad Air sit at for clarity.
A new port can also be found on every iPad Pro, and that's the Smart Connector port at the bottom of the device, or the left edge, allowing physically connected devices to adhere to the iPad Pro and transfer data to and from the tablet, such as with a keyboard.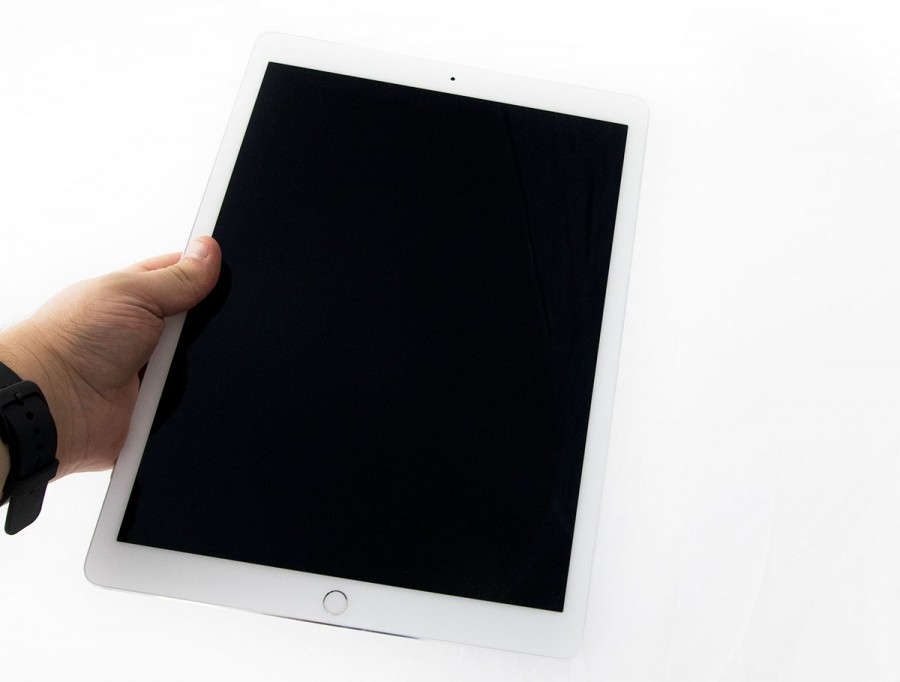 Design and screen
An iPad is built from its screen, so let's talk about that screen, because it's definitely worth talking about.
For the iPad Pro, Apple has brought in its largest portable screen ever, creating a 12.9 inch tablet, and boy is it big.
We recall reviewing a 13 inch tablet before Windows PC makers started making these ridiculous 14 and 15 inch hybrids, and back then 13 inch was insane.
Not much has changed in this way of thinking, because a 13 inch tablet is still pretty nuts, but Apple has managed to find a way for it work, taking the 4:3 aspect ratio it has used for ages on the iPad and crafting a tablet that feels spesh in the hands, and that's thanks to the screen.
Apple sure likes its display technology, and ever since it started showing consumers what an IPS (In-Plane Switching) screen was and even changing the way we view mobile displays with its sharper "Retina" concept, other manufacturers have had to work their hardest to take on Apple's own efforts. It's a force for change, and that's good.
In the iPad Pro, that force for change comes in the form of a Retina display matched to the 12.9 inch size Apple is going for, offering a resolution of 2736×2048, which allows the iPad Pro to weigh in at 265 pixels per inch, pretty much the same level of clarity as the iPad Air 2, though a little under the iPad Mini 4.
Technically, Apple is offering 5.6 million pixels in this display, an astonishing number when you think about it, and it's also leveraging the same sort of display stack used in those other iPad styles, with less space in between the display and the cover glass, and something new: variable refresh rate.
One of these features few will realise is there, Apple's "variable refresh rate" technology will allow the screen to change its refresh rate depending on what is loading on screen at the time. If you're looking at a movie, it will speed up, and if you're looking at a photo or text on a screen, it will slow down, with the result being a more energy efficient panel across the board.
For a moment, though, forget about the numbers and just let us hold the iPad Pro screen, because it's the same thing you're used to, only bigger. The size does equate to a good 300 gram difference, but at around 723 grams, Apple's iPad Pro is still one of the lightest big screened tablets out there, cutting out around 100 grams from its nearest competition in the Microsoft Surface Pro 4 and feeling that it balances better as well.
And while the screens are technically on par, the iPad Pro screen comes across less like an excellent computer and more like a digital sketch pad.
Maybe it was just the white frame around it or the fact that we at one point carried an A3 sketchpad around, but there's something about this fairly bright and beautifully clear display that makes you feel like you're carrying a device made to make something.