Siri
There's been quite a bit of talk about Siri, the 4S's new personal assistant software. To be honest, I wasn't quite sure what to make of it when I first heard about it. However, each time I ask Siri something, the more impressed I am with its cleverness and accuracy.
You can ask it all sorts of things, but Siri can only help you if there is an application associated with your request. For example, you can tell Siri to make an appointment via your calendar, read your text messages or emails, tell you the time or weather, remind you of something, check a stock price or look something up on Google or the WolframAlpha online scientific database.
Still, this covers most tasks you'll want to do, and it's a welcome change that Apple has made Siri available to Australians at launch, while many other countries have missed out.
What Australians won't be able to do however, is receive location-related information tied to maps, so if you ask Siri where the nearest cafe is, it will tell you that this feature is only available in the US. Hopefully, more of these services will come online in Australia, but Apple hasn't confirmed this yet.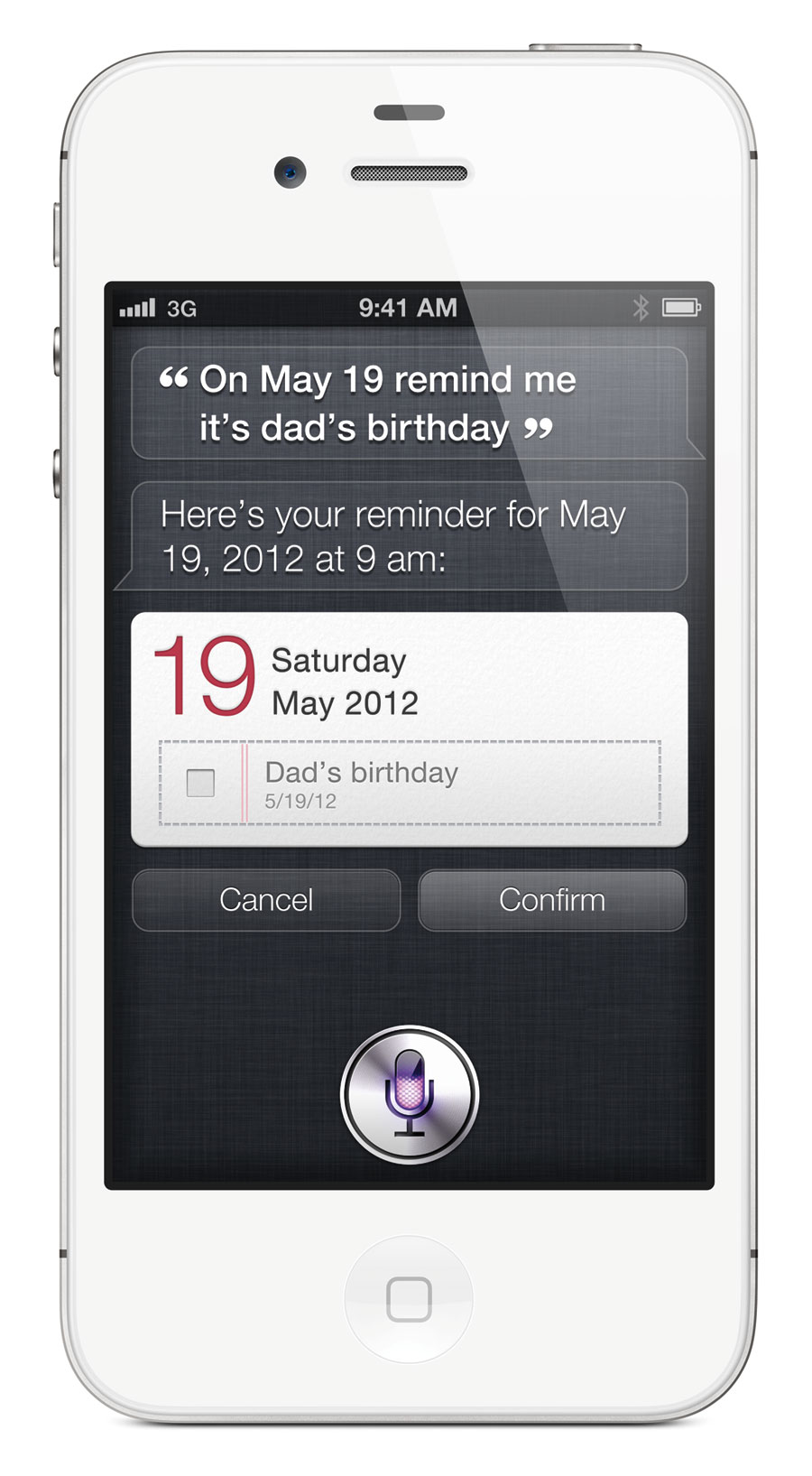 Unlike a voice recognition system, which simply matches the sounds you make to a database of words, Siri uses Natural Language Processing. This means that you can speak to it using everyday language, and it can figure out meanings and how to carry out your request. For example, you can ask it about the weather in many different ways, such as: "What's the weather like?", "Is it cold out?', or "Do I need to wear a jacket?". Siri just figures it out.
My only problem with Siri is that I often forget it's there, and sometimes it appears quicker to do some of the tasks yourself, but I'm finding it really handy for replying to text messages, as it's faster to say what I want in a text rather than type it via the keypad.
Siri did exist as an App before it was purchased by Apple and integrated into the iPhone 4S, which is now the only device upon which you'll be able to use it.
There are a few other features available on the 4S that set it apart from the 4, including the ability to output the screen to a TV via the HDMI (or VGA) adaptor. Also, if you have an Apple TV, updated with the latest software, you can send the iPhone 4S's screen to a TV wirelessly using AirPlay Mirroring. This is a great feature for sharing presentations, web pages, or even playing games, on a bigger screen.
Conclusions
While many were hoping for a radically different 'iPhone 5', the 4S deserves applause for what it delivers. There are some genuine improvements on the 4 in terms of overall performance, including a fantastic camera, improved reception and faster download speeds.
Considering the power demands of the upgraded hardware, the battery life seems about the same as the iPhone 4. The excellent retina display, while not new, is difficult to fault. Also there is a 64GB model, which means more room for your music, video, apps and photos.
Apple's latest mobile operating system, iOS 5, comes installed, and offers a range of new features, the most notable being the new Notifications Centre, iMessage and integrated Twitter. And with iCloud, it's now much easier to synchronise your content, documents and photos across all of your Apple devices.
Looking at the 4S as in the context of Apple's ecosystem, which includes iOS5, iCloud and all the apps, music, books and other content available from iTunes, there is currently no phone on the market today that can match it.
Yes, there are other excellent Android and Windows-Phone-based smartphones from Samsung, HTC and others that have an app store, dual core processors and larger screens, but few are able to integrate the hardware with the broader 'smartphone experience' as well as Apple.
If you have an iPhone 4, you will be able to download iOS5, although the Siri assistant won't be part of this, and you can also connect to iCloud once it becomes available in the next few days. With this in mind, you might be content to stick with your iPhone 4 until the next Apple iPhone release.
However, if you upgrade to a 4S, or switch to it from a different brand entirely, you certainly won't be disappointed. It's an excellent phone with stacks of innovative features, and is built on the latest technology.
Powerful processor and stunning graphics performance; Faster download speeds, industry leading 8MP camera; Siri personal assistant, new iOS 5 features and iCloud support; Ability to export video to external displays;
Looks very similar to the iPhone 4; No LTE (4G network) support;