Apple has steered clear of tablet-sized phones for a while now, leaving it to Samsung and other manufacturers, but now Apple is here with a phablet of its own. Is the iPhone 6 Plus the best big phone of the lot?
Features
Apple's first big big big phone is here, as the iPhone 6 Plus borrows much of the design and specification from the iPhone 6 and recreates it on a bigger scale, with two exceptions: side and camera.
As such, most of the features and specs are the same as they were in the iPhone 6, so if it feels like we're doubling up in this section, we apologise.
For starters, there's the chip from the iPhone 6 used here, called the A8 and running on a 64-bit architecture at 1.4GHz.
This is paired with 1GB RAM, and matched with either 16, 64, or 128GB of storage, a size that is determined at the point of purchase and will not be upgradeable due to there being no upgradeable storage in any iPhone. Apple's iOS 8 exists on this phone out of the box.
Connection options are relatively standard, especially for a flagship phone, with the 4G connection from the iPhone 5S brought up to speed to Category 4 4G LTE, making it support as high as 150Mbps downloads on compatible network connections, while WiFi can now take advantage of the high speed 802.11ac WiFi provided you have the new 802.11ac routers in your home or office.
Wireless also works with Bluetooth 4.0, as well as GPS with GLONASS, and while Near-Field Communication makes an appearance in this phone, it is only for the sake of Apple's payment system "Apple Pay" which has yet to be utilised in Australia.
The camera has taken a minor increase from the iPhone 5S, keeping the 8 megapixels on the back, but changing the sensor to support more light, increased aperture to f/2.2, and support of Apple's "Focus Pixels" for advanced auto-focus technology.
Video is also possible here, and Full HD has been brought up to 60fps, while a slow motion mode now works at both 120 and 240 frames per second, with a time lapse video mode thrown in too.
Unlike the iPhone 6, however, the video side of the iPhone 6 Plus supports optical image stabilisation, something only the Plus seems to have the honour of receiving.
Meanwhile, the front camera remains the same, with Apple including the 1.2 megapixel FaceTime camera from before.
This technology sits underneath a 5.5 inch screen, running the Full HD resolution of 1920×1080, a change for Apple which has previously supported distinct resolutions specific to its products, such as is the case in the Apple iPhone 6.
In the Plus, however, the Full HD display used on a 5.5 inch screen shows a pixel count of 400 pixels per inch, higher than Apple's previous 326 pixel per inch count used on every Retina iPhone since the first one marched out of Cupertino, the iPhone 4.
The screen is protected by some form of scratch-resistant glass, though Apple hasn't specifically said what type — we're assuming a version of Corning's Gorilla Glass — with a different scratch resistant glass covering the camera, Sapphire glass in that case.
Beyond this, there's the design, and here it's an evolution more of the iPod Touch than of previous iPhones or the iPad, with a thinner design sporting a soft curved edge and a screen that follows that curve ever so slightly.
Like previous iPhones, the buttons are small in number, with a power button, volume rocker, mute/vibrate switch, and a home button up front with a fingerprint sensor built into the button called "Touch ID" to let you unlock the phone and pay for things using the unique print on your digits.
Button location is a little different from previous iPhones (not the 6), with the volume buttons and mute switch retaining the left edge position, while the power button has been moved from the top to the right edge.
Ports are all found along the bottom, however, with a 3.5mm headset jack on the far left, Lightning dock for charging and data transfer in the middle, and a speaker grill on the right.
One slot can be found on the iPhone 6 Plus, allowing you to load your SIM — a nanoSIM, in fact — and ejected with one of Apple's pin-based ejector tools, which is included in the box.
The iPhone 6 Plus is available in three colours, with silver, gold, and space grey.
The battery for the iPhone 6 Plus is rated at 2915mAh.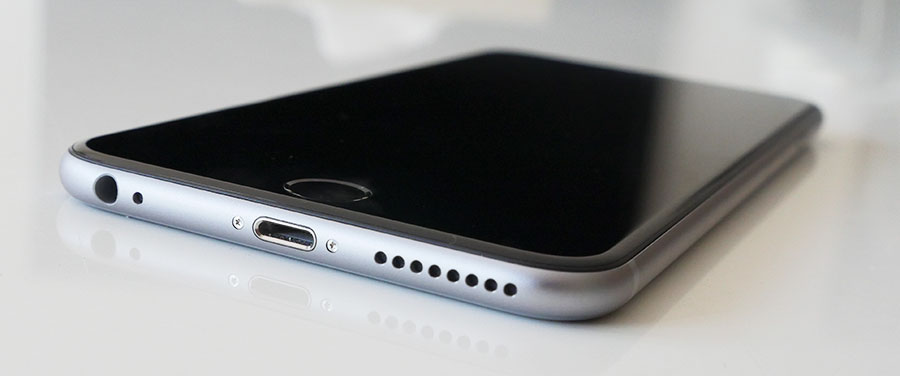 Performance
In September of 2014, Apple did what the world expected and released a new phone.
It was to be the iPhone 6, a model that had been rumoured to be getting a size increase for over a year after owners of the Apple smartphones were quite literally crying out to the company to make something bigger, just like its competitors.
We've heard the tale many a time how an iPhone owner was going to make the jump because it felt like Apple wasn't paying attention to its customers, as they desperately wanted a big iPhone.
And so on September 10 in Sydney (September 9 in America), Apple did just that: it released a bigger iPhone, and a bigger bigger iPhone for people who asked, who cried out and practically demanded that it happened.
The new iPhone 6 is 4.7 inches, giving a screen size closer to that of flagship smartphones from all manufacturers, which presently sit around 5 inches in screen size, but the iPhone 6 Plus is different.
Rather, this model is Apple's first phone-sized tablet and even offers competition against the iPad Mini, providing a 5.5 inch smartphone which would normally go against the Samsung Galaxy Note 4, the HTC One Max, Sony's Xperia Z Ultra, the Nokia Lumia 1520, and any other big phone made to replace both a tablet and a smartphone.
It is Apple's first phablet, so how does it fare?