If you're in the market for a big phone, Apple is ready with a new phone, and if you want it to come with all the features everyone else has plus that lovely Apple touch, the news is very good.
Features
The second generation of the iPhone 6 is here, and with it a new moniker. Or an old moniker attached to a new generation, because we've seen Apple use the "S" before.
In 2015, you'll find Apple's "S" return for the iPhone 6s and iPhone 6s Plus, two variants that take last year's basic models and upgrade them from the inside out, throwing in new screen technology, new processors, more memory, faster WiFi, faster 4G, and better cameras.
Sure, they may look the same, but the iPhone 6 Plus and iPhone 6s Plus are totally different, so what's changed?
For starters, there's a new chip underneath, with the Apple A9 processor the new piece of silicon found here, featuring an M9 motion coprocessor built into the unit and paired with 2GB RAM.
Apple's iOS 9 runs here out of the box, which is the operating system other iPhones can upgrade to if they have some spare time, but on this phone it's here waiting for you the moment you take it out.
Connection options have been improved a little, with 802.11a/b/g/n and 802.11/ac WiFi provided here, Bluetooth upgraded to 4.2 with A2DP and Low Energy (LE), while GPS and A-GPS make an appearance alongside a limited version of Near-Field Communication (NFC) used only for Apple's payment technology "ApplePay" which has yet to be rolled out in Australia.
4G connectivity is also part of the package, providing a high speed LTE modem in the phone, capable of netting some super fast download speeds where they count.
The cameras have also changed, and these start on the back, with that rear camera jumping from an 8 megapixel shooter with a dual-tone flash to a 12 megapixel camera with a dual-tone flash, complete with optical image stabilisation.
Video capture has also been boosted here, jumping from 1080p Full HD movie capture to 4K Ultra HD video capture, while the slow motion jumps from a capture in 720p in the iPhone 6 Plus to 1080p in the iPhone 6s Plus.
Optical image stabilisation has always been offered by the Plus models, too, something we're told has to do with the size of the stabilisation technology and how it will only fit in the big model, and you'll find it in the iPhone 6s Plus again, still not on the iPhone 6s, with this now able to stabilise video if need be.
The front camera has also taken a change, with a huge jump from a 1.2 megapixel FaceTime HD camera to something a little more impressive, running with 5 megapixels instead.
That being said, the screen is technically the same, with a 1920×1080 Full HD display spread out over 5.5 inches sitting atop this hardware, though you will find a layer of 3D Touch underneath, relying on a series of positioning sensors and haptic feedback (Apple calls its "taptic") to work out where your finger is positioned and when this is pressed to send feedback to the body.
Buttons are limited, expected with most touchscreen phones, and you'll find independent volume buttons along the left edge underneath a mute switch, while the power button sits on the right edge.
The home button sits on the bottom under the screen hiding a fingerprint sensor underneath.
As for ports, Apple hasn't provided much to work with, running with only the Lightning port at the very bottom of the handset sitting alongside a 3.5mm headset jack, while a nanoSIM tray can still be found on the right edge, ejectable via a pin ejector tool.
The battery in the iPhone 6s Plus is rated at 2750mAh and is not removable.
Performance
It might be a new model for a new year, but the first time you see the iPhone 6s Plus, it sure won't feel like it.
Looking at the phone and even picking it up, you're basically looking at the same iPhone 6 Plus from last year, except with a new "S" in a rectangle on the back, and possibly a different colour if you've opted for the rose gold variant Apple has released in this generation.
On the outside, however, it looks the same because all the changes are just that: on the inside, because that's where it counts for the iPhone 6s Plus.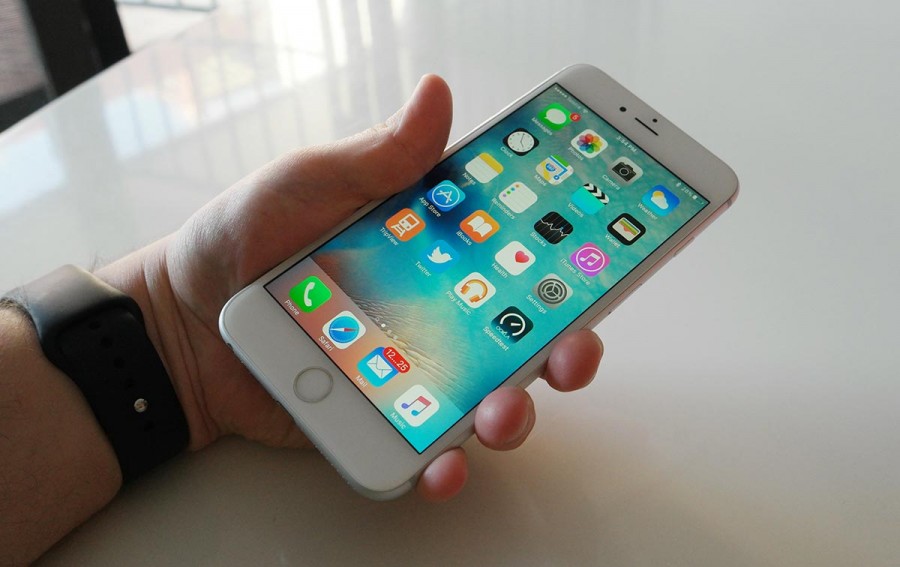 If you're fine with a soft edged large screen phone running Apple's iOS operating system, you'll find it here, because this is basically a clone of last year's big phone from Apple — the first big phone from Apple, no less — but with new hardware inside.
There is one change, and you'll find it in the build, with Apple switching to a sturdier form of aluminium for the body which makes it a fraction heavier. Now, the aluminium is graded at 7000 series, slightly thicker than the 6000 series, so it should be able to withstand the few of you trying desperately to start another #bendgate just because you can.
Your hands won't notice it, though, and that's what matters, because this mostly feels like the previous iPhone 6s Plus, except with a good 20 grams added thanks to the heavier metal.
Switch on the phone and you'll see another typically beautiful display come to life, with a 1920×1080 screen light up on a 5.5 inch size, providing roughly 401 pixels per inch, past Apple's own "Retina" grading of its displays.
Under the hood, there's a new processor working away, with the Apple A9 chip working away alongside twice the RAM from last time, with 2GB instead of 1GB.
With this combination of parts, you'll find the system just flies, with little to no lag when you open and close apps, jumping around and switching into various programs, and using the phone generally.
A synthetic benchmark later and you'll find this is the fastest iPhone available, hardly surprising given that this is the latest iPhone out there, but it should still make you feel uber important, all the same.