Performance
Over to performance, and as expected, Apple's hardware from the iPhone 6S handles just as nicely on the SE as it did over on the 6S, providing slick app-to-app multitasking with little to not lag as you run through the device.
Benchmarks appear to be pretty solid with the 6S, too, hardly surprising given what Apple has thrown inside this phone, but that's good news especially seeing as the iPhone 6S is still a flagship phone and this is basically just a smaller version of it.
Apple has changed something in regards to 4G LTE performance, though, because while the iPhone 6S and 6S Plus are both Category 6 devices capable of reaching as high as 300Mbps when it comes to downloads, the iPhone SE cannot quite pull those numbers.
Instead, it stays with the Category 4 modem, delivering a maximum of 150Mbps and closer to around 100Mbps in real life.
Display
That modem is one thing that hasn't changed, and it joins the screen, delivering the same 1136×640 4 inch panel as the 5 and 5C and 5S have all had.
That means you get the same tried and tested Retina display offering roughly 326 pixels per inch, enough for the human eye even if it's not the most amazing amount in the world.
Smartphones released today typically achieve higher playing a new type of war with consumers, but Apple's iPhone SE screen is still pretty good and delivers enough resolution for most to be happy with.
It's also bright and colourful, and easy to look at from most angles, though we have found that some of the grades of black do occasionally wash out from extreme angles. Not a huge issue, we don't think, though it's still clear little has changed in some areas of the small iPhone.
Cameras
Over on the camera side of things, iPhone SE owners are treated to one change resulting in a great rear camera and an acceptable-but-not-amazing front-facing selfie camera, and both are very interesting inclusions.
The easiest way to break this one down comes from where these parts have come from specifically, because with the iPhone SE's rear camera, you're getting the rear camera out of the iPhone 6S from 2015, while the front-facing camera delivers the iPhone 6's selfie camera from 2014.
Just remember that both of these devices are still sold today, so it's not as if you're being sold sloppy seconds. Rather, you're getting a compromise in flagship hardware, with an excellent 4K-capable camera in a smaller body while the front-facing camera is merely acceptable.
It's a curious mix, though given Apple is likely looking to people who have fallen in love with the smaller phone size, it's one that could pay off, since younger people are more likely to go for a bigger phone and therefore will want the newer and more premium big iPhone with the equally bigger selfie camera.
Older phone users who prefer a smaller size may take the occasional selfie, but it's unlikely to drive what they do, and 1.2 megapixels may be just enough to see themselves.
After all, they know what they look like and may be less likely to constantly need to share it with the rest of the world.
But they will want to take photos, and fortunately, the iPhone SE's rear camera is a good one, literally delivering the excellent iPhone 6S camera to a smaller size.
Let's get something out in the open: while Apple's iPhone 6S camera is very good, it isn't the best smartphone camera around, beaten by the likes of Samsung's Galaxy S7 which does a staggering job in low-light.
That being said, the iPhone 6S and 6S Plus camera still does a great job of balancing light, contrast, and colour, and is easily one of the better camera modules on a smartphone today, so to see it brought over to a smaller body is most welcome.
It's not just a great camera on a small body, though, because we also rate camera quality on speed it takes to get that shot off, and that is something the iPhone SE does very well.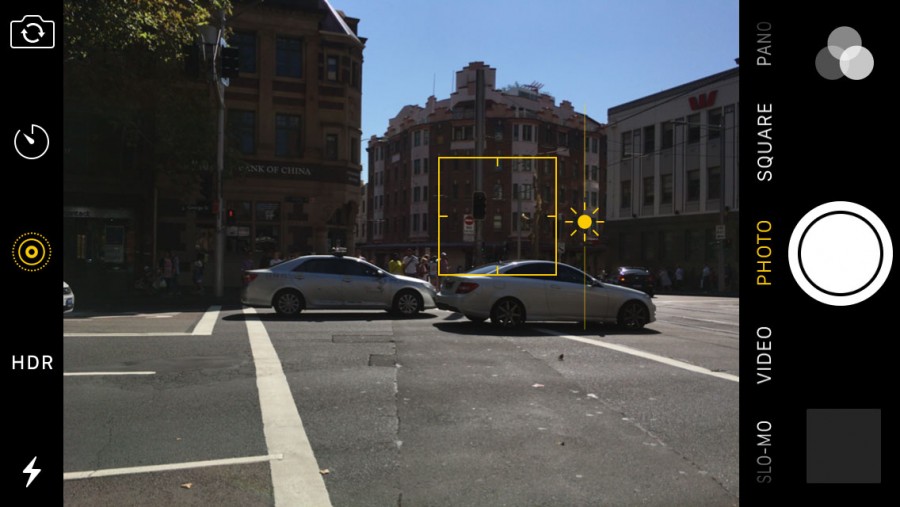 Simply put, the iPhone SE camera is very fast, and whether you're opening it from the lock screen or switching the camera on from a shortcut, you'll find the camera switches on super fast and lets you fire that shot without even thinking.
Many a time through this review we flicked open the iPhone SE just to take a shot, grabbing people in motion and shadows just because we saw them, with this occurring in a way that few phones really let us pull off.
Indeed, it's the balance of hardware that makes this possible in Apple's smallest iPhone, and the size helps tremendously because you don't feel like you're grappling with the un-holdable, taking out a phone matched to a small stature without any issues whatsoever.