Apple's AirPods, which are in-ear Bluetooth earbuds, are finally being followed by Apple's own-branded over ear headphones. Sticking with the naming convention, it calls these ones AirPods Max.
The Apple AirPods Max headphones are available for a premium price and are shipped with premium features. Check out the pictures. They feature quite large earcups with an anodised aluminium finish and an unusual headband with a breathable knitted mesh which Apple calls a "canopy". The frame is stainless steel and the arms telescope – smoothly says Apple – maintaining their position after adjustment. Five colours are available: white, black (or dark grey), blue, red/rose and gum leaf green.
There are two controls. The first is a "Digital Crown". Turned it for volume, press or hold it in various combinations to play, pause, skip track forwards or backwards or invoke Siri. A separate button switches between Active Noise Cancellation and Transparency mode. It's unclear whether there's an in-between mode which relies on the natural attenuation of outside noise by the structure of the headphones.
Apple rates the battery at 20 hours of run time with ANC or Transparency on, or with spatial audio on, or while talking on the phone. That's actually a fairly modest battery life by today's standards. And it seems that unlike most on ear Bluetooth headphones, there's no passive analogue cable or connection, so when the battery is empty there's no music. Fortunately, five minutes of charging provides 1.5 hours of listening time.
Charging is via a Lightning connection. The included charge cable is USB Type-C to Lightning. If you don't have computer or charger equipped with a USB Type-C, you'll need to use your own USB Type-A to Lightning cable.
AirPods Max operation
The headphones come with an unusual case which covers the earcups but not the headband. When placed inside it, the headphones switch to an "ultra-low-power state".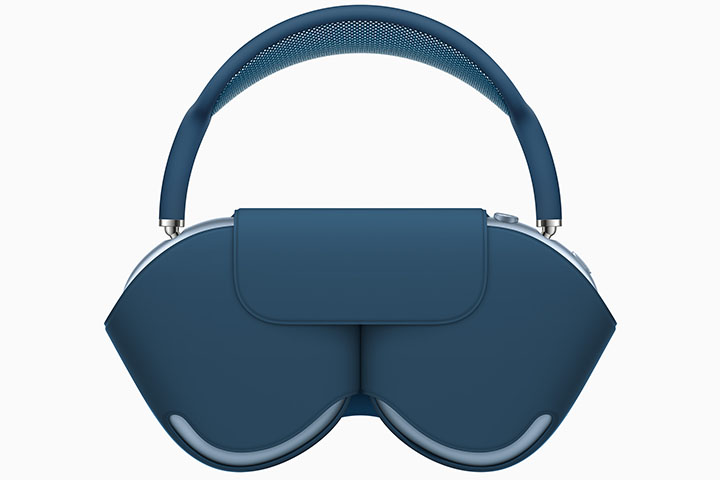 There are nine microphones, three of which are for picking up your voice and eight of which are for capturing ambient noise as part of the active noise cancellation. (Yes, the AirPod Max headphones share a couple between functions.)
In addition to the ANC and Transparency mode, the AirPods Max headphones offer spatial audio with dynamic head tracking, which should be good for games and perhaps movies. They're packed with sensors: optical, position, case-detect, accelerometer and gyroscope.
They use the Apple H1 chip, 40mm Apple-designed drivers and Bluetooth 5.0. There's no mention of which stereo audio codec they use, but it's safe to guess that it will be AAC, since that's Apple's preferred codec across its platforms.
The AirPods Max headphones are compatible with:
any iPhone running iOS 14.2,
any iPad running iPadOS 14.2,
all Apple Watch models back to Series 1 running the latest watchOS,
all Mac models since about 2012 running the latest macOS, and
the Apple TV 4K (running, of course, the latest tvOS).
The Apple AirPods Max headphones will be available from 15 December 2020, priced at $899. I did say premium price! You can pre-ordered them from Apple now. See our review of the AirPods Pro here and the AirPods with Wireless Charging Case here.