Watch our video review of the M2 MacBook Air
Apple's MacBook Air has just had a makeover and we're more excited about a new colour option than we should be – but more on that later. We wrote a 'first look' about the new MacBook Air for 2022 a little earlier, but for those not in the know, the new Air gets Apple's hot-out-of-the factory M2 chip. Last year's model was the first to receive Apple's revolutionary M1 chip, but it kept same design from the previous few years. Thanks to the M1 chip, the Air was as fast or faster than mid-and-upper-end laptops with Intel processors. Best of all, while powerful, it also had twice or even three times the battery life of its competitors – all from an entry level laptop!
With this is mind, we've had the new M2 Air for about a week to see what's new, and with Apple's latest M2 silicon on board, how it performs.
Brand new look
The M2 MacBook Air has an all new shape that does away with the previous slim and curved design. Not that there was anything wrong with it, however, the new version aligns better with Apple's new MacBook Pro 14 and 16 inch aesthetic. The Air's once tapered edges are now squared off, with a more rectangular shape overall. The screen is fastened by a hinge mechanism that doesn't protrude, so there are four flat edges overall when the M2 Air is closed up. While the M1 Air may feel thinner due to its tapered edges, the M2 Air is is actually 20 percent smaller by volume thanks to a single-sided logic board inside, and measures just 11.3mm thin.
Despite its thinness, it still feels sturdy, and certainly premium. There are four rubber feet on the bottom to keep the laptop in place on slick surfaces like stone, tile or steel. A metallic Apple logo sits in the centre of the top cover, and interestingly, the MacBook Air logo has been dropped from beneath the screen. There isn't an Air logo anywhere that we could find.
Saving the best to last, there are two gorgeous new colours in addition to silver and space grey: Midnight and Starlight. Our test unit was the former and we absolutely love it. While it looks black, it's actually closer to a dark blue and appears to change depending on the ambient light. The case is stylish, sophisticated and quite cool. The only drawback is that fingerprints show on it quite easily so it needs the occasional wipe down. But that's a small labour for such an attractive finish. We saw the Starlight colorway during our Apple demo, and it is a subtle, warm gold, and also very nice.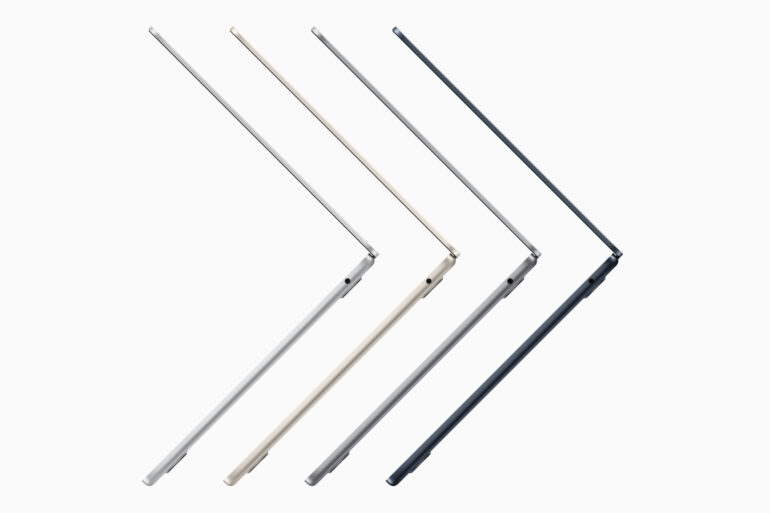 Bigger, brighter display
The new M2 Air has a larger screen. It's now 13.6 inches, but still takes up the same space as the previous model thanks to smaller borders around the display. More room in the same space is a welcome update, and the Liquid Retina screen also gets brighter by 25% with a 500 nit rating. The display is lovely to use, and is super sharp with 4.2 million pixels and 2560 x 1664 resolution. Colours are pure and vibrant, and the panel can display a billion of them, and supports the P3 colour gamut. While a 10-bit panel, there's no High Dynamic Range support. You'll need to opt for the 14 or 16in MacBook Pro to be able to edit videos in HDR or watch Dolby Vision cinema. Regardless, there's still plenty of detail visible in dark areas when watching movies, and lots of brightness and contrast. 
One thing you will notice wit the Liquid Retina display is the camera 'notch' along the top edge. This is similar to the 14 and 16in MacBook Pros and, while nice not to have it, it does mean that the screen's top can stretch a little closer to the physical edge of the lid, and that the areas to the left and right of the notch are additional to what you otherwise get. The notch doesn't really get in the way and we found that, after a while, you hardly notice it. While the screen is a little more reflective than we like, ultimately, it's a great canvas for productivity, content creation and entertainment applications. 
Making connections
As per the previous MacBook Air, there are two USB-C Thunderbolt 3 ports located on the left edge, each with its own dedicated controller, plus a 3.5mm headphone jack. The headphone jack is now of the high impedance variety, so it should play nice with higher quality headphones.
The M2 Air gets Bluetooth 5.0 and Wi-Fi 6, which is the same as the M1 Air, so no upgrade to Wi-Fi 6E sadly.
While you can power an external 6K screen like Apple's Pro XDR Display, you can't run two external monitors from the M2 Air even though there are two Thunderbolt 3 ports. This is more about Apple's product positioning than anything else, and you'll need to opt for the 14 or 16inch MacBook Pro if you want this pro-level feature.
Updated web camera
Speaking of the camera notch, this houses an upgraded 1080p FaceTime HD camera. Compared to the M1 Air, it has twice the resolution and low-light performance. It also uses the latest image signal processor in the M2 to enhance your appearance, such as making you look brighter in backlit situations. We tried it out via FaceTime, and it really does clean up the image and lighting, and also supports Apple's Centre Stage, which pans and zooms the camera to fit you or a group of people into the frame. Compared to the M1's camera, the new model captures more detail and does a better job brightening up faces, producing a smoother, less pixelated image.
Keyboard action
Beneath the lid, the M2 Air comes with an updated keyboard. First, you get full-sized keys, even the function keys on the top row. Second, the TouchID fingerprint scanner is also full sized, making it easier to use for unlocking your Mac, making a Apple Pay purchase or applying passwords. We typed this review on the keyboard, and it's comfortable, with a good, solid action and feedback. The keys light up uniformly when used in darker environments too. Otherwise, the same full-sized trackpad is present, and still one of the best available.
Sound system
In terms of sound, the M2 Air gets a new four-speaker system, where the M1 Air only had two. These are divided into pairs, one for bass and another for mid- to high-frequencies, whereas the Air used both its speakers for all frequency ranges. Interestingly, there are no speaker grilles as they are beneath the keyboard. This means you can't see them at all, and probably why the M1 Air sounded slightly louder with the volume cranked up. During our test, the M2 speakers produced good clarity in the higher frequencies and didn't distort at max volume. Bass response was reasonable for a laptop, with a fairly balanced but slightly on the treble-end sound. We did notice a better sense of left/right separation with the M1 Air's speakers, due to these being placed at the laptop's left and right edges.
The M2 Air's speakers also support Dolby Atoms and Spatial Audio. When watching Dune (2022) via Apple TV in Dolby Atmos, we were pleasantly surprised by how well the speakers created a soundstage where sound effects seemed to emanate from areas beyond the laptop's dimensions, helping to create a perceptible sense of depth and movement.
Battery and charging
One of the huge benefits of Apple making its own chips is that it can improve efficiency. This means more processing power with less heat created and less energy used. As a result, the MacBook Air M2 is rated to provide 18 hours of video playback and 15 hours when web browsing. Of course, how long it lasts for you depends on what you're doing. The battery is also larger than in the M1 Air, and is 52.6 watt hours vs 49.9, or just over 5% more.
In use, we didn't charge the MacBook Air for the first three days we had our hands on it, and have been very impressed with its all-day battery life. Doing general tasks, we found that it is very capable of running beyond 14 hours.
There is a Fast Charge capability that will top up the battery to 50% in 30 minutes. This is a great feature, however, you'll need a 67 watt power adapter to do this, and you only get a 30 watt charger in the entry-level model. Our kit came with a 35 watt (GaN) dual power adaptor, which has two USB-C ports so you can charge two devices, such as an iPhone and the M2 Air, at once. This is a useful feature but it would be great to see this included with all models.
One the other end of the charger is a MagSafe 3.0 connector, which is new in the M2 Air. This comes with a colour coded braided cable too, so it matches nicely. The MagSafe features a magnetic connector, which detaches if pulled sharply, saving your precious Air from becoming airborne if you trip on the power cord. You can still charge via one of the USB-C ports, thankfully, in case you don't bring your MagSafe cable with you.
M2 Performance
For those who want a little more detail, notable improvements for the M2 versus the M1 chip include faster performance cores, better efficiency cores and new ProRes hardware decoders, in addition to H.264 and H.265. There's also now 24 gigabytes of Unified Memory versus 16, so applications have more memory to work with. More specifics on the new Apple M2 chip here.
We performed a number of benchmark tests on the M2 Air to compare it to the previous M1 model. It should be said that the M1 was a cracker of a chip so our basis for comparison is already quite high. Overall, the new M2 Air is very snappy to use, with applications like Word, Excel, PowerPoint and all of Apple's native apps opening very quickly.
We also witnessed a number of demonstrations across different types of applications from Apple. We saw buttery smooth scrolling of timelines with 4K ProRes video in iMovie, as well as Final Cut Pro (FCP). In fact, in FCP the M2 Air can play back seven streams of 4K video in titles and effects applied, or 11 streams of 4K video without. Apple says that video editing is nearly 40% faster than the previous M1 Air and five times faster than Intel chip equipped laptops.
For coders, Swift Playgrounds complies up to six times faster than an Intel based computer, according to Apple. We also watched some amazing game playback with Fantasian, which was made by the team that created Final Fantasy on iOS. This included beautifully detailed hand drawn set pieces with layered animations. Apple says that games play up to 30% faster in terms of frame rates, versus the M1 Air.
Benchmarks
We've compiled a table of our benchmarks below. All results were faster with the M2 MacBook Air, and the percentage difference ranged from about 9% up to 58%. Geekbench 5, which is a comprehensive suite of tests, showed 8.72% increase for Single-core and 16.27% for Multi-core tasks. Cinebench R32 is very taxing on graphics and CPU, and showed an 8.39% improvement for Single-core and an 18% increase for Multi-core. Also interesting was the Speedometer 2.0 results, which tests how quickly a computer can do a number of tasks on a web browser. The M2 Air was 30% faster than the M1, showing that you'll see a good bump in browser-related tasks, but also, using Safari is about 20% faster than Chrome. Overall, the results are fairly in-line with Apple's estimate that the new M2 Air is 20% faster than the M1 Air, and up to five times faster than an Intel-based MacBook Air.
| Test | M1 MacBook Air | M2 MacBook Air | % Difference |
| --- | --- | --- | --- |
| Geekbench 5 Single-core | 1743 | 1895 | 8.72% |
| Geekbench 5 Multi-core | 7678 | 8927 | 16.27% |
| 3DMark Wildlife Extreme score/average fps | 4441/26.6fps | 6567/39.3fps | 47.74% (fps) |
| GFX Metal (4K Aztec Ruins) frames/fps | 1968/30.60fps | 3108.04/48.3fps | 57.92%/57.84% |
| Blackmagic RAW Speed Test (BRAW 12.1 @8K) | CPU 18 / Metal 52 | CPU 24 / Metal 80 | 33.33%/53.84% |
| Cinebench R23 Single-core | 1478 | 1602 | 8.39% |
| Cinebench R23 Multi-core | 6475 | 7642 | 18% |
| Speedometer 2.0 (Safari) | 296 | 401 | 30% |
| Speedometer 2.0 (Chrome) | 253 | 329 | 30% |
Testing notes
We should note that the model we tested has 16GB of RAM and a 1TB solid state hard drive (SSD). There have been reports that the new 13in MacBook Pro, which also has the M2 chip, has a very slow 256GB hard drive, making it slower than the older M1 MacBook Air in some benchmarks. We haven't tested the 256GB SSD for the M2 MacBook Air, however, if it is the same, we recommend upgrading to at least the 512GB or 1TB version for maximum performance. There are both 8- and 10-core GPU variants of the M2 chip too – ours was the 10-core. You can also choose from 8GB, 16GB and now 24GB of RAM options, although the latter seems like overkill for an entry-level machine.
An incredibly important part of the performance story is that the tests were done with the machines running on battery power. Unlike Intel-based laptops, which are considerably less efficient, you'll need to plug them in to get full performance, and they are often hobbled by 50% or more when unplugged to reduce power consumption and heat caused by the chip (CPU). This is also why the MacBook M1 and M2 Airs are fan-less, meaning they will never sound like a leaf-blower when under a full workload. They also stay quite cool, saving your lap, and of course, have truly excellent battery life.
Which model?
If you need to use dual external monitors, plug in a lot of external devices at once, and run apps that require sustained processing power, the 14 or 16in MacBook Pros with the M1 Pro or Max chips are your best bet. Compared to the new 13in MacBook Pro with the M2 chip, all you're really getting here is an active fan cooling system, meaning the laptop can stay cooler and deliver maximum performance over a longer period of time than the M2 Air, however, this has the old MacBook Pro design, and could use a refresh.
Prices for the M2 Air start at $1,899, though we'd suggest the $2,349 model which gives you a larger (and probably considerably faster) 512GB hard drive, along with the more powerful 10-core GPU version of the M2 chip and the handy 35W Dual USB-C power adaptor.
GadgetGuy's take
The M2 MacBook Air builds on the already excellent foundation established by the M1 MacBook Air. The new design is stylish, very portable and a pleasure to use. The larger 13.4in Liquid Retina display gives you more space than before, and the M2 chip delivers noticeably better performance with class-topping battery life. All up, with the New MacBook Air with M2 chip onboard, there's little that anyone would want from a laptop intended for day-to-day use, and we absolutely love the new Midnight colour!
M2 MacBook Air video review
The New MacBook Air with M2 processor furthers the divide between Intel PC laptops and Apple, with even more power, better battery life and fresh new design with larger display.
Positives
M2 chip delivers about 20% more performance with up to 18 hours of battery life
New design is beautiful to look at, feels great in the hand
Love that Midnight colour!
13.4 inch screen is roomy and bright
New 1080p FaceTime HD camera will make you look good in poor lighting conditions
Negatives
Doesn't support dual external monitors
Midnight colour shows fingerprints easily
Some might not like the screen notch