The Apple MacBook Air 2020 – AIR, as it is best known, is Apple's svelte entry-level laptop. There are a number of improvements in its latest iteration. While more a refresh than a revamp, the good news is that it gets faster, more storage options and a new and improved keyboard.
The Apple MacBook Air 2020 shares the same wedge shape as its predecessor. On its tapering edges are 2 USB-C type connectors on the left and a single 3.5mm headphone jack on the right. The sturdy case, which is made from 100% recycled aluminium, is available in toned metallics including silver, Space Gray and gold.
Inside the case is where you'll find most of the changes. Lifting the lid reveals the 13.3″ Retina display, with a bright 400-nit LED-backlit IPS panel. The Retina display has 4 million pixels, which have a density of 277 pixels per inch for crisp text and sharp detail.
A True Tone feature is included, which adjusts the display's colour temperature depending on ambient light. This helps produce more natural-looking colours and whites, depending on if you're indoors or outdoors and the time of day.
Air gets a Magic Keyboard
Moving to the keyboard, there have been some improvements here too as Apple's recent keyboards have not been without their troubles. Back in 2015, the company replaced its traditional 'scissor' keyboard mechanism with a new centrally-hinged 'butterfly' design. This helped make keyboards flatter, while still providing a satisfying amount of key travel and sturdiness.
Unfortunately, the first generation of butterfly keyboards were susceptible to small bits of grit, crumbs or dust getting inside and causing the keys to stick. While the 3rd generation butterfly keyboards released in 2018 seemed to fix most of the issues, it appears Apple has gone back to the scissor-based keyboard mechanism. This can be found in the new Magic Keyboard, which was first introduced on the 16in MacBook Pro, and is on the new MacBook Air.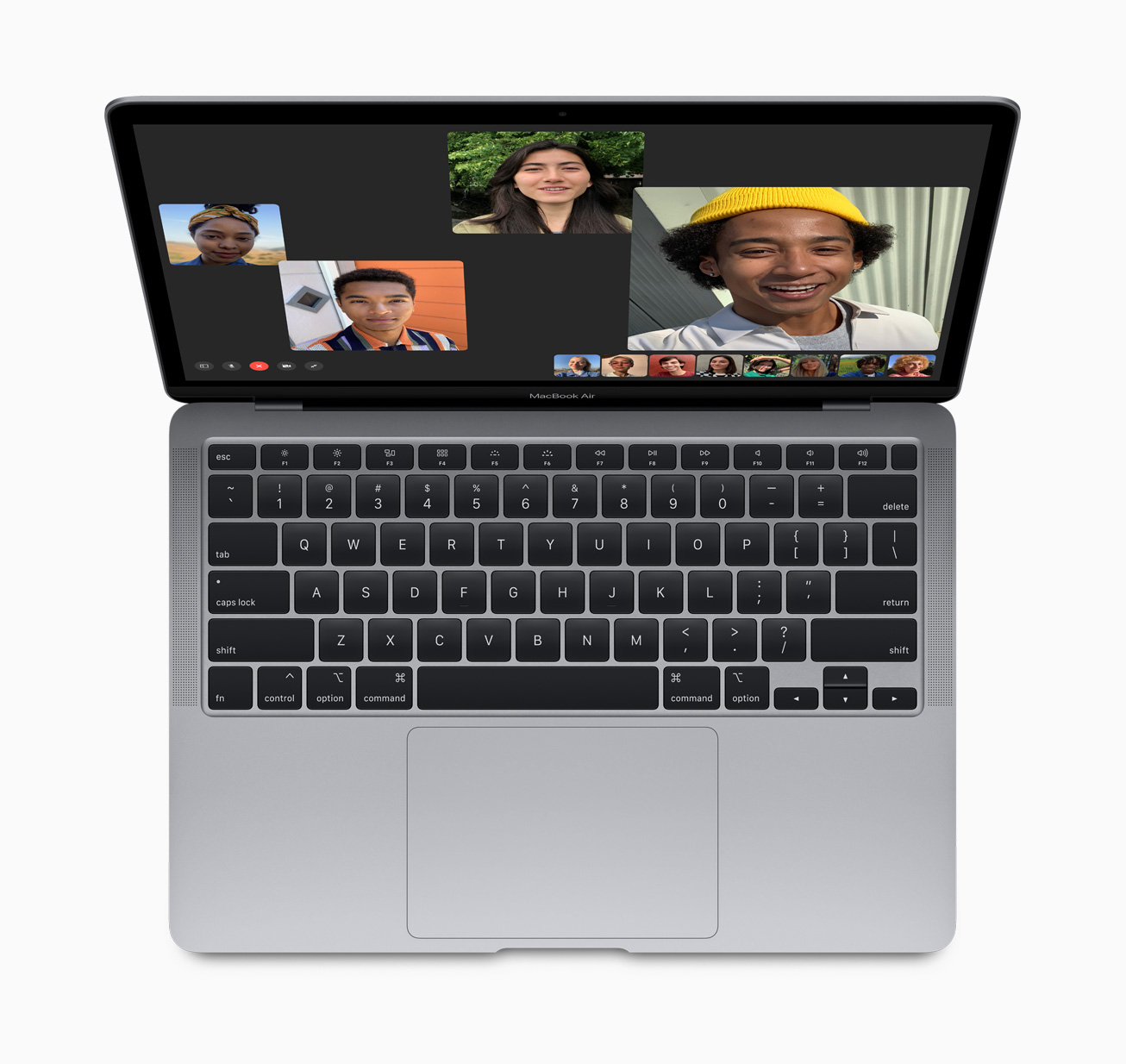 Compared to the butterfly keyboard in my 2018 MacBook Pro, the Magic Keyboard is much more comfortable to type on. The increased key travel feels simply luxurious, and while providing 1mm of travel, it seems like more. Also, while not quite as solid as the butterfly keyboard, the keys aren't too wobbly and seem to have more dampening when making contact. Typing is quieter too, with less key 'clack' than the butterfly model.
A new 'inverted-T' arrangement for the arrow keys makes it easier to recognise which direction you are pressing. This can come in handy when using a spreadsheet or playing a game. Time will tell if the Magic Keyboard has ironed out the 'bugs' found in the butterfly design but it certainly feels good to type on.
Secure foundations
You'll also find a fingerprint sensor sitting on the top row to the far right. This is for Apple's TouchID which uses your fingerprint as a password to unlock your Mac or enter online passwords. It can also be used to authorise Apple Pay financial transactions for online shopping.
This works in conjunction with Apple's T2 Security Chip, which is a dedicated microprocessor for on the fly data encryption. It's also used to encrypt the data stored on your hard drive should you want extra security and privacy.
The new Air's trackpad also grows by 20% versus the last model. The extra room is ideal for multi-touch gestures like three-finger swipes to move you between desktops (spaces), pinch and zoom, and scrolling. It's pressure-sensitive too, which is handy for drawing applications and enables 'Force Click'. This is essentially a way for the trackpad to feel like you're clicking on it by providing haptic feedback, but it's not actually a button at all and a completely sealed surface.
Twice the speed
The new MacBook Air gets a considerable performance bump. This starts with a choice of three new 10th generation Intel processors, ranging from the Core i3 and i5 to the i7. The most powerful iteration, the 1.2 GHz Core i7 with Turbo Boost up to 3.8GHz, is the first time a quad-core processor is available on a MacBook Air.
Quad-core technology means there are 4 'brains' available to simultaneously process instructions. This is ideal for 'pro' tasks such as 4K video editing, photo retouching, graphic design and music authoring – even playing 3D games.
Apple claims that the new Air is twice as fast as the previous model, and we found this to be true in our testing. Our review unit, a MacBook Air with Intel Core i5 and 8GB of RAM scored 3256 on GeekBench 5's multi-core CPU test, as compared to the previous model with the same configuration, which scored just 1530. The internal memory has been uprated to LPDDR4X and rated at 3733 MHz, which is an important factor in its performance. Memory sizes range from 8 to 16GB depending on your configuration.
The Air also gets increased graphics power, thanks to the new Intel Iris Plus GPU (graphics processing unit). When tested against the previous top of the line Air, the new model delivers an 80% graphics performance improvement, according to Apple.
Fast connections
In terms of interconnectivity, it's good to see that the two included USB-C ports are the Thunderbolt 3 type, meaning 40 gigabits per second transfer speeds. These can either transfer high-speed data to external storage devices or share video information with external 4K and higher definition monitors including the Apple Pro Display XDR monitor (6K). The Air can support up to two 4K monitors at once, or one 5K or 6K display.
The Air has traditionally come with a rather small 128GB solid-state hard drive (SSD) storage as standard. On the plus side, SSD drives are very fast and have no moving parts, so they're more durable and perfect for laptops. With the new Air, Apple has doubled this to 256GB base storage, with 512GB and 1 terabyte sizes, and for the first time, a huge 2TB option. Keep in mind that 2TB is $900!
If you happen to be house or office-bound, the Air gets a three-mic array with beam-forming for clear voice capture for FaceTime calls or Zoom conferences. The stereo speakers sound reasonably good for a laptop and support Wide Sound and Dolby Atmos-encoded movies.
While you'll probably use the Bluetooth 5.0 connection for headphones, there's still a 3.5mm jack for those old-school cans.
Wi-Fi connectivity is the 802.11ac type and is compatible with 802.11a/b/g/n variants, so it will connect to Wi-Fi both old and new.
Inside the box, you get a 30W USB-C power adaptor and 2-meter USB-C charging cable. Operating life from the 49.9 watt-hours lithium-polymer battery is rated at up to 30 hours standby, 11 hours of wireless web browsing and 12 hours of watching iTunes movies. In our use, we wrote this article and spent 2 days with it without needing a charge. Actual battery life will depend on a lot of factors in terms of how processor and graphics-intensive your tasks are.
GadgetGuy's take:
Apple MacBook Air 2020 is more of a good thing.
The MacBook Air is a well-proven and much-loved laptop. The new model is a definite step up in terms of performance, making it capable of doing more things at once, and stretching up to 'pro' content creation tasks with the top-end Intel Core i7 processor and 16GB of RAM configuration.
Apple MacBook Air 2020 starts at $1599 for a 1.1GHz Intel Core i3, 8GB of RAM and 256GB SSD storage. Can you get more 'bang for your buck' from Windows laptops? Yes, but that's not really the point. It's for those who want an Apple product and are willing to pay for premium materials, excellent design, bespoke features and MacOS's renowned ease of use.
Apple MacBook Air 2020 Specifications:

Apple Australia website here
Warranty: 1-year plus Apple Care+ optional at extra cost
Retail price
A$1,599 RRP, A$1,999 RRP
Display
13.3-inch (diagonal) 400-nit LED-backlit display with IPS technology

2560-by-1600 native resolution at 227 pixels per inch with support for millions of colours

True Tone technology
Processor
1.1GHz dual-core Intel Core i3 (Turbo Boost up to 3.2GHz)
– Configurable to 1.2GHz quad-core Intel Core i7 (Turbo Boost up to 3.8GHz)

1.1GHz quad-core Intel Core i5 (Turbo Boost up to 3.5GHz)
– Configurable to 1.2GHz quad-core Intel Core i7 (Turbo Boost up to 3.8GHz)
Graphics
Intel Iris Plus Graphics
Storage
256GB SSD
– Configurable to 512GB, 1TB, or 2TB SSD

512GB SSD
– Configurable to 1TB or 2TB SSD
Memory
8GB of 3733MHz LPDDR4X memory
– Configurable to 16GB of 3733MHz LPDDR4X memory
Charging and Expansion
Two Thunderbolt 3 (USB-C) ports with support for charging, DisplayPort
Thunderbolt is up to 40Gbps and supports USB 3.1 Gen 2 up to 10Gbps
Wireless
Wi-Fi 6 AC
Bluetooth 5.0
Camera
720p FaceTime HD camera
Audio
Stereo speakers
Wide stereo sound
Support for Dolby Atmos playback
Three-mic array with directional beamforming
3.5 mm headphone jack
Keyboard
Full-size backlit Magic Keyboard with 78 (U.S.) or 79 (ISO) keys, including 12 function keys and 4 arrow keys (inverted T-arrangement) with ambient light sensor
Touch ID
Trackpad
Force Touch trackpad for precise cursor control and pressure-sensing capabilities; enables Force clicks, accelerators, pressure-sensitive drawing, and Multi-Touch gestures
Battery
49.9 watt-hours lithium-polymer battery. Up to
– 11 hours of wireless web
– 12 hours iTunes movie playback
– 30 days of standby time
OS
macOS Catalina
Size and Weight
Height: 0.41–1.61 cm
Width: 30.41 cm
Depth: 21.24 cm
Weight: 1.29 kg
In the Box
MacBook Air 30W USB-C Power Adapter
USB-C Charge Cable (2 m)
Improved Magic Keyboard with longer travel and quieter keypresses
Rock solid construction, attractive design
Nearly twice as powerful as the previous model, with a quad-core Intel Core i7 CPU option
Up to 2TB of solid-state storage option
Windows-based laptops are less expensive with similar specifications