We've been waiting for an update to Apple's futuristic MacBook, and it's finally here, delivering a dose of speed in a super svelte package. Is this still what the future looks like?
Specs
Apple's super slim computer is back, and for the second-generation, the company is mostly changing out what's on the inside.
You'll still find the same metal body with the same 12 inch Retina In-Plane Switching (IPS) screen supporting the same slightly unorthodox 2304×1440 screen that can scale down to standard resolutions for better clarity, but pretty much everything else that was important about this machine has changed, and that starts with the processors inside.
In this generation, you'll find one of three sixth-generation Intel Core "m" processors, with a variant arriving with a 1.1GHz dual-core Intel Core m3 processor, another with a 1.2GHz dual-core Intel Core m5 processor, while the final variant — which is made to order only — comes with a 1.3GHz dual-core Intel Core m7 processor.
Memory is set to a standard 8GB across the entire range with no way of upgrading it, while storage can come in either 256GB or 512GB amounts.
Because there's a new processor, the graphics have also been updated, shifting to Intel's HD 515 chipset, while connectivity options are all fairly normal, at least on the wireless front, offering 802.11ac WiFi backwards compatible with 802.11a/b/g/n, with Bluetooth 4.0 also along for the right.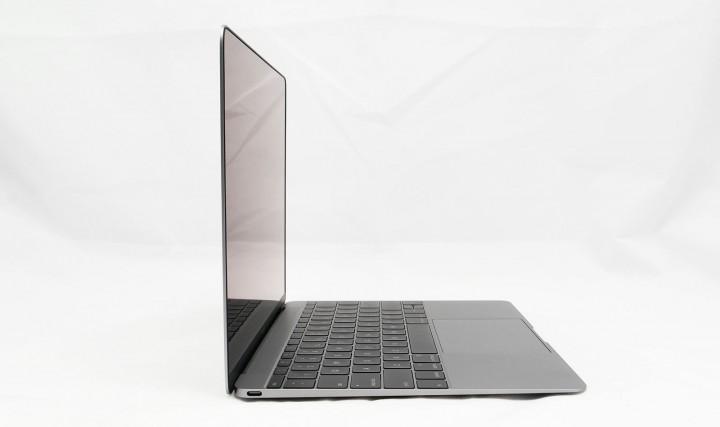 There are still only two wired ports on the MacBook, with a USB 3.1 Type C port on the left side, used for both charging the laptop and moving data across, while the headphone jack is still a 3.5mm port on the right edge.
One camera can be found above the screen, offering a 480p FaceTime camera like that out of the older iPhones, with two microphones on the side, too.
Design
Last year's Apple MacBook was easily one of the surprise pieces of technology for the year. For the first time in a while, it felt like Apple was changing the game with a new laptop, and one that went above and beyond what its computers were normally doing.
It was as if the company had made a machine that out-aired its MacBook Air, with a design that was so light, so thin, so simple, and so elegant, it could only have come Apple.
Strangely, it wasn't called the MacBook Light or the MacBook Nano. We'd even have been happy with the MacBook Gram or MacBook Ounce, or even the delightfully dual prong name of "MacBook Oz" which would serve Australians and Imperial measurement fans in America well.
No, it was merely called the "MacBook", and it looked to show off what a computer could be when you scaled everything back, making the thinnest and lightest machine without a touchscreen you could do.
To do this, Apple had to do a number of things, including making its own circuit board for the chip, redesigning the keyboard, developing a new size of Retina screen, and changing the way the battery was placed inside the case.
And that case had to be slim and easy to take with you, weighing only 920 grams when Apple was through with it.
Apple accomplished it, but it had some compromises, with only one usable computer port outside of the 3.5mm jack, which if we're honest is becoming less and less of an issue.
So in the 2016 model, has Apple changed anything in the design?
To put it simply, no: Apple has left things largely the way they were, changing the inside of the machine, because that's where the majority of upgrades were needed, delivering the latest generation of Intel processors to this ultra-slim computer.
Performance
While you can't expect MacBook Pro performance out of a computer practically half the size of that machine, Apple's MacBook — this slim model, not the old white plastic box — doesn't disappoint, provided you go in knowing full well what it is capable of.
And what exactly is it capable of, and who does it serve?