The new 4th generation Apple TV went on sale last week in Australia. I've been using one in my living room a few days before launch to see what's new, and most importantly, if it should take pride of place over all of the other 'streaming' video devices available.
First off, the most significant change in the new Apple TV versus the old version is that it's not just a 'streaming' device anymore. Yes, it still plays internet video, TV and movies, but now it's a platform designed to bring the wonderful world of apps to your living room.
Is this a good thing? Well, the best comparison I can come up with is that it's sort of like when Apple brought apps to mobile phones, turning them 'smartphones', enabling them to do an amazingly diverse range of things.
Now, the Apple TV can run the same sort of apps that you find on your iPhones and iPads, although many of them will be adjusted to fit onto your TV screen and controllable though the Siri Remote.
The Siri Remote is the second major thing that's new. It's been overhauled and features a clickable multi-directional touch pad for gestures, taps and finger swipes, buttons for directly accessing the menus, and sensors that pick up the remote's movement, enabling it to be used a game controller.
And of course, the Siri Remote contains a pair of microphones (one for your voice, one to cancel out background noise) for speaking to Siri, who in turn will help you navigate the Apple TV, and find the things you want to watch, play and know.
In terms of the unit itself, the 4th generation Apple TV has the same shape and top-down footprint of its predecessor, though it's now 35mm tall, so about a third higher than before. On the back, there's a HDMI connector for your TV, a 10/100 Ethernet connector for your network and a Lightning connector for power.
Apple also tantalises us with a USB-C port, but we're told that this is just for service and diagnostics.
Inside, Apple has essentially updated the Apple TV with the A8 processor found in its iPhones and iPads, along with some extra memory to store apps, and new operating software called tvOS.
Using it
So what's it like to use? In short, fantastic. Apple's signature eye for design and attention to detail are certainly not lost on the new Apple TV.
The tvOS interface is beautiful, clean and easy to navigate. There is far less clutter – the Home Screen only displays five items across, and two rows of selections on the screen at once.
Also, thankfully, the home screen can now be re-arranged, so you can place apps in the exact order that you want.
The movie and TV tiles, or 'posters' feature a glitzy parallax effect, which creates a subtle 3D look when you highlight them, and there are gorgeous full screen pages once you make a movie or TV selection, which also include related titles, reviews and more with a quick swipe down on the remote's touchpad.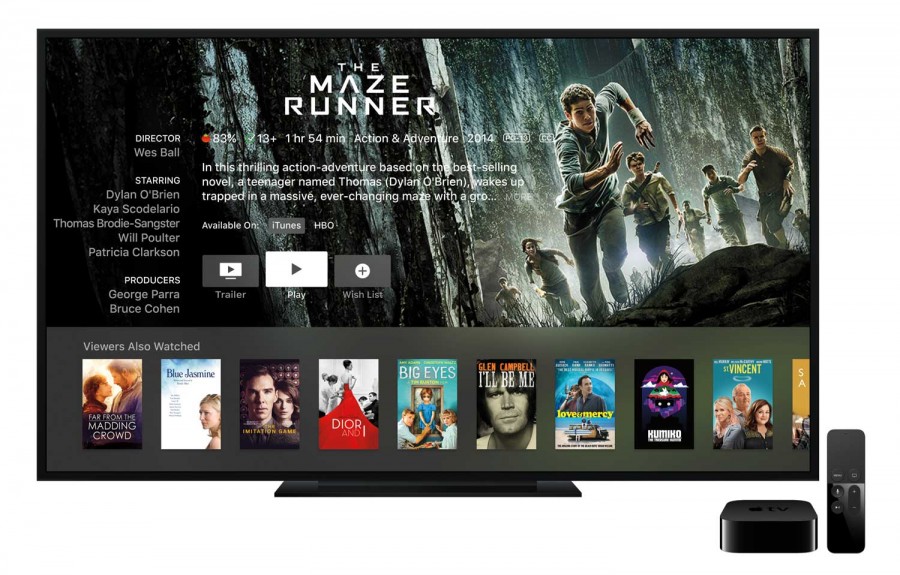 There's an 'Idle Focus' feature that dims the home screen when you set the remote down, while putting a 'spotlight' on the last item you've selected.
Navigation
The Siri Remote makes it very easy to highlight and navigate to the content that you want. The direct buttons also make it easy to go back a menu, or return to the home screen.
It's also easy to move around on the timeline when you're watching a video – you can swipe the touch pad left or right to fast forward or rewind, and the faster you swipe, the faster you move.
And there's a handy panel that you can swipe down from the top while watching your content, which includes chapter selections and audio adjustments including subtitles, redirecting to Bluetooth headphones, or enabling the 'Reduce Loud Sounds' setting to avoid waking up the neighbours when watching late at night.
Two of my favourite things about the Siri remote are that it's Bluetooth, meaning that it doesn't need to be able to 'see' the Apple TV to function, and the volume buttons can directly control your TV or AV amp.
While ability to control your TV or AV amp requires a CEC-compatible device, which means something made in the last 3-4 years, the Siri Remote can also learn your older TV or amp's volume controls directly from their remotes, and then communicate to them via its built-in older style infra-red emitter.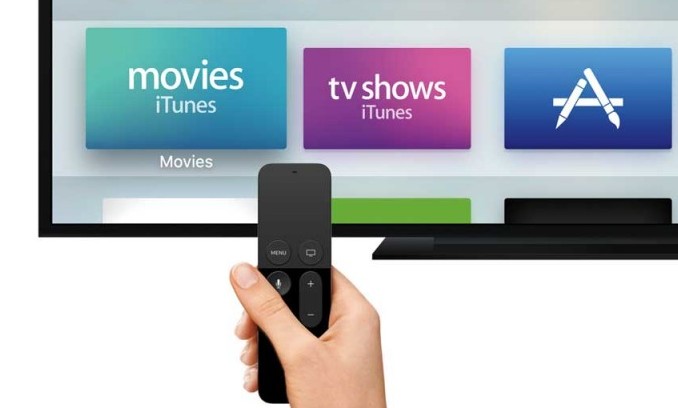 You can recharge the Siri remote via a lightning connector, and while it hasn't run out of charge yet, Apple expect the remote to need a top-up a few times a year.
My only gripe with the remote is that when I pick it up, I sometimes have it facing the wrong way, as it's fairly similar feeling at both ends.