Not everyone needs a phone, and some of us out there just want something to play music, entertainment, games, and a bit of something else. If you don't need the phone, good news, because Apple has just refreshed the iPod Touch.
This week, Apple's now three-year old iPod Touch has received a bit of a refresh that makes it more like the iPhone 6 from at least a hardware point of view, as Apple updates its touchscreen media player with the same processor technology found in its 4.7 inch iPhone 6 and 5.5 inch iPhone 6 Plus.
That's not all the update provides to the iPod, as it will also deliver the 8 megapixel camera from the back of phones to the iPod Touch, as well as support for 802.11ac WiFi.
These advances should put the iPod Touch on some fairly even footing as far as processing power goes for the media player with its iPhone cousins, and should even be more powerful than the iPhone 5C and 5S, both of which are still sold.
Granted, all of the iPhones feature a mobile chip in them and can connect to mobile networks, and the iPod Touch — even this new one — certainly lacks that ability, meaning the only way to download movies, music, games and apps will happen through a wireless network, usually at home or work, though technically any place you can connect to WiFi, including mobile hotspots.
Without the mobile capability, the iPod Touch might be well suited for people who don't need to rack up a phone bill, such as kids, seniors, and anyone else keen for a web-capable media player with up to eight hours video playback or up to 40 hours music playback.
"With big advancements like the A8 chip and the 8 megapixel iSight camera, customers can experience next-level gameplay, take even more beautiful photos and enjoy their favourite music, TV shows and movies," said Greg Joswiak, Vice President of iPhone, iPod, and iOS Product Marketing at Apple.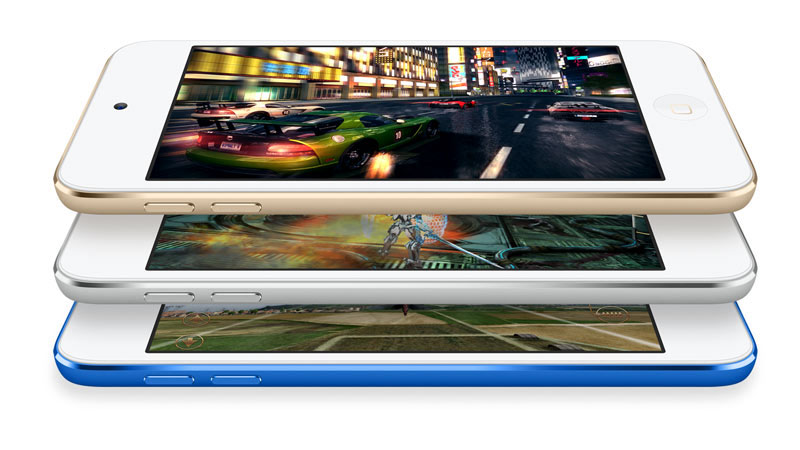 Aside for the slight changes in tech specs, most of everything else stays the same, including the design, the 4 inch Retina-grade screen, and front-facing 1.2 megapixel FaceTime HD camera, though the colours have changed to include gold, silver, pink, blue, red, and space grey, with the capacities upgraded too, now starting at 16GB, and running all the way up to 128GB of storage.
A 128GB not-quite-iPhone is surely a very large media player, and its $579 price reflects this, though it should also be ample room for any media you need to throw on the device, or even any media you need to cache from Apple Music — which this will support — to the iPod Touch itself.
In any case, Apple's 2015 iPod Touch should be available now from $279 for 16GB, $349 for 32GB, $419 for 64GB, and that aforementioned 128GB $579 option.
These new iPod Touch models will be joined by minor refreshes of the iPod Nano (above) and iPod Shuffle which are exactly the same in every way, but now sport the same colour choices as the iPod Touch, offering up a slight change from the truly colourful models before it and over to the more subdued gold, silver, pink, blue, space grey, and red via the "Product Red" line of products that provides a portion of the purchase price as a donation to an AIDS organisations.
Like the iPod Touch, these new models are available now, also, available only in one incarnation each, the iPod Shuffle (below) for $75 in 2GB and the iPod Nano for $219 in 16GB.