Yes, the Apple Watch has specific operating requirements, and it's partly because of the way the two devices will talk, as well as the operating system update including the Apple Watch app whether you like it or not.
iPhone owners will likely know this too well, and have probably thrown the otherwise useless app into a folder knowing all too well that they can't get rid of it.
If you have an Apple Watch, though, you'll find a use for the app, and possibly several at that.
For one, it's there for settings.
Want to change how the watch responds when you raise your arm, the brightness level, if it has a passcode on it, how strong the vibrating haptics are, what wrist you wear it on, if you should have 24 hour time on, or if the watchface you're looking at deserves a monogram? You can do it all from the app, and then some.
That extra some comes from the Watch App store which is integrated in the "featured" section of the app below.
Think of this as a side section of the Apple App store, highlighting apps that include support for the Apple Watch. It could be a game, or a news app, or something fitness friendly, and you might even already own it.
Apps like Tripview include support already, as does Flipboard, Twitter, Instagram, Shazam, Uber, Evernote, RunKeeper, and Yelp, and more will eventually come out, showcasing that the Apple Watch platform could be a solid choice for apps.
You can also control the app layout from the settings menu of the app, which helps you to move the app icons in a way that's familiar, allowing you to customise the design of an Apple screen, something we're not used to. More on that later.
For now, let's talk about how you use the watch, because this is vitally important.
Fortunately, it's all easy enough, with Apple's typical take on simplicity being key to how it all functions.
For starters, there's the clock.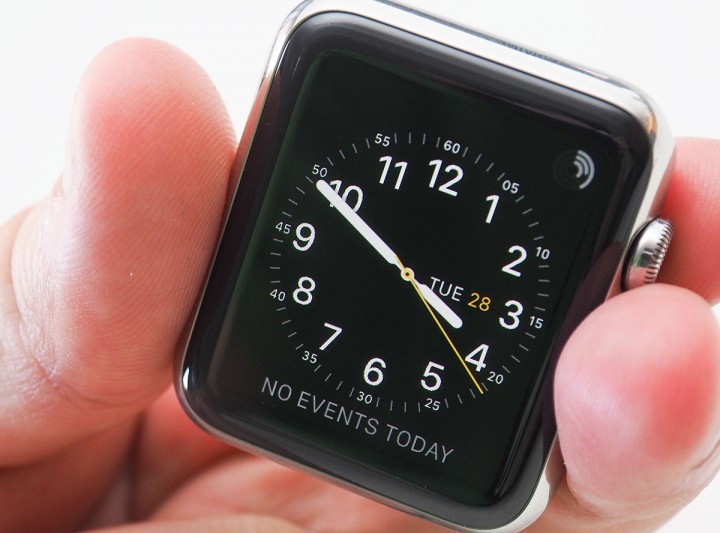 At the clock, you'll find you can swipe down for notifications, which you can easily swipe away if need be.
If you swipe up at the clock, you'll find what appears to be your favourite widgets, with mini apps that can be swiped left and right to show you battery life, upcoming events, music being played, and more.
You can also hold down on the screen at the clock to go into customisation mode, which is essentially a "force touch" like what Apple uses on its new Force Trackpads of late.
We'll touch more upon the customisation of the clocks later, but there are ten faces to start with, ranging from analogue to digital, with some unique features such as solar position tracking as a way of telling the time, a modern sundial perhaps.
And at any time you want to go back to the home screen, there's a button on the side in the little crown ring called the digital crown. Press that once and you'll be taken to the clock. Press it again, and it's to the app menu screen.
The app menu screen is about the closest the Apple Watch gets to being a phone, offering lots of little shortcuts that you can pick from using the touchscreen. These are the apps from your phone, and they're basically side-apps from apps already found on your phone.
You might have Evernote on your iPhone already, and now you have a Watch app for letting you check out your Evernote documents, or even make new ones simply by talking at the phone and letting Siri do the translation.
Instagram is another, and this will let you browse your Instagram feed or check out the activity on who like what that you post.
Local app Tripview is another, making it easy for you to check local bus and train times without getting your phone out. We wish Android Wear supported this, we really do.
Another local app is Procreate, and this one offers a more wrist-friendly controller for when you decide to paint or draw using the iPhone's pocket Procreate app. With it, you can quickly change whether you're using a pencil or brush, and change colour swatches quickly on your wrist, helping you to be a little creative more efficiently.
Getting around the apps, you'll find the touchscreen is very useful, with the typical smooth and fast interaction you've come to expect from an iPhone provided on the tiny Apple Watch display, but there's more you can do than pick a paint brush, take notes, and check your bus times.