The calendar on your phone might look good and may appear clean, but if you're after a colour heavy design focused calendar, legendary journal maker Moleskine may have the answer.
And that answer is a $6.50 app available strictly for the iPhone and the Apple Watch called "Timepage", with its title being a good indicator to what the app does.
If that's a little too loose, Moleskine's Timepage is an agenda application, showing you your week at a glance in a clean and simple design featuring the colour of your choice, what the weather will look like, and just the information you're looking for.
You can use calendars connected to your iPhone of all sorts, and we connected this up with Exchange, Google, and threw in some birthdays, and the events you add using both this app and any other calendars you frequent — such as a connected Calendar on a Mac or the Google web calendar — will show up here in this handy view.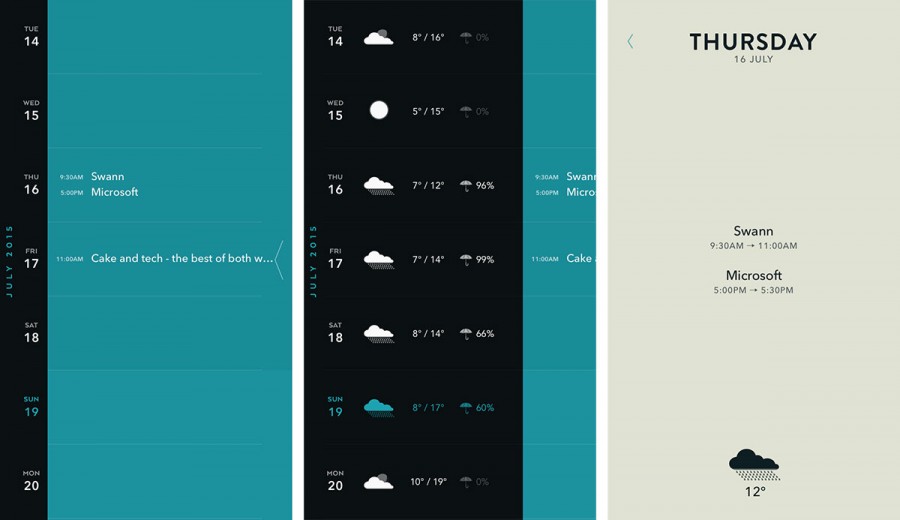 The basic agenda is quick and easy to take a glance at, and if you swipe the agenda over, you'll even see the forecast for every day in that week in the app, complete with the chance of rain.
From there, you can go into a day.
If your day has events, you'll see them listed cleanly for you, complete with the forecast for that day below them all.
Touch an event and it will open up into that colour with more information about the event, again presented very cleanly. There's the date and time, a map to tell you where it is, the time it will take to get there using transport or your feet, a basic forecast, and how much time you have until a next event, with everything in a language that is simple and easy to see.
Getting out of there is as simple as touching the small down arrow at the top of the screen.
In fact, if you still have events to see and you're worried what the forecast will be later on, you can hold your finger down on the forecast icon and the drag your finger through a live graph of what the weather will be like later in the day.
But if you don't have any events, you'll find a neat little fact about the day waiting for you. The day Dolly the cloned sheep was born. When the seat belt was invented. When Intel was founded.
Neat little facts, for sure, and if you have nothing to do, you might just want to press on them to find out more.
We say "might" because you can't. At most, you can email the factoid to someone with a link to the app so they can check it out themselves, but it would have been nice if Moleskine had linked to something like the Wiki on the subject so we could learn a little more.
This reduced learning session might be like this to keep you in the app, but a link would have been nice, especially since Moleskine does have a little button to let you send the fact and a link to purchase the app to other people. How hard would a link have been for more info about that fact?
That said, we can't be too mad, as Moleskine has thrown a few nice little things in there, with previous events not only showing you the time it would have taken to get to them, but also a DeLorean, since you'd need to travel in time, also.
If the event is current and if the map information provides an address Apple Maps can recognise, Timepage will even connect you to Uber, providing an easy way of ordering one of the many Uber varieties of service, a pick-up time, and an estimated charge, before throwing you out to the Uber app, which will take care of all of the regular stuff you'd expect it to do, like logging you in and asking you to fork over money.
As far as professional calendar apps go, Moleskine's Timepage is very easy on the eyes and does provide something different, which is a welcome change from the basic calendar Apple ships with.
Not that there's anything wrong with Apple's Calendar app, either. We like it, but sometimes you might just want something a little different, and Timepage is it.
An Apple Watch app is included as well, and this gives you your week at a glance on your wrist, with a small amount of event information, a hint of the weather, and a small map if you need it.
This part feels like the weakest part of the package, and we'd probably stick with the Timepage app on the iPhone as it feels better here, but if you happen to own an Apple Watch, it's a bonus inclusion.
What we really wish Moleskine would do, however, is change that icon to something more functional.
Sure, it's just a shortcut to get into the app, but Apple's icon tells us the date, and if we wanted to replace Apple's Calendar as a main go-to calendar, we'd like a more functional icon. It just makes more sense.
And aside for being iPhone only — seriously Moleskine, make an Android version of this app; there's no reason this should be just iOS only — the price could do with a little lowering. That might be the Australian dollar at play here, though even with the minor drop, we thick $5 might be pushing it a little, though you're probably paying a little for the name here.
That said, it is a very clean and friendly calendar experience, and for some people, that's a sum well worth the experience.
Moleskine Timepage is available now on the Apple iPhone, with compatibility for the Apple Watch for $6.49. We wish it was on Android.