Spend enough time with an addiction to coffee, and you'll spend time in lines. Mornings mostly, but lines still. You know the drill: you arrive to your local for an espresso, cappuccino, or the Aussie favourite that is a flat white, and you'll spend the next five or ten waiting for the barista to pop your order out while you flick through your phone.
Fortunately, apps can do away with these lines, or not so much the lines themselves, but rather you waiting in them.
"Skip" is one of these, and back when we first wrote about it, the story for why it was created came from wanting to skip these lines, and let the rest of us go back to what we do: work, play, meet people, whatever.
Initially tested in Melbourne, Skip is now working in Perth, Hobart, and Brisbane, too, as well as Sydney, where we've spent the past few weeks reviewing the app, and as expected, it's a pretty simple thing to get your teeth into.
You'll need to register and throw in a payment source to get started, but once you're done, you'll be able to see what stores are around you supporting the app using either a list or a map, with distance shown in metres or kilometres.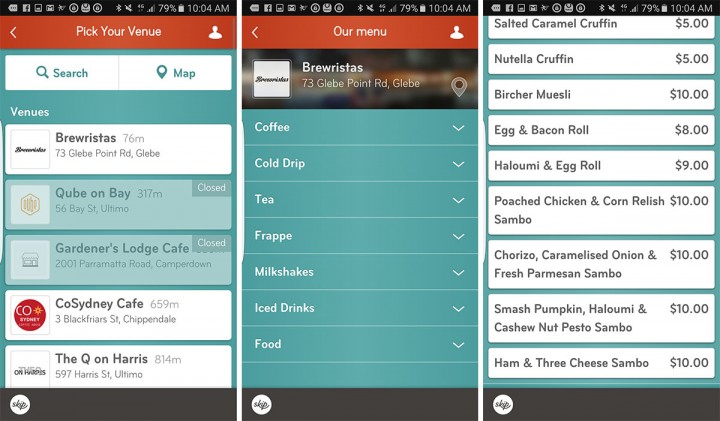 If you already know one of them, you'll be able to order food and drinks with size variables, and if you have to choose between choices — say water or a soft drink — that will be there, too.
Once you're ready to buy your food, you choose a pickup time, measured in 5 minutes, 7 minutes, or 10, 15, 20, 25, or 30. This is more for the cafe itself, giving it time to get your order ready so when you rock up, your food and beverages are all good to go, as they were every time we tried it out.
No queues, no fuss, and jumping around the people who thinking lining up takes priority, which it may not anymore.
In fact, once the order goes through, you'll get a message from Skip telling you what time the order will be ready, making sure you're nearby.
If you're getting off a train and there's three minutes between you the coffee shop, consider taking your time and making it more of a relaxing walk, as the coffee will be waiting for you, not the other way around.
We do feel obligated to mention that the concept for Skip isn't new, and first saw the idea pop up a few years ago in "Beat The Q", now known as the less direct "Hey You".
Ignoring the name change, the concepts are mostly the same, with cafes and restaurants choosing to take part in online ordering of the various programmes.
Some places support Beat The Q while others support Skip, and that's no different to how some restaurants take part in Foodora while others take part in Deliveroo or Menlog. Nothing major there.
Where Skip feels like it has one up on some of the others is the tracking of what's around you.
By using the GPS in your phone, Skip lets us take a peek at the coffee shops around us that could be fuelling us later on that day, meaning even if we're not nearby our local, Skip will still offer suggestions as to where you can go.
That's super helpful, especially if you're on holiday and feel like you need a drink and aren't sure what is around you. We wish there was integration from the likes of Yelp or Zomato, as reviews and pictures of the food would be welcome, but it's still a good start.
Or you could just go back to lining up. It's your call.
Skip is available now for iOS (iPhone) and Android and is free.