You get home and you're tired. It's been a long day at work and the last thing you want to do is make dinner. What can you do? Turn to an app, of course.
There are loads of possibilities for ordering food, with numerous websites and websites turned into apps, but the one we're checking out this week is one that is beginning to take Australian cities by storm, and that is Suppertime.
From what we understand, Suppertime is in essence trying to horn in on territory that has been dominated by the other big food delivery service Menulog, though the restaurants they each pool from are vastly different.
Both offer some quality restaurants, there's no doubt, but what we're seeing on Suppertime appears to be more trendy restaurants, picking up on places — at least in Sydney — that are new and hip, compared to the standard restaurants that have been around for yonks on the other major food delivery services.
We need to note that Suppertime isn't terribly new, popping up in 2014 and being acquired by Delivery Hero — Menulog's major competitor — last year, but the app does at least appear to be, and since we're living in an age of apps, why not give it a test.
Loading it up, the first thing you need to do is tell the system where you are, and this is something done with the assistance of your phone's GPS. In our case, it got us close to where we were, but we could fill in the gaps with a proper address for GadgetGuy HQ in Australia.
From there, the list of available restaurants refreshes and gives you an idea of where you can order from. You can sort the list by cuisine, if the food is healthy, or how much you want to spend, or you can just search, which is what did.
As you can expect, this reveals restaurants able to serve you, and from there, you merely click into one to start making your order.
Not all restaurants are available at the time of ordering, and we found it interesting that places typically open for lunch were greyed out ahead of lunch, though from what we can tell, it's because the system puts you into "pre-order" mode, which means your order will still work, but the delivery will be later on, like say when the restaurant is officially open.
Inside the restaurant, you can add your choices to your cart, and it's all very straight forward, complete with notes if need be — "no eggplant please", for instance — and desired quantities, and then it's to the payment.
Now here's where things get interesting. You'll need an account to use Suppertime, and that's fine because creation is easy enough, either using your email or letting Suppertime talk to Facebook, so we just used the account we had previously used for the service.
Unfortunately, when it gets time to paying, using the coupon codes — which Suppertime is a little famous for supplying with some invasive and unlawful door hanger ads — can be a little problematic.
We went through the payment process no less than three times just to find the coupon code area, which feels like it should be in the process before you put in your credit card details, just so you can know how much you'll be paying when all is said and done, and yet Suppertime doesn't show the voucher code option until the very end. You will have to enter those credit card details first, and there's no way around this.
Even after the details are in, you'd be excused for missing the code selection location, as the area for entering the voucher sits at the very bottom of the checkout details, just near the total.
Suppertime has made it very easy to click on "Place the order" before you even get to that point, so we could just see customers assuming that this is a natural progression and ordering without being able to enter voucher codes, and this just seems like a poor execution of user interface.
Simply put, this should be close to the beginning of where you check out, not at the end in an area barely visible if you decide to flick down the screen and scroll down. That's confusing and a little silly, and it makes more sense to alert people of the possibility of a coupon code before they're close to paying. Other food delivery apps do it, so Suppertime probably should, too.
The other catch we feel could be improved is the tracking for your food, which is both good and bad.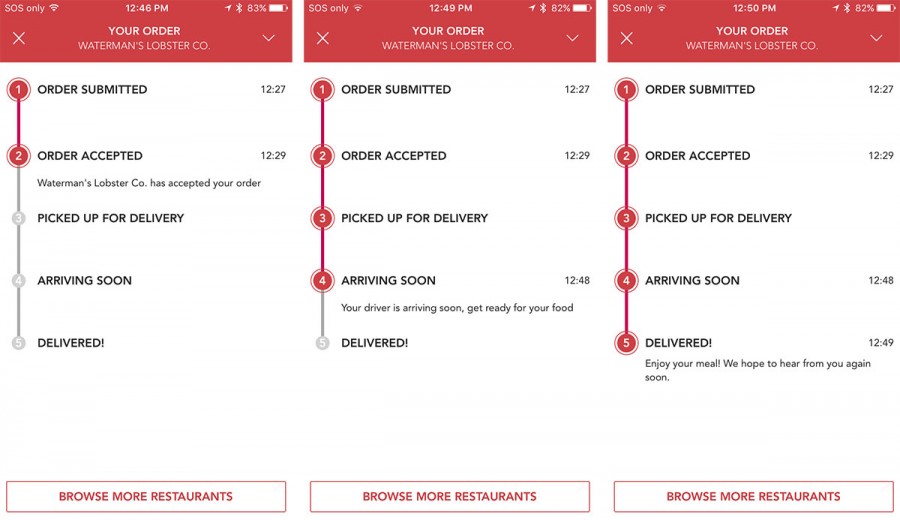 On the one hand, you'll find alerts can be provided to you for your food, which is super handy. And yet on the other, we found the delivery notifications weren't super timely, and there was no GPS tracking either.
Maybe it's just that we're all a little spoiled now, but GPS tracking is great for knowing when the delivery people are going to be around the corner, because if you're inside an apartment complex or jamming with musician buddies at a studio, it's nice to know where the driver or cyclist is so you can come out and greet them.
Suppertime does give you an "Arriving soon" note when it's around the corner, but a little more GPS access would be cool to watch, especially since the arrival information doesn't always update until they're right outside, which happened to us.
Outside of these two issues, however, the apps were fine, and testing them on both Android and iOS, we found that both were very similar, and basically just mobile versions of the website.
Really, we'd fix that interface issue for the voucher code, because we can just imagine people getting frustrated quickly trying to find the voucher area. We almost did.
Suppertime is available now for free on iOS and Android. Purchase of food does cost money, however.