Well, we have had a chance to review the Arlo Pro 3 floodlight camera and its indeed the shining light among security cameras.
The Arlo Pro 3 floodlight camera (photo above) has two big (but quite attractive) LED flood panels that work a treat at night lighting up an area about five metres square and enabling colour nighttime security footage.
We have said pretty well everything there is to know about the Arlo Pro 3 floodlight camera in our announcement here so this is more a wrap up after a few days use.
Arlo Pro 3 floodlight camera (FB1001)
Australian Website here
Price: $449 from JB Hi-Fi and other Arlo retailers – release date 11 June
Includes three-month trial subscription of Arlo Smart
IP65 weather-resistant
DIY product – no electrician required
Warranty: 1-year ACL compliant if purchased from an authorised retailer
Country of manufacture: Vietnam
Arlo Technologies is a US home automation company making wireless security cameras. It was part of NETGEAR, before its initial public offering on the New York Stock Exchange in August 2018.
Floodlight – Exceed
It is weather-resistant, and battery operated so it can be cordless – put it anywhere.
This is a perfect, although not an inexpensive replacement for a traditional 150W, 1500 lumens, energy-hungry para flood. It has an energy-efficient 2000/3000 lumen output of 4000k bright white light on battery or solar panel/mains charger.
We don't know how long the new XL battery lasts. The new battery is 3.6V/47.19Whr versus 18.48Wh of the standard battery. It is about three times as long, and while the XL battery will fit a Pro 3 camera – unfortunately the camera housing will not allow it.
Arlo says the XL battery should last up to six months between charges. We can't test that in this review, but we can do the math on amperage/wattage and power use. It looks like it should support up to 10 hours continuous use, so we won't argue with Arlo here – it depends on activations.
It takes about five hours to charge by the desktop dual charger, and we estimate under seven hours using the 5V/2A USB charger supplied.
On that front, Arlo uses a magnetic clasp charging cable, and you can get a 7.62m outdoor charging cable that includes a 9V/1A fast charger that also enables 3000 lumens. So, my advice is to place it somewhere within 7 metres of a powerpoint for convenient recharging. Or you can run it off power as well, but you may need a sparky to install this to a weatherproof/protected powerpoint.
Plus, it has motion detection, so it is a great candidate for the front door porch. No more fumbling in the dark for keys or to find that damned lock slot!
The floodlight can cast three different patterns – constant, flash and pulsate – and you can allocate various actions via the app. It can also detect dusk/dawn or turn on/off at various times.
Camera – Exceed
I won't go into the details again as our full Pro 3 review is here. What I will say is that it is a 2K, HDR, 160° camera that 'craps' all over any 1080p camera and compares favourably with the Arlo 4K Ultra. In most cases, 2K will give you what you need.
What you need to know is that the Pro 3 uses 4K Ultra tech. This is leading-edge tech developed by Arlo after its spin-off from NETGEAR and designed to take the company forward from its earlier Arlo days.
I use a mix of Pro 3 and Ultra cameras depending on the need, and they all work with the Pro3/Ultra hub.
The camera has the usual 80dB siren/speaker and a microphone for two-way talk. Although you will notice a slight lag if the Wi-Fi signal is weak.
Here is a comparison of the Arlo Pro 3 with and without the floodlight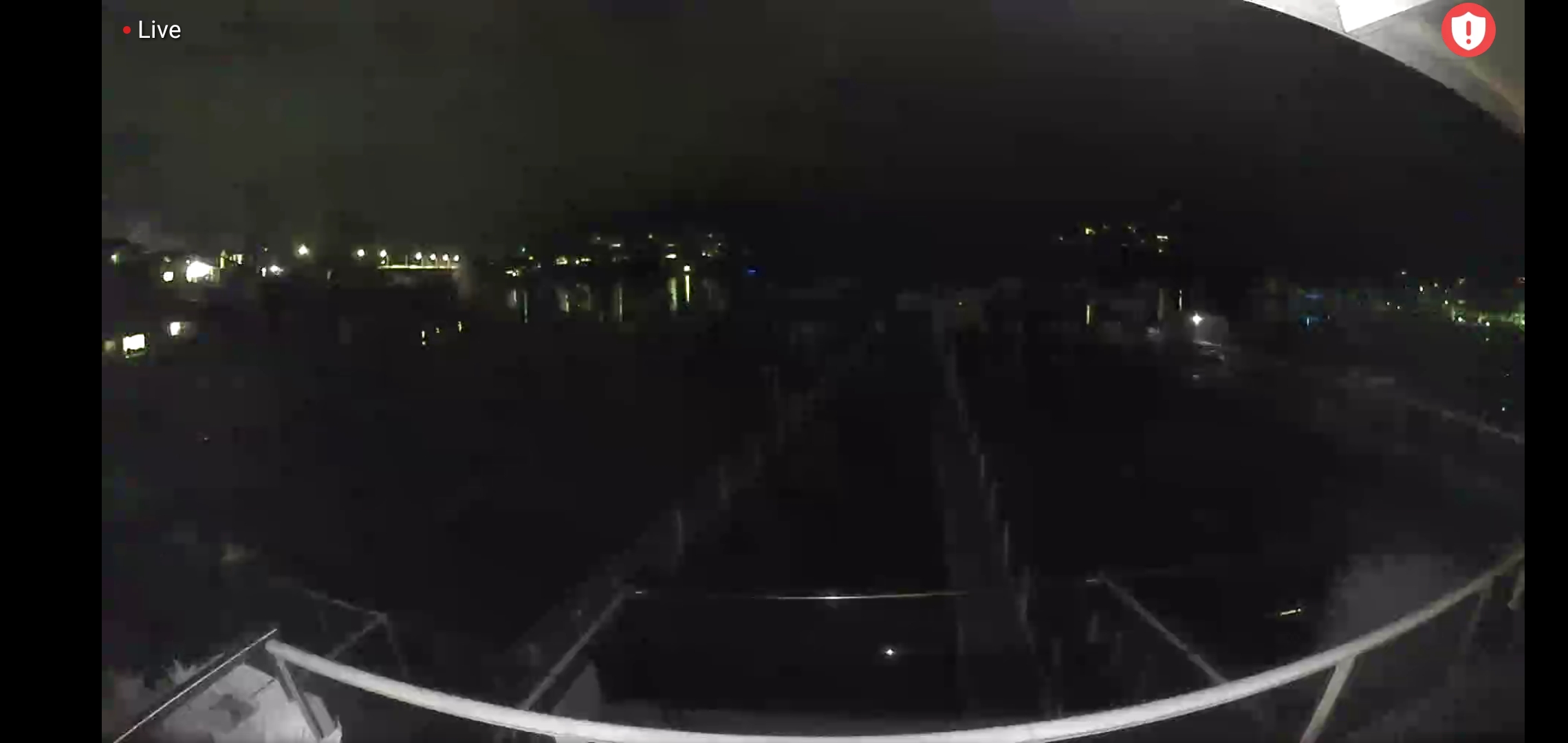 Arlo ecosystem – comprehensive from cameras to video doorbells
Interestingly this device does not require connection to an Arlo hub. It can use 2.4Ghz Wi-Fi and then be controlled by the Arlo smartphone app and optionally a voice assistant. This move opens up Arlo's market to mixed brand Wi-Fi camera systems.
We don't recommend that as the Hub enables so much more functionality and importantly keeps 2K camera traffic off precious home Wi-Fi bandwidth.
So, the ideal buyer is someone with an Arlo Pro 3 or Ultra system who wants to add the floodlight camera capability.
The Arlo App
Setup is a dream. Arlo has nailed the identification of its cameras and provides a detailed image and text walk-through, e.g. Put the battery in. Is the Blue light on the front flashing? If yes continue, If no …
There is a catch. Its free basic plan allows live streaming. Two-way comms and notifications – that is about it. And for many that is enough to be able to check on the home or pets remotely.
But you will soon yearn for more – things like 30-day cloud storage, intelligent and smart alerts (people, animal, vehicle and package detection) and customisable motion activity zones. Its most popular premium plan is single/5 camera at $4.99/14.99 per month, and there may be discounts for annual subscriptions.
If you have a hub, you can also use a microSD card for local storage as well.
Attachment – Easy
Like all security cameras, the ideal spot is from 1.5-2m high. And as you have to occasionally charge the battery its best to leave it within reach.
It comes with an integrated gimbal base that you screw to the wall. I was a little disappointed that it did not have a standard ¼" mount, but I got over that. From that point, you remove the camera from the base by releasing a security screw.
We are testing it with the Ultra solar panel (review here) and it appears to be the ideal solution for long term use. In theory, it should fully charge a battery during a full day of sunlight. The only issue here is you cannot extend the 2.4m charge cable so make sure your have direct north-facing sun nearby.
GadgetGuy's take – Arlo Pro 3 Floodlight camera – see the light
Not only does this 2K camera produce the best, clearest and brightest day and night video I have seen to date (apart from the 4K Ultra), but the floodlight completes it.
Rating this is easy if you are an existing Arlo Pro 3 or 4K Ultra user – 5/5!
That is because you realise that good gear costs more than cheap crappy gear and you understand the added-value from the monthly subscription.
If you are not an Arlo user, then it is a little more complicated. It is immensely better than the 1080p Amazon Ring, if only for Arlo's incredible privacy pledge (that Amazon would choke on). And it can be battery operated (both a blessing and perhaps a pain if you don't get a few months between charges).
But, if all you are looking for is a motion-activated floodlight, then Bunnings has some great ones from under $50.
So as long as we have done our job alerting you about the Arlo ecosystem and costs, it is a perfect buy.
Arlo Pro 3 floodlight camera
The wire-free Pro 3 Floodlight Camera offers powerful LEDs, an integrated 2K HDR camera, 160-degree field of view and custom lighting configurations.
Positives
2000/3000 Lumens floodlight for night colour video and security
Excellent 2K camera colour and detail day and night
Can be completely wireless - perfect for DIY
Arlo quality and support
Does not need an Arlo Hub or subscription for basic use
Reasonable price for a 2K security camera and floodlight
Negatives
Additional features require Arlo Smart monthly subscription
Would have preferred standard ¼" mount