You might think that media players are dead now that the smartphone has taken over, but if you like your audio high quality with support for 24-bit, there's still something else you might want to buy.
Astell & Kern is one such company building these devices, and while this company's efforts in mobile media players tends to result in some very expensive and very heavy devices, the AK Jr is pocket sized and wallet friendly. Relatively, anyway.
Features and performance
Not everyone needs an iPod, and these days, as most of us have migrated to a phone for all of our media playback needs on the go, few of us than ever truly "need" an iPod or media player at all.
But if you fancy your audio to be of the grade akin to digital vinyl, you need something more than a standard phone can dish out.
In fact, if you need high quality audio, you basically need a media player capable of delivering support for high-resolution audio, with playback support for 24-bit audio and higher.
Just as a heads up, there are a few smartphones capable of doing this, and Samsung's Galaxy S6 Edge can do it, but it has fixed storage, which can be turned to nothing when you figure that one 24-bit 192kHz album is a good gigabyte in size.
Fortunately, there are phones that can play these massive lossless audio files and let you upgrade the storage, including the LG G4 and 2014's phone of the year (for us, anyway), the Sony Xperia Z3, but as good as all of these are, they don't necessarily have the amount of volume all headphones need.
Basically, if you plan to plug in a pair of cans that generally need an amplifier to work, you may need to look to something bigger and made for the purpose of proper audio playback, not just a phone with support for this 24-bit sound technology.
And so we're back to the media player field. You thought you were done with it, but there's really no escape, especially if you love high-end audio and have to have it.
Astell & Kern is one of those brands that has sat in this category for quite some time, and in the AK Jr, we're talking about a player that isn't totally geared for the normally high price tag the company associates with its electronics.
In fact, compared to the big and bulky AK series, the Jr is what the name suggests it will be: a junior and pint-sized brother to the large AK players, providing just enough of an entry level to people who think that a thousand bucks is too much to pay to start your way down the world of FLAC, ALAC, DSD, and so on, the formats of the lossless high-res world.
For what it's worth, by the way, we agree: a grand is way too much money to start this path, so we couldn't wait to get the Jr out of the box.
In the hands, it's hard to deny the AK Jr as anything other than what it is: a solid piece of electronics that puts to shame most of the media players we've ever seen.
It's small, light, and made of solid metal, and it's not a hard jump to call the AK Jr the MacBook Pro of the media player world, especially since it looks and feels like it was made by an artisan of industrial design.
With this block of metal, you'll find a few buttons on the left edge, catering to playback for skipping ahead, pausing, and going back, while the right edge is straight and flat except for a volume knob.
Actually, a volume dial would be more correct, because that's what you'll be feeling here: a manually controlled rotation mechanism with little a textured service and little notches under it that make you feel as if you're dialling in the volume bit by bit, not simply turning it up or down on a hamster wheel.
There's also a power button up top near a 3.5mm headset jack, a microUSB port below for charging and data transfer, and a microSD slot on the right side, the latter of which can upgrade the 64GB found inside the Jr with another 64GB of storage, totalling out at a maximum of 128GB. Unfortunately, this device doesn't appear to support the 128GB and higher microSD cards, though it is possible Astell & Kern will remedy this at one point through a firmware update.
Oh, and there's one other bit worth mentioning on the AK Jr, with a 3.1 inch touchscreen found on the front. It is here that you'll be able to browse through a fairly rudimentary interface that does the job, and only the job it was tasked with.
Pick an artist or pick an album, because once you've waited the five second start up for the player, you'll be given a list of songs, artists, albums, genres, playlists, and folders, allowing you to jump around your music pretty easily, with gapless playback able to be switched on and off with ease.
Touch is the way most of this player is supported, mind you, so you'll need a finger if you want to get around on the Jr's smallish screen, with an even more diminutive resolution, merely working at 320×240, something not even the cheap phones work from.
While the low-end screen doesn't work to impress on the resolution side of things, Astell & Kern are running with a custom operating system that doesn't turn this screen to sludge. Rather, it focuses on being a player, showing a hint of album art and playback controls, and then offering decent viewing angles for the few times you plan on taking the AK Jr out to see what song it is that you're listening to.
Getting music over to the device is pretty easy, but you will need to bring a computer, as it requires either the audio to be sitting there on a microSD card you're throwing into the Jr media player, or transferred through the microUSB port on the bottom. Make sure your album art is already in the folder you're moving over, as there is no WiFi connection to let the device grab this for you after it's across.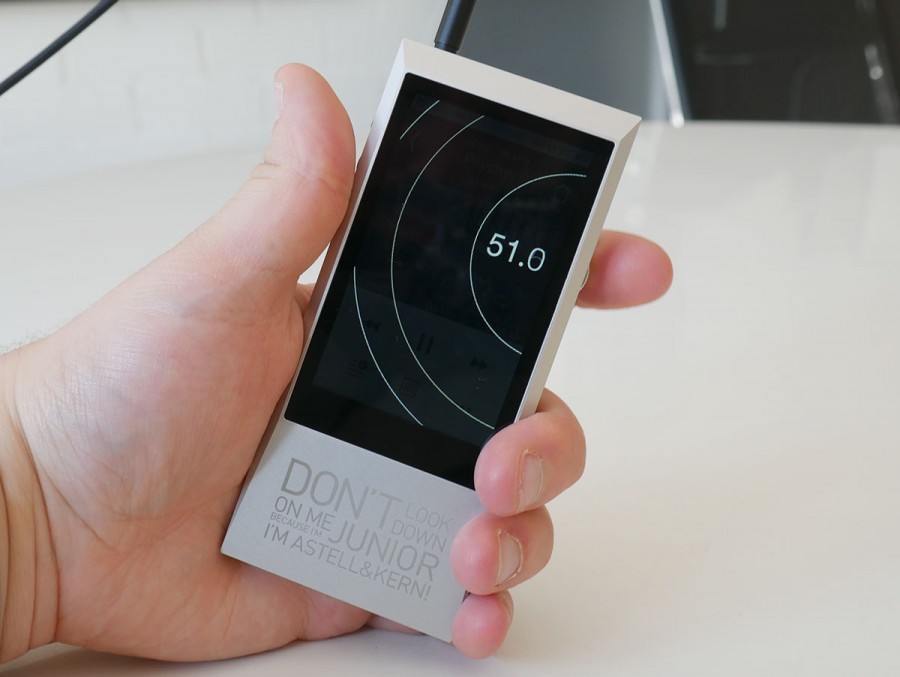 Sound quality is simply awesome, however, and thanks to the little detail of the volume knob, the right amount of volume isn't left to chance, unlike the several volume settings made available to you on most digital players, the 11 or 12 settings found on the conventional Android or iOS-based players, with there generally being a fair degree of difference between two settings, unlike that of an analog volume knob.
In fact, this volume knob might appear simple and old school, but it's a key feature that sets this player apart from others available, and is one of the most enjoyable parts.
And while you might get a little confused as to why the volume only ever hits 75 as a maximum and not 100, you'll find that should offer more than enough volume for any pair of cans you think will work well in a portable environment.
Keeping in with that touchscreen that is used for controlling the player, you'll even find you can dial in volume using the display when you start fiddling with the volume dial, with this method of volume control better for getting from soft to loud or vice versa in a jiffy.
The price could do with a slight adjustment, however.
Sitting at $699, it's a value that makes the AK Jr the least expensive media player in its range, but still a fairly expensive media player altogether.
In many ways, this unit reminds us of Sony's NWZ-A15, the $250 version of the very big and very expensive ZX series (ZX1/ZX2) FLAC Walkman players, with that model slimming the overall package down into something more convenient and very wallet friendly.
There are a few notable differences between the AK Jr and the A15, with a touchscreen separating things, that lovely analogue volume knob, a totally different construction, and support for this player to be used as a USB digital-to-analogue converter. These things do help push up that price, though, making up the difference with more functionality and a better build, not to mention a brand that has been known for producing only quality audio devices, not just everything for everyone.
That might be an elitist view of the world, but in some ways, it feels like that's what Astell & Kern is gearing its products towards, especially when its regular sized media players tend to cost over $2000, with some close to the $5000 mark.
We've only played with those players briefly, but in our short time with them, we can tell you we preferred the design of the AK Jr simply because it felt like a media player and not a large brick meant to sit in your luggage or on your person.
But the design isn't totally perfect, and it's the one area we draw criticism for.
You see while the glass-backed aluminium body makes this the MacBook Pro of media players, going places where even Apple's iPod Touch doesn't really cover, the edges need to be reworked.
Maybe we're just used to something a little softer, but the harsh angles here can really feel strange in your hand, so much that it makes the AK Jr feel intrusive, like it shouldn't be held at all.
A softer design might be better long term since it won't give the impression that it is digging into the flesh.
That said, at least one GadgetGuy staffer preferred this, citing that it felt more substantial than a standard media player because of this hard edged industrial design.
One thing's for sure, and that's the AK Jr won't be perfectly designed for all, but thanks to its lack of weight, it is easy to keep with you.
Conclusion
The name "Astell & Kern" may not be familiar to all, but those who do know of it are aware of what the brand stands for: audio products with a slightly unorthodox design and a quality geared for high-resolution audio.
In fact, if you owned a media player before Apple rocked up and totally changed the world with its "iPod", you might be familiar with the "iRiver" name, because it is responsible for this high-end sound product maker.
Predominantly, Astell & Kern gear tends to be bulky, metal, and expensive, catering to those who don't mind spending over two thousand dollars on devices built for this new deeper standard of audio.
But the AK Jr brings this price down just a little, some might say "enough", allowing the cost of entry to an Astell product a little bit of leeway.
For our money, the $699 price is still a bit too exy, because while the AK Jr is a lovely player, we're not sure it's a few hundred off being a grand lovely, because that's expensive. Rather, it this were just around $500, it would make a little more sense.
Still, it's a lovely little media player, and while it can't quite get album art when you want it and the edges might dig into your hands, it does manage to be one of those media players that is well worth checking out if you're now into buying all the lossless audio you can get your digits on and want something as good as the sounds you're playing and the headphones you want to wear.
Super solid aluminium brick; Features a touchscreen; Volume knob is a superbly tactile way of controlling sound; Includes hardware buttons for pause, play and song skip; Gapless music possible by pressing the "G" button on screen; Charges over microUSB; Upgradeable memory; Supports Bluetooth for wireless listening; Can work as a USB digital-to-analogue converter if need be;
Expensive; Edges may feel a bit intrusive; No way of downloading missing album art;