There was a time that Chromebooks (low-powered laptops with Chrome OS) were the province of students and the financially challenged. The ASUS Chromebook Flip C436FA presents a pretty good case to change that perception albeit at a price rivalling mid-range Windows laptops.
The ASUS Chromebook Flip C436FA is available with 10th generation Intel Core i3-10110U (2.1/4.1Ghz), i5-12010U (1.6/4.2Ghz) or i7-10510U (1.8/4.9Ghz) processors. The U-series processors require a fan – an odd choice in a Chromebook.
What is a Chromebook?
It runs a very light Chrome OS were mainly Google's app (exclusively from the Play Store) run in the Chrome web browser, cloud-based 'container'. For the most part, you will need an active internet connection. Although many of Google's mainstream apps run off-line.
Low-cost Chromebooks only require 2-4GB RAM, 32-64GB storage, a low-power 32-bit, X86 Intel Celeron, Core M or similar. Chrome can also run on ARM processors
But this is not low-cost and has specifications you would expect in a good mid-range Ultrabook. It is an Intel's Project Athena design for long battery life, always-on, laptops.
It has the power to run many Android apps locally under an 'emulator' requiring more processing power, touch screens, RAM and some storage. This has been at the expense of the legendary battery life.
Would I buy one?
Before you rush out and buy, see if you can take one for a test drive.
If all you do is word processing, email, calendar, etc., then the Chrome G Suite may be fine. You should consider one if you were thinking of Windows S, Android or iPadOS.
If you are a heavy Windows or macOS user, it won't be for you. Nothing that runs on Windows or macOS will run on Chrome OS – unless there is an app that does similar things. Note that the G Suite has support for Microsoft file formats.
My opinion – and I am not a Chromebook user. After using the Chromebook for two weeks, there is no way it can replace my Windows Surface Pro 7, dual 27" screens and run big Excel spreadsheets or handle large Word docs. Apart from that, it found printers, networks and did most of what I needed.
Australian review: ASUS Chromebook Flip C436FA, i5, 8/256GB (SKU 90NX0PS2‑M01430)
ASUS Australian Chromebook website here (yes there are lots of models)
Product website here
Price: From $1500
Stockists: Not all models are in stock at JB Hi-Fi, Good Guys, Bing Lee, Betta, Harvey Norman, Joyce Mayne, Retravision and most local computer stores can purchase ASUS
Warranty: 12-months ACL
Country of manufacture: China
ASUS (Est 1989) is a Taiwan based designer and manufacturer of computer components, PCs, servers, laptops and more. It is the world's fifth-largest Windows computer maker – with Lenovo, HP, Dell, and Acer.
A note on price
The price depends on the SKU, e.g. i3, i5, i7 and RAM (8/16GB) and storage (128/256/512GB) and optional Pen. The model, as tested, is approx—$ 1800. While widely regarded as one of the best, fully featured Chromebook, it is also one of the most expensive.
At this price, you can buy a pretty good Windows 2-in-1 touch laptop.
ASUS Chromebook Flip C436FA Base specifications
Item
Spec
Colour
Aerogel White or Transparent Silver
Processors
10th generation Intel Core i3-10110U (2.1/4.1Ghz), i5-12010U (1.6/4.2Ghz) or i7-10510U (1.8/4.9Ghz)
Intel UDH Graphics VP8/9, HEVC
RAM/Storage
8/16GB LPDDR3-2133Mhz
128/256/512GB M.2 PCIe NVMe 3.0×2 lane plus microSD slot to 2TB
100GB of Google One cloud storage free first year+
Screen
14" 1920×1080, 160 dpi, 16:9, 100% sRGB IPS 360° hinge 'Flip"
85% STBR
Ports
2 x USB-C 3.2 Geb 1 (5Gbps) with ALT DP display and PD
Keyboard
Full-size backlit, 1.2mm travel, 40g actuation
Trackpad 130x70mm
Fingerprint
Sound
Stereo Harman Hardon tuned speakers 3.5mm combo audio
.9MP. f/2.0, 1.43um, 69.1° FOV 720p camera
Comms
Wi-Fi 6 AX 2×2 MIMO
BT 5.0 3-axis Accelerometer,
Battery
42Wh 3300mAh
5V/3A, 9V/3A, 15V/3A, 20V/2.25A 45W USB-C PD 3.0 charger
Size
319.5 x 205.3 x 13.7 mm x 1.1kg
Mag-alloy chassis
Missing
HDMI Ethernet port
USB-A
All can be added by a USB-C 3.1 Gen1 Dongle
Tests and observations
Note that some of our test software suites did not work on Chrome OS, limiting our testing regimen. We use FAIL, PASS and EXCEED against test paradigms. PASS means that it meets the levels we expect for the price or level.
Look and Feel – EXCEED
Premium, mag alloy and the 360°hinge works well as tent, flat or as a clamshell.
It does not flex, but the alloy finish could be prone to scratches.
Setup – PASS
Just like Google Android. Sign in to your Google Account – sign your privacy away, and that is it.
You can download Android Apps from the Play Store. We found many of our Android Test suites would not work as the device is 16:9 landscape or they simply were not compatible. These apps run under some form of Android 9 emulator emulation
Still, the Play Store offered alternatives, and we got most of what we needed.
You can also load some Linux apps – not tested.
The key to a Chromebook performance is to use the Chrome OS native apps.
CPU – i5 tested – PASS
Geekbench single/multi 973/3028 which puts the i5 on par with an SD865+ ARM processor
CPU Throttle: Max 228,993GIPS Average 157,505 Throttling 39%
T-Rex 253.4 minutes 2161 frames
The throttling test shows what happens under 100% load for 15 minutes. It also shows the thermal efficiency of the chassis.
This throttled 39% within a minute of the test start. Now I am not a regular Chrome user, so I cannot comment if this is normal, but gamers may decide that this is not for them. Fan noise also appreciably increased to 38dB – it was not loud. The external temperature increased to 42° – acceptable.
Given the nature of the 'U' processor – 10-25W TDP, we expected less throttling. It is comparable to an Intel i5-8365U.
Gamers, please note – Chrome does not support Vulcan and would not run our GFX Bench, or Geekbench 5 compute graphics tests.
Display – PASS
It has NanoEdge effectively fitting a 14" display into a 13.3" chassis. It is glossy – reflective – that means it is not great in direct sunlight. Touch is also a little imprecise which is odd given it supports an active digitiser.
It tests to 300nits and 1100:1 contrast. Gamut is almost 100% sRGB. It plays video content in SDR (standard dynamic range).
Stylus (note that this is not the standard ASUS Active Pen) – PASS
The ASUS Pen USI 1.0 uses a battery, so it is active. USI (Universal Stylus Initiative) 1.0 is first open standard active stylus protocol and currently has growing support including Google, Intel and major PC makers.
We can't find any specs on pressure levels, tilt or other drawing tools so have to assume it is a basic 1024-level, non-tilt stylus more for not taking and annotation.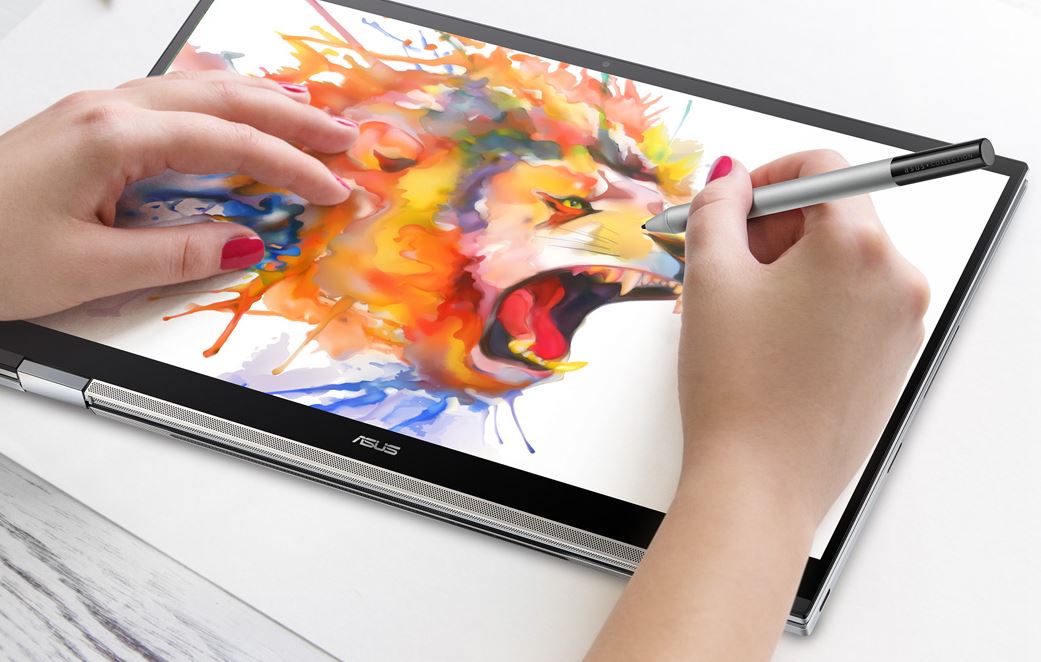 Keyboard – PASS
A reasonable 1.2mm throw but a light actuation (spongy) and lack of feedback make it easy to make mistakes. It also exhibits a fair degree of keyboard bounce towards the middle. It is a keyboard that you need to get used to. I missed the Caps Lock key.
The keyboard brightness (Alt Brightness) has five levels shining through letter cut-outs. You need this as the alloy paint keycaps tend to lose 'letter' definition in daylight.
The 130x66mm trackpad is a little imprecise and downwards scrolling often required you to use the down arrow (remember everything is really inside Chrome Browser).
The fingerprint reader passed 100% of 10 tests.
Speakers – PASS
Quad speakers – two are under a grill at the rear under the screen and a further one on each side.
Harmon Kardon may have tuned them but they lack a full frequency response. By that, the rear speakers work most effectively in tent mode and the side speakers in clamshell mode. Sound is a little confused.
Maximum volume is 78dB – good enough for personal use, and the sound stage depends on the orientation. In clamshell mode, it is wider than the body. In tent mode, it is quite narrow.
There is a little chassis vibration and evident distortion at full volume. If you back off a tad, it is fine.
Subjectively it is a mid-centric sound signature for clear, crisp voice rather than for music. We could not locate an Equaliser.
The quad mic array is effective for voice meetings.
Battery – PASS (it is not 12 hours as claimed)
Video loop approx. 100 nits aeroplane mode 9 hours
Video loop approx. 400 nits Wi-Fi 6 hours (Netflix)
Typical use with Wi-Fi and web: Up to 8 hours
100% load – 4 hours
0-100% Recharge time: 2 hours
300mA discharge means about 10-days at idle
USB-C – PASS
There are two USB-C 3.1 Gen 1 5Gbps ports – one on the left and one on the right. Both can be used for Data, charge and ALT DP (maximum two external monitors).
Tests with a variety of USB-C 3.1 Gen 1 dongles show it supports HDMI 1.4. This is 4096×2303@24Hz or 2x 1080p@60Hz. It also supports two USB-A and Gigabit Ethernet.
Wi-FI 6 AX – PASS
While signal strength was good, it refused to connect our NETGEAR Nighthawk AX12 router's dedicated 5Ghz AX band at more than 100Mbps. It would connect to the dedicated 5Ghz AC band at 866Mbps.
Storage – PASS
It is PCIe NVMe 3.0 2-lane meaning it maxes out at about 15000/900MBps sequential read/write. If it were 4-lane, it would achieve up to 3000MBps. That is plenty fast enough for local storage as ChromeOS is not for larger files or disk-intensive tasks.
GadgetGuy's take – ASUS Chromebook Flip C436FA is for Chrome lovers with deep pockets
This review gave me a chance to update my Chrome skills. The interface is intuitive and easy to use. The range of apps (now with some Android apps) is fine.
But Chrome to me is not for power users, yet the ASUS is vastly stronger than any other Chromebook I have tried. It is a sledgehammer to crack a nut.
So, it is undoubtedly one of the best, but it needs the right user to make the most of it.
Rating it is a little hard. It PASSed every test and EXCEEDED only for its good looks.
If I rate it as a 'laptop' (x360° hinge), then it is in the low 4/5 because there are faster, cheaper and better 14" Windows 2-in-1 notebooks out there including ASUS's own VivoBook, Lenovo IdeaPad Flex 5, Dell Inspiron 5000/7000, HP Pavilion/Envy and more.
If I rate it as a Chromebook (that starts from $349), I need to justify the price. So the rating is an amalgam, and I am going to settle for 4/5 (subjectively – not purely objectively).
You can read other GadgetGuy laptop reviews here.
Excellent mag-alloy build
Vastly more powerful than a low-cost Chromebook
Good screen
Battery life is nowhere near 12 hours typical use
Trackpad is imprecise