Like the Asus Transformer, the company's Eee Pad Slider pairs the slate form factor with a keyboard. Unlike the Transformer, the Slider feels more like real tablet than a netbook.
Features
One of the most purchased accessories for tablets is a wireless keyboard. Typically, these are external units, with many designed into a vinyl sleeve that also holds the tablet. As Asus's second tablet, the Slider innovates in this area by building a physical keyboard right into the unit.
Because of this approach, the Slider looks a lot different to the Transformer. In that model, the keyboard was option that could be separated from the keyboard dock when needed. In the Slider, the keyboard is beneath the screen, with a sliding mechanism to pull the display up and sit at an angle against the keyboard. While bearing the term "slider", the Eee Pad Slider is different from most slider phones, reminding us only of Nokia's E7 handset.
The keyboard provides a full QWERTY keyboard, complete with directional keys and function key combinations for switching off WiFi, Bluetooth, and changing brightness levels.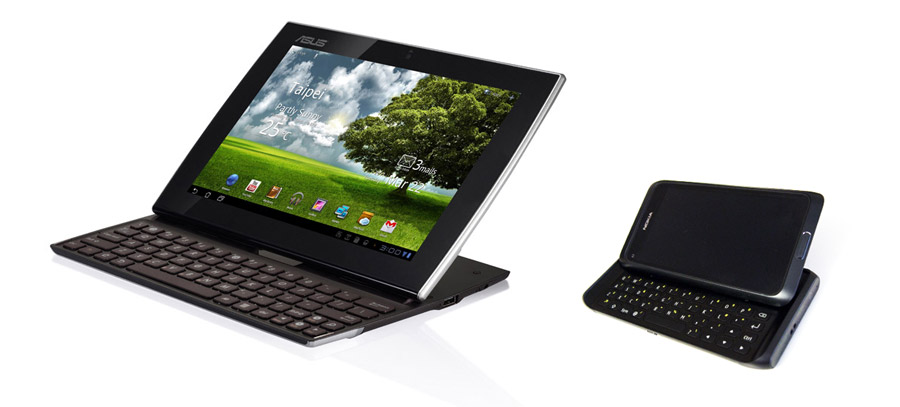 In the Slider, Asus has ditched the high-end metallic finish of the Transformer for plastic, with a tri-colour livery of maroon, chrome, and silver. The top is covered in Corning's scratch-resistant Gorilla Glass, protecting the 10.1 inch touchscreen, which should provide strong colour renditions at almost every angle thanks to the high-quality In-Plane Switching (IPS) screen.
Under the hood, the Slider is pretty much the same most other 2012 Android tablets, with Nvidia's dual-core Tegra 2 processor in charge of all operations. In fact, the Slider is – spec for spec – almost identical to the Transformer released earlier this year.
For example, the Slider offers Google Android Honeycomb 3.1, WiFi 802.11 b/g/n, Bluetooth 2.1, a 5 megapixel camera on the rear, a 1.3 megapixel camera on the front, and GPS. Memory is set at 1GB of RAM with 16GB of storage, with a little over 12GB of that available for use. Asus has provides a microSD slot for expanding storage options, similar to the slot integrated into the tablet section of the Transformer.
If you like connecting things, you're well catered for with the Slider. The selection is not as expansive as the Transformer-with-keyboard-dock, but Asus does provide one USB port, headphone/microphone port, HDMI out, and the aforementioned microSD slot.
The only physical buttons sit on the left side of the touchscreen, and include power on/off, volume toggle, and a reset button.