Asus has had some success with its Transformer tablet line-up, combining the design of a netbook with the ease of use that a touchscreen slate brings. Now, the company wants to change the way we think of tablets, by making the tablet rely on the phone with a complete integration.
Features
Unlike any other device we've seen, the PadFone is a combination of gadgets, a merging of two separate products designed to provide a solution in one easy package.
It's a phone, and it's also a tablet. But primarily, it's a phone with a tablet casing.
So there are two products. Sort of.
We'll start with the phone, which features a 4.3 Super AMOLED inch screen running last year's high-end resolution of 960×540, also known as qHD (quarterHD).
Under this, you'll find a 1.5GHz dual-core processor, 1GB RAM, and Android 4.0 operating system, ever so slightly off the most recent version, 4.1, also known as "Jelly Bean." Storage was set to 16GB on our model, but this can be easily expanded through the microSD slot found inside the device.
Connectivity is reasonably high-specification on this handset, with microUSB for charging, 3G rated for 21Mbps downloads, WiFi 802.11 b/g/n, GPS, Bluetooth with A2DP, while multimedia is fairly standard now for premium Android devices, with an 8 megapixel rear camera with LED flash and a low front-camera for use with video conferencing, if you use it.
Then there's the tablet side of things, which features a 10.1 inch capacitive touchscreen running the standard HD-capable 1280×800 resolution. There isn't much actually inside the tablet as it relies solely on the PadFone handset to function, so outside of the screen, you won't find much in this section.
You will find a part carved out in the back that opens up, allowing you to dock the phone and use the tablet. A little latch appears on the top of this section, causing this section to open up so you can slide the Asus phone. Small holes are carved out of the dock cover so you can use the phone's camera while operating the tablet.
A 3.5mm headphone jack can be found on both the phone and tablet, as well as power and volume buttons. Each devices takes its own power connection, with the PadFone handset requiring the standard microUSB format, and the Station tablet needing the Asus proprietary format we see on the Transformer tablets.
Performance
A cool concept, the PadFone is a neato idea that we found ourselves intrigued with since it was first announced last year.
In case you weren't there in our heads at the time of its announcement, the PadFone ties together the tablet and the smartphone, suggesting that instead of carrying two separate devices with two individual file systems and two distinct mobile plans, you only need one to do the heavy lifting.
Now available in Australia, we've had the chance to spend some time with the product, working out if this cool idea is as practical in real life as it sounds like it could be.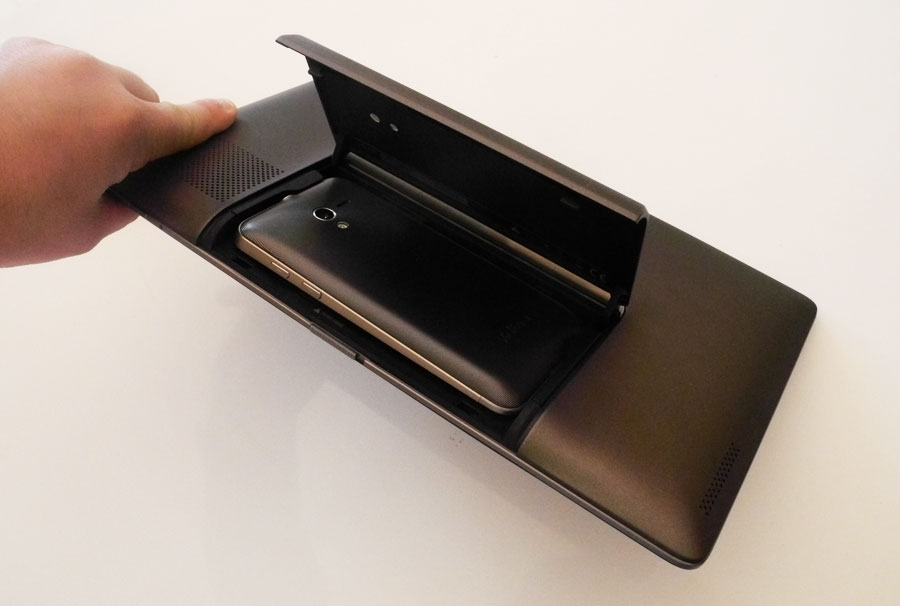 From the design of the PadFone, the main product doing all of that "heavy lifting" is the phone, which in this case is a decently spec'd smartphone that has the look of what would happen if the iPhone 4 and an Asus Transformer collided.
It's not a bad look, mind you, though it can be seen as a tad generic, ditching the lovely luxury look we've seen from some of the other Asus products over time.
At least Asus didn't waste any time with the processor which, with the same processor as what's inside the HTC One XL and One S handsets, chugs along quite well, providing more than enough speed for most people.
The choice of Android is a reasonably recent Android 4.0 Ice Cream Sandwich, and there hasn't been much overlay work from Asus here, which is sort of what we're used to from tablets released by the company. That's not a bad thing, mind you, and we quite like stock Android, but if you don't like what you see, there's always plenty of homescreen replacement options for you to install.