The ASUS ROG new Intel 10th Generation laptops have taken a turn for the better. Gone are those garish flashing lights. Well, not completely but you can turn them off so you can work by day and rage by night.
GadgetGuy is not a gamers site. We were quite chuffed when ASUS wanted us to cover the ASUS ROG new Intel 10th Generation laptops from a creative, videographer and power user perspective.
What is a 'creative'?
No, it is not that they wear bright colours PJs to work or have unique dressing and grooming habits – although many creatives express themselves flamboyantly. Let's look at what a creative needs.
Colour accuracy:
At least 100% Adobe RGB colour gamut. ADOBE is the industry standard to say that the colour you specify on the screen) in RGB either hexadecimal or RGB is the same as what you get when you print or reproduce it. PANTONE is the Pantone Matching System or PMS and that means the colour you specify is the same as the printed product.
Videographers and photographers and editors use DCI-P3 – another colour gamut used in movies. It means what you see on your monitor is the same as a DCI-P3 TV.
Mere mortals will be happy with a percentage of sRGB which is a subset of colours that computer peripheral manufactures and web designers agreed on. All gamuts have a callibration factor and to get a Delta E calibration of below 4 is pretty close.
The number of colours
This depends on the panel. Most consumer panels display 8-bit or 16.7 million colours (shades) but professionals are looking at 8+2 or 10-bit colour – typically found on 4K panels. This means 1024 shades of each primary colour, and over a billion possible colours. With 12-bit, that's 4,096 shades and over 68 billion colours.
If you are drawing using vectors or complex graphics you will need a high speed GPU and lots of graphics memory. The NVIDA RTX 2080 handles that well.
If you are rendering an image you need a powerful CPU and GPU as well as lots of DDR4x memory and super fast storage. A render is only as fast as its slowest component in the chain. Here PCIe NVMe 3.1 x 4 lane M.2 SSD will handle over 3000MBps (sequential read/write) as well as large files needed to render the image.
And heavy use means lots of heat.
A laptop is often not the best format for heat dissipation leading to the operating system throttling the components (reducing the speed) to keep it within a specified thermal envelope. That is why so many creatives use desktop computers.
Finally Windows or Mac. Creatives may prefer macOS but must apps have Windows versions.
From what we see the ASUS ROG Zephyr series meets all the creatives needs for a portable device. And you can then add dual 4K Thunderbolt 3 monitors and external storage if you need it.
On the premise that we are not experts in the ROG range here is what we know.
ASUS ROG new Intel 10th Generation laptops (from premium to entry-level)
ASUS ROG website here – not yet updated. Prices and Availability TBA.
Zephyrus Duo 15: Secondary 14.1″ ROG ScreenPad Plus touch-screen reinvents laptop multitasking, raising new possibilities for gaming and work
Zephyrus S17: Ultraslim gaming goes big with category-leading 17.3″ 300 Hz panel and up to RTX 2080 SUPER graphics
S15: Portability and power converge in AAS-cooled 15″ form factor with Zephyrus S17-level specs
M15: Attractively priced model offers ultra-portable gaming at 240 Hz or content creation in 4K UHD
Strix SCAR 15/17. Esports with up to RTX 2080 SUPER GPU and 300 Hz panel with RGB, Keystone II, and easy-access expansion slots
Strix G15/17: Gaming essentials meet contender style – up to RTX 2070 SUPER graphics with 240 Hz panel
Features in the ASUS ROG new Intel 10th Generation laptops(not all are applicable)
Next-gen CPUs meet SUPER​​ GPU. Up to 10th Gen Intel​ H-series CPUs and GeForce​​ RTX SUPER​ GPU for unrivalled gaming and streaming speeds
Intelligent Cooling optimised with liquid metal:​ Best-in-class CPU cooling, thermal headroom for better gaming, and lower fan noise
Sublime speed, PANTONE​ Validated COLOUR accuracy. Up to 300 Hz or 4K UHD displays with factory-calibrated COLOURs for gaming and content creation
Cutting-edge connectivity. Zephyrus S, Duo, and M models come equipped with Thunderbolt​ 3 while full line-up has Wi-Fi 6 (802.11ax) wireless networking
Real-world portability. 65W USB-C​​ charging on Zephyrus models can use or full power via a 180W thin adapters
Hassle-free upgrades​: Easy access to 2 or (3 on Strix) M.2 expansion slots, with new pop-up screw panel release that simplifies adding storage and RAM
ROG quality across the board​: Desktop-style layouts hone keyboards for speed, with RGB per-key backlighting and wraparound light bars
We have included a few of the presentation slides to give you a better outline. We hope to review a Zephyrus Duo shortly. Note the entry-level TUF series is not scheduled for Australia.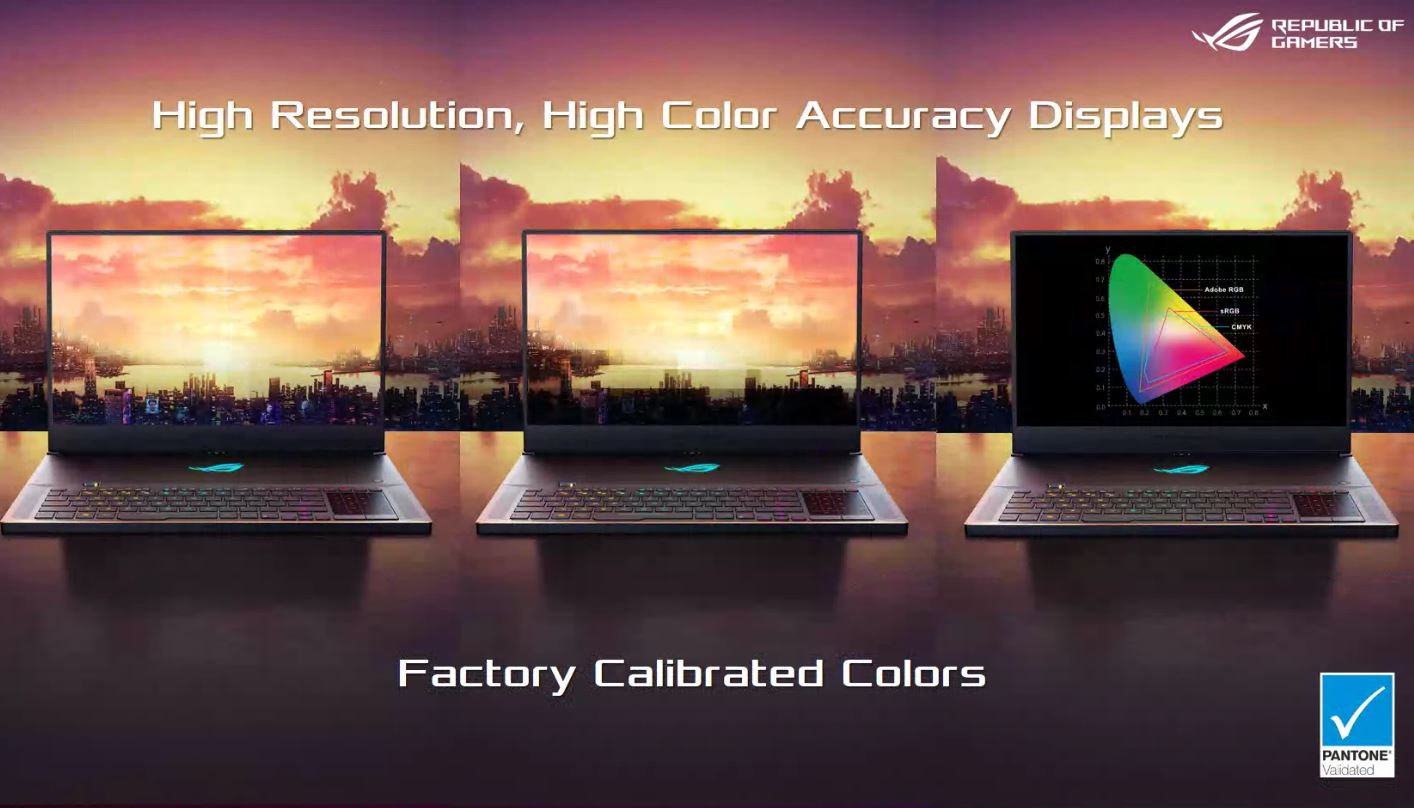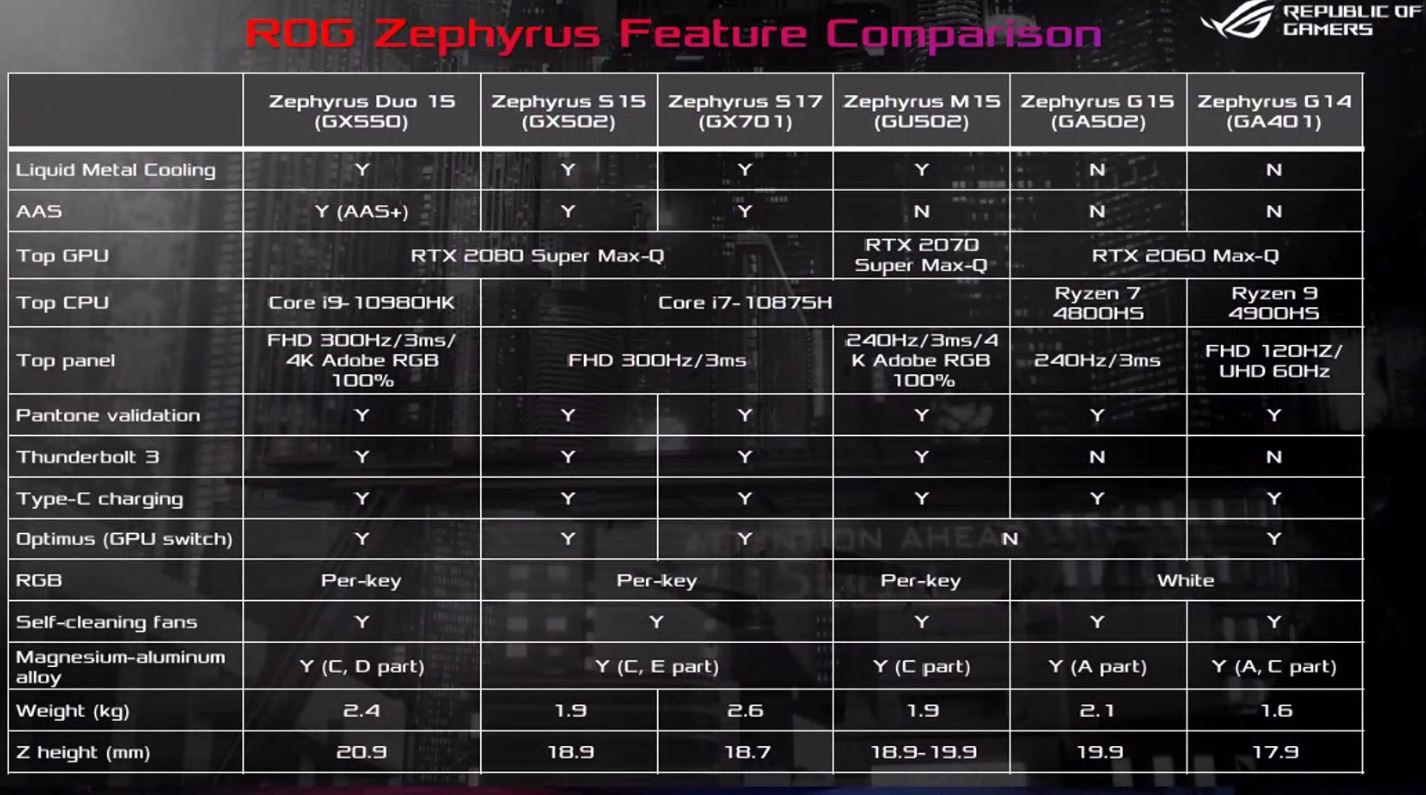 You can read other GadgetGuy reviews of ASUS products here.