The ASUS ROG Phone II is incredibly powerful; in fact, it is the most powerful Android smartphone. Why should gamers have all that speed – what about the rest of us?
Not to be boring (as this sexagenarian, Managing Editor does not play games) but the ASUS ROG Phone II is the ultimate, highest power, biggest battery, fastest screen, smartphone on the planet. If you are a gamer, it is everything you could want (if you have a lazy A$1699).
What does the ASUS ROG Phone II offer to non-gamers? Read on.
Before we get into the tests, let's look at a few of the ASUS ROG Phone II superpowers
The world's fastest processor – 7nm Qualcomm SD855 Plus (the enhanced SD855) and Adreno 640 GPU
The world's best 3D vapour cooling chamber to remove heat from thrashing the processor – peak performance is throttle free
A clip-on, powered AeroActive Cooler II for continuous game use – yes, it can get toasty
12GB LPDDR4X RAM – no lag
512GB UFS 3.0 storage – up to 2900MB/s sequential read over two lanes – far faster than 99% of other phones
6.59-inch, 2340 x 1080, 120Hz refresh, 1ms G-T-G, HDR10, 10-bit AMOLED screen (yes, the world's fastest), Delta E<1 (excellent) covered in Gorilla Glass 6
6000mAh battery and a USB-C PD 3.0 and QC 4.0, 30W fast charger (supplied) as well as top and side USB-C ports
Top and bottom front-firing (that is towards you) speakers, dedicated Left and Right amplifiers, 24-bit/192KHz Hi-Res DAC, DTS:X Ultra 7.1 virtual surround, 3.5mm audio, BT 5.0 with aptX/Adaptive/HD/AAC/LDAC, and four mics with noise reduction – best of any phone setup
Dual SIM, LTE Cat 20 up to 2Gbps DL, 4×4 MU-MIMO, VoLTE/VoWiFi
Landscape optimised Wi-Fi AD multi-antenna 2 x 2 MIMO and WI Gig AD capability
Camera – 48+13MP rear and 24MP front for Vloggers
Clean Android, ASUS ROG UI or ZenUI with Armoury Crate gaming interface that has heaps of automated optimisation options, open access to system-level values and thresholds for advanced tuning.
And a host of accessories like a Kunai Gamepad, a dual-screen option and many more.
Not only did ASUS nail the gaming specs it far exceeded any of its competitors – RAZER Phone 2, Nubia Red Magic 3S, Xiaomi Black Shark 2, OnePlus7 Pro as well as any flagship brands. It is truly unique.
The ASUS ROG Phone II is not perfect.
A flagship buyer expects Qi charging (no), microSD expansion (no), IP rating (no) and it is slippery and heavy at 240g. But gamers will overlook those minor indiscretions.
We are not qualified to comment on the mobile gaming experience so we will borrow a quote from GSM Arena, "You can rest assured that the mobile gaming experience is truly the best money can buy."
While this is a long review, we will use Fail, Pass, Exceed against all our test parameters if you want to speed read!
ASUS ROG Phone II Model ASUS_ID001DC Dual Sim
Australian Website here
Price: $1699 from JB Hi-Fi includes Kunai Gamepad/case, Aero cooler II, and 30W charger
Warranty: 2-years Australian
Warning: JB is the only authorised retailer of the Australian 12/512GB ASUS_I001DC model that supports Telstra, Optus and Vodafone VoLTE and VoWifi.
Do not buy so-called international, worldwide or global models, especially those meant for Asian countries (may be called a Tencent Gaming model that has no access to Google unless you root it). If in doubt check under System, Regulatory Labels for the Australian C-tick.
Update: According to XDA Developers, the cheaper Tencent version (CN ROM) lacks many features. If you know what you are doing, you can root/flash with a WW ROM, but it does not change the compromised hardware
WILL NOT SUPPORT LTE BAND 28 (as it has a CDMA/LTE modem)
No VoLTE or VoWiFi (needs Australian certification, firmware and IMEI range for Australia*)
Cannot make 000 emergency call without a sim
CAT16 modem (slower 2×2 MIMO)
Does not support Wi-Fi AD (Wi Gig)
Has less RAM and storage (8/128GB)
Does not have the same level of sophisticated vapour chamber cooling
Does not support the AeroCooler II (and users report the CPU/GPU throttles)
Only an 18W (15W plus 3W) charger (not the 30W PD 3.0 or QC 4.0 compatible) plus USB-A to USB-C cable (not USB-C to USB-C)
Is locked to the Tencent games store (no Google access including Google Pay)
Nor does it come with the accessories
*Note: There are rumblings that Australian Telcos may implement IMEI level blocking for parallel/grey market phones not certified or approved for Australia. It follows Verizon US IMEI blocking "for phones not certified for use on its network".
Mobile gaming – EXCEED++
Depending on the source of the statistics, mobile gaming is around a US$100 billion industry rapidly growing to $174 billion in 2021. There are more than two billion players (the most significant proportion is in the Asia Pacific) and roughly 50/50 male/female (although each tends to play different games). Gaming is the third most popular app category after social media and music but accounts for about 75% of App Store revenue. Gamers spend over 90% of screen time on games and 78% use Android.
Common titles are (in order of revenue):
Pokémon Go
Fortnight
Candy Crush Saga
ROBLOX
Toon Blast
Clash of Clans
MARVEL Contest of Champions
Candy Crush Soda Saga
Clash Royale
Slotomania Las Vegas
Then there are growing titles like PUBG, Rise Up and Subway surfers.
The most common age groups are 18-24 (60%), 25-34 (23%), 35-44 (12.7%) and 45-54 (2%). Younger and older age groups also play games – kid's titles to Sudoku and Solitaire.
While mobile gaming cannot match the overall immersiveness of PC or Console gaming (due to a smaller screen, audio and lack of accessories) it has one advantage – mobility. Many mobile games use the GPS to localise the experience and of course use lots of mobile data (that keeps Telco's very happy).
So, it is not hard to see why PC maker ASUS and its gamer-arm ROG (Republic of Gaming) needs to be in the mobile games market.
Setup/Android/ROG UI over Zen UI 6 – EXCEED
It arrived in a large hexangular, beautifully finished black and red package – not a little rectangular box like most others. It was a delight to see that ASUS had included a few of its gaming accessories. More on that later, but I can see why standard phones, no matter how powerful, don't do as well in gaming.
The first impression is large (170.99mm x 77.6mm x 9.48mm), solid, heavy (240g) and a far lower screen-to-body-ratio than my almost all-screen Note10. The latter is due to two front-firing matched speakers (yea!) and the fact that gamers need something to hold at the edges – not a touch-sensitive screen – so all is forgiven. It is a beast.
It is a standard Google Android 9 setup but also asks to set up an ASUS account for warranty and OTA updates. Tencent and rooted versions do not get updates. You will need to log into a Google Account to use the Play Store.
It has Android 9.0 at test time (16 January 2020) and 1 October 2019 security update. ASUS policy on updates is unstated but expect at least quarterly. It should see Android 10 soon (in Beta test).
I love the ROG UI Dark Reactor Core wallpaper – press X Mode, and it has a dark, brooding theme, but non-gaming users can select from many 'normal' themes. In fact, for typical daily use, you will want the Zen UI Classic Theme.
Then there are Zen Tools like Sound Recorder, AirTrigger (two extra virtual on-screen hotkeys), Squeeze gestures and gaming force.
Rooting: ASUS provides an unlockable boot loader utility, but its use can void the warranty and there are no OTA updates.
Processor – EXCEED
We need to be clear that this is the Qualcomm SD855+ – 1×2.96GHz, 3×2.4GHz Kryo Gold and 4×1.7GHz Kryo 485 Silver cores.
Compared to the standard SD855 it has a 4.2% faster single primary Kyro core and approximately 15% faster Adreno 640 GPU. This is to take advantage of its 120Hz screen for higher sustained frame rates. It can maintain 120fps on T-Rex and 98fps in Manhattan tests.
The Adreno 640 GPU 250-700MHz supports true HDR10 and over 1 billion shades (10-bit) versus 16.7 million shade (8-bit) screens. It supports encoding for VP8/9, H.263/4/5, HDR10+ and decoding for HDR10+, HLG and Dolby Vision.
And as part of that is the Qualcomm X24 modem (LTE Cat 20 2Gbps/316Mbps) and Wi-Fi AD (WI Gig enabled).
Let's not forget 12GB of the fastest RAM and 512GB of the fastest UFS 3.0 (450GB free). It's a shame that there is no MicroSD but given that this phone will likely use a USB-C dongle then OTG to 2TB negates that.
Throttling Test – EXCEED++
In our 15-minute CPU Throttling test, it was rock solid at around 200,000GIPS. Even under T-Rex tests the CPU temperature never exceeded 50° (some brands go to 90°).
GeekBench 5 tests – EXCEED++
Single/multicore: 771/2825 – this is higher than every other Android phone in the database.
Screen – EXCEED++
6.59″ AMOLED; 2340 x 1080; 19.5:9 aspect ratio; 80.3% STBR; 391ppi; 120Hz refresh rate; 1ms response time, 240Hz touch response rate; 111.8% DCI-P3 colour gamut; True 10-bit, 1 billion shades HDR10+ support; 600nits; infinity contrast. It is flat – perfect for games! And it made by Samsung so we will see more 120Hz screens soon.
So, it's a 1080 screen – that is what gamers want, and frankly, we don't see the point of 2 or 4K screens when they chew so much more battery life.
Importantly it is a true 10-bit (not 8-bit with FRC dithering) and supports HDR10+. We streamed a variety of Dolby Vision, HDR10/HDR content, and it handled all very well. It needs improvement in converting 720p standard definition to 1080 HDR – ASUS have promised a future update to fix that.
It is impressive even though ASUS's claimed Delta E<1 is more like 4 out of the box. There are other display modes – optimal, natural, cinematic as well as colour temperature and saturation sliders that will get that down a little.
Touch latency is almost zero – rumoured to be half that of the iPhone XS Max and Samsung Galaxy S10+.
AOD is limited to date/time battery level, missed calls and texts, although it has a notification LED. The screen is quite reflective – not perfect for daylight use.
Subjectively, the colour is not as good as the Samsung Galaxy Note10 (higher brightness and resolution), but way ahead of any other 1080 AMOLED screens I have seen.
The refresh rate auto switches to what the game/app supports. The 120Hz refresh rate has spoiled me – it is so smooth, but I rarely saw it in general use!
AirTriggers II – EXCEED
The phone is for landscape mode for games. It has two AirTrigger on-screen areas to act as buttons, replete with strong haptic feedback. This adds a strong competitive advantage to gameplay.
Phone – EXCEED
Yes, it is a phone. The X24 modem is LTE Cat 20 (2Gbps/316Mbps DL/UL), 7CA, 4 x 4 MU-MIMO – impressive but you will never achieve those speeds on our snail's pace 4GX network.
We can't find the precise LTE bands on ASUS's Australian site but understand the X24 modem can support up to 36 LTE Bands. Catch 22 is which bands work on what model!
In Australia, you need 1, 3, 5, 7, 28 and 40. Note that the Chinese (CN) version of this device supports CDMA as well as some LTE and don't support the all-important band 28. Neither does it support VoLTE or VoWiFi.
Dual SIM – EXCEED (Genuine Australian version only)
Both can use 4G/4GX calling, but only one sim is active at a time. Set your preferred sim/s for voice and data.
The Australian model has VoLTE (Voice over LTE) and VoWiFI (Voice over WiFi) – all other models will only make 3G calls here. And over the next few years as Australia drops 3G (to make room for 5G) all phones sold here must support VoLTE to make and receive a call (Source).
The signal strength is excellent – better than the Samsung Galaxy Note10 and finds the next two closest towers. You won't have reception issues.
USB-C x 2 – EXCEED
The USB-C port at the bottom supports USB 2.0 OTG (480Mbps) data transfer rates. The USB-C (combo) at the side supports USB-C 3.1 Gen 2, Alt DP1.4 (10Gbps) rates. Both are for charging or data, but the bottom port is automatically disabled.
The side port supports USB-C dongle and docks for external monitors, keyboard, mouse, storage etc.
Security – PASS
It has a Goodix fingerprint sensor under the glass, and 2D face unlock – both are adequate but nothing special.
Sound – EXCEED
Our review model comes with both a USB-C to 3.5mm DAC (Digital Analogue Converter ) cable as well as a 3.5mm analogue port.
The dual, matched, 5-magnet, front-firing speakers provide perfect Left/Right symmetry. Top marks for this!
DTS:X Ultra 7.1 virtual surround means the sound stage is far wider and taller than most phones. Note it is not Dolby Atmos – that is more for movies.
Two dedicated (L/R) NXP 9874 class-D amps each output 5.6W (8Ω) and a theoretical 114dB volume (THD <1%) covering 20Hz to 20kHz (depends on speakers). Made for higher quality audio, the result is more volume, less distortion, low latency and lower noise (hiss).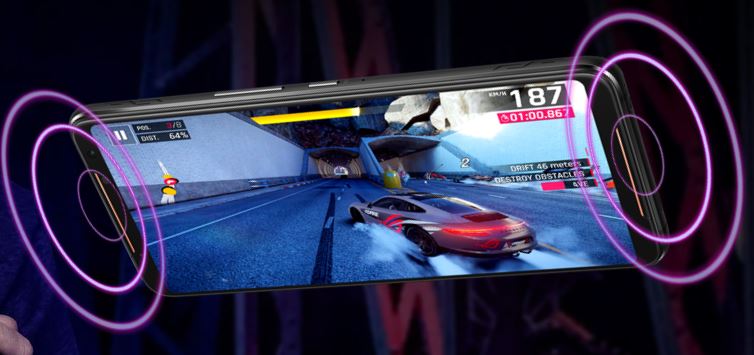 The DAC is 24-bit/192kHz, and BT 5.0 supports aptX adaptive/HD, AAC and LDAC (Opus).
We tested the BT using our reference Sony WH-1000XM3 LDAC headphones, and it was sweet – as hi-res as you can get. The buds are also HRA (high res audio) certified.
AudioWizard is the built-in sound equaliser tool with some advanced processing. However, Hi-Res audio playback does not support DTS & EQ effects. Now, you are either going to love or hate it (audiophiles hate manufactured music) and you can disable it. We tested without it.
Volume: Ring 82dB, Voice 80dB and Music 78dB. Bass reinforcement is via haptic feedback as well. There is an 'outdoor' mode that offers a little more volume (approx +5dB) at the expense of quality.
DXO AudioMark is 69 – one of the best it has tested.
Sound signature – depends on so many things – EXCEED
Deep Bass: 20-40Hz – none
Middle Bass: 40-100Hz – building
High Bass: 100 to 200Hz – building (that means good)
Low-mid: 200-400Hz – flat
Mid: 400-1000Hz – flat
High-mid: 1-2kHz – flat
Low-treble: 2-4kHz – flat
Treble:4-6kHz – flat
High Treble: 6-10kHz – a slight decline (to remove treble harshness)
Dog whistle: 10-20 – there but not strong
This is almost perfect warm and sweet for music and movies. I felt it lacked bass that I expect from games but you could definitely 'feel' it. A gamer might use BT speaker or headphones to get that effect.
Read why a Sound signature is so vital for our reviews.
Battery 6000mAh 23.1wH – EXCEED
The 30W Charger supports PD 3.0 and Qualcomm QC 4.0 – any suitable PD charger can be used but ensure the USB-C to USB-C cable has the right rating. it delivers (depending on the device)
5V/3A, 9V/3A, 12V/2.5A (QC 4.0)
3.3-5.9V/3.3A (PD 3.0)
3.3-11V/3A (PD 4.0)
It allocates 5W to the accessories and 25W to HYPERCHARGE – 0-66% in under 1 hour and fully charged in 1.5 hours.
Discharge speed at idle is 150-180mA giving it about 33 hours bench life – turn this one off at night.
Battery life is incredibly hard to measure. For example, do you measure it at 120Hz screen (when 99% of video/games content is 60Hz)? Do you measure it by gameplay (and each game uses different CU/GPU resources)? Do you disable LEDs and lighting? What is a typical consumer use case?
Tests
Complete discharge at 100% load (no accessories) approx. – 5 hours
Heavy use (Wi-Fi, BT, Calls, Mail, Internet – no gaming) – 14 hours
Typical use – 30 hours
Solid 60Hz gaming T-Rex (8 hours)
Solid 120Hz gaming T-Rex (5.6 hours)
1080p 60Hz video loop (50% brightness and aeroplane mode) 10 hours
As a general phone, we expect at least one day without recharging.
Wi-Fi – No 6 but AD – PASS
It does not support Wi-Fi 6 AX (as the SD855 does) but AD and defaults to Wi-Fi 5 AC. We suspect that it is something to do with the Wi-Fi optimisation for landscape mode and the clip-on accessories reducing antenna sensitivity.
It achieves 866Mbps on NETGEAR AX6000 router instead of aggregated 1Gbps or more. In comparison, the Samsung Galaxy Note10 delivers 1.2Gbps – both have the same signal strength.
NFC, GPS and FM – PASS
It supports Google Pay as well as automatic BT linking.
GPS – is dual L1+L5 and very fast. Perfect for real-time navigation.
FM radio requires cabled earphones for an aerial.
Missing – PASSable
Micro-SD – prefer to use OTG to 2TB or USB-C flash drives
IP rating (cooling requires good airflow not possible from a sealed system)
Qi charging – would have been nice but dual USB-C makes up for that
Build – PASS
It has an aluminium frame, Gorilla Glass 6 front and Gorilla Glass 3 back. Lack if IP rating means a pass. In teardowns, it appears to be quite easy to remove the rear cover, battery etc. but almost impossible to remove the screen without breaking it.
The clip-on AeroActive Cooler II has RBG lighting, USB-C and 3.5mm ports. Serious gamers may use it, but it is not necessary for playing while you are on the train.
Options – most at extra cost – EXCEED
ROG Kunai Gamepad (included at JB Hi-Fi)
Snap-on a Kunai case and slot in the left and right controllers and you have a 'Switch-like' device. The left and right controllers can also slot into a controller-like gamepad device. The gamepad has a USB-C port that you can plug into the Phone II's side USB-C (low latency) but it is also Wi-Fi AD (via a supplied USB-A dongle) and BT switchable (higher latency).
AeroActive Cooler II – RBG, USB-C and 3.5mm (included at JB Hi-Fi)
This uses the side USB-combo port and basically adds a cooling fan, 3.5mm jack and a pass-through USB-C port.
Desktop Dock
Docks via the side USB-C combo port and has added cooling. It has an HDMI and DisplayPort for 1080 to 4K@60Hz screens. Has Gigabit Ethernet, USB-C and passthrough, USB-A.
Note as the USB-C combo has 3.1 Gen 2 you can use any third-party dock or dongle as well.
Twinview Dock II
Adds a second identical screen at 120Hz plus an additional 5000mAh battery. It works more as two separate displays rather than a single large screen.
Wi-Gig Display Dock II
A Wi-Fi AD display dock with sub 20ms latency for hooking up a projector or TV wirelessly. Range – under 5m.
Camera – good but not its strength – PASS
Because it is at last raining preventing my reference shots, we will defer to DXOMARK.
Let's start by saying that DXOMARK gave it 95 which is really at odds with the specifications and aspirations of ASUS for the ROG Phone II. You will frequently see me write that a flagship with a DXO score of 100 or more is very good (up to 123 at present). So, it is a capable but disappointing camera.
ASUS uses a 48MP (binned to 12MP) Sony sensor, has the massive post-processing power of the SD855+ but it produces some very average shots.
It can do better. But the question is "Are ASUS ROG engineers up to the task?" They can wring every ounce of performance from a PC (or this phone), but the camera app and algorithms are pedestrian.
Camera rear
48MP, 1/2.0″ SONY IMX586 Quad Bayer BGGR sensor, .8um (equal to 1.6um), f/1.79 aperture, 68° (claims 79-degree FOV 26mm equiv. focal length), PDAF/laser autofocus; No optical image stabilisation; 4K@60fps
It only partially delivers what we know and expect of this sensor – good quality day and office light shots but poor low light shots. Night mode is about 50% as useful as it could be.
Avoid HDR+ (as good as it is) as it increases shot times to several seconds. Again this is more about the app and could be improved.
Ultra-wide module: 13MP, OmniVision OV13855 sensor, f/2.4 aperture, fixed focus, 125-degree FOV (11mm equiv. focal length), LED flash, EIS for 1080 video on both cameras.
Not wanting to suggest OmniVision is a second-rate sensor but we have seen so much better from equivalent Sony and Samsung sensors.
Selfie
24MP, OmniVision OV24b1q GBRG sensor, f/2.0 aperture, 0.9µm (equal to 1.8um), Quad Bayer Technology., 67.1° FOV.
It is a small FOV (for one person selfies) and fixed focus limits its versatility. However, for inserting a gamers face in a stream – perfect.
GadgetGuy's take – ASUS ROG Phone II is a beauty and a beast
When I first saw it, I coveted it – badly. What is not to like about the raw specs, dual speakers, 120Hz screen and obscene amounts of RAM and CPU/GPU power?
But as I started to use it over the mandatory week – time to get to know it – I found that my initial fascination wore off and I really wanted to go back to my Samsung Galaxy Note10. Why?
Well, the ASUS ROG Phone II is the most complex phone I have ever reviewed.
This is the ultimate gaming phone. But as you probably do not use an F1 car as your daily drive, this is not a daily drive either. Sure, you can use it as one but then you would soon tire of the compromises.
To be fair to ASUS, some things have spoiled me – the 120Hz screen is so smooth and lag-free.
So, it's a 5/5 for a hard-core mobile gamer, and that is how we will judge it.
But the lack of convenience like no IP ratings, Qi charging, microSD and a camera that is just adequate knock a few points off for a casual mobile gamer.
Positives
World's best gaming phone - by far
Negatives
Not the world's best flagship if its your daily drive!