Asus tends to experiment with computer concepts more than most companies, and in its latest idea, has merged Android and Windows for a unique combined computer. Does it work, or is it merely a computer with an identity crisis?
Features
Two computers in one that somehow equal three: that's the concept in the Asus Transformer Book Trio, a tablet laptop hybrid that takes the Asus tried and tested formula of merging a tablet with a keyboard dock, but somehow throws a real computer in for good measure this time.
Because there are two computers merged into one, there are two sets of specs to cover, so let's look at the tablet first.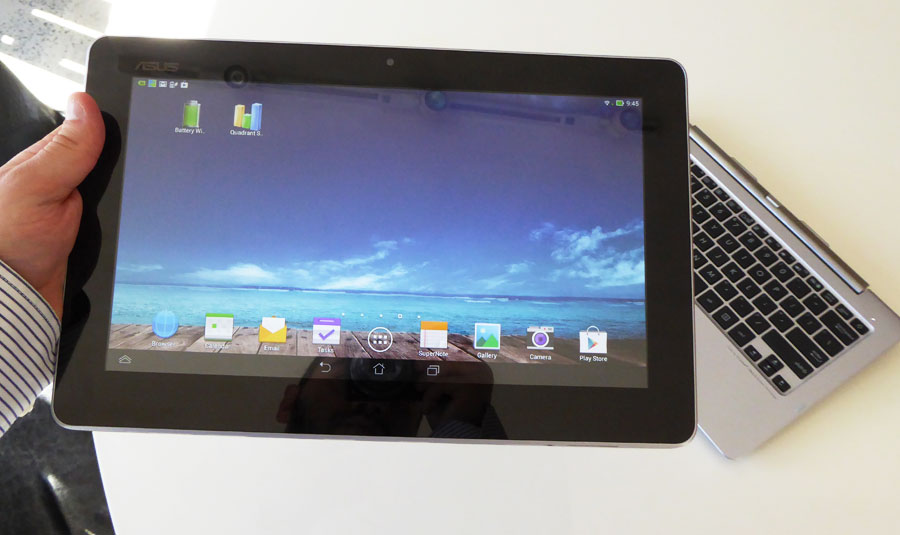 In the tablet screen section, you'll find an 11.6 inch Full HD 1920×1080 display working with one of Intel's Atom processors, the Z2580 clocked at 2GHz. Inside the tablet, there's 2GB RAM and 16GB of storage, though that last one can be expanded with a microSD on the bottom of the tablet.
Google's Android 4.2 "Jelly Bean" runs natively here, and while all of the main buttons are handled via the software with on-screen buttons, the few physical buttons are on the back, catering for power and volume. A few ports can also be found, with a 3.5mm headset jack, as well as a microUSB at the bottom.
Then there's the keyboard dock section, and that features another computer inside, with an Intel Core i5 processor from the "Haswell" set of processors (fourth-generation) set to 1.6GHz, and working alongside 4GB RAM and a 500GB hard drive.
Connection options for this section include 802.11a/b/g/n/ac WiFi, as well as Bluetooth 4.0 and external accessories for Ethernet if you need it.
The keyboard dock also includes two USB 3.0 ports, a single microHDMI port, one mini DisplayPort, and the typical 3.5mm headset port.
Cameras are also included, sitting on the tablet section, with a 720p HD camera up front above the screen and a 5 megapixel Full HD capable camera on the back of the tablet.
Windows 8 runs on this section, and this computer relies on the Android tablet to act as the screen when the two are docked. There's even a special button on the keyboard making it possible to jump between either operating system when the computers are connected.
Both the tablet and dock are encased in aluminium, and together have a weight of 1.7kg, with the tablet weight 700 grams (roughly) and the docking system with PC inside coming out at 1 kilogram (roughly).
A proprietary power plug is provided in the box to charge the keyboard dock.
Performance
A laptop with three computers in one? Sure. Why not.
Let's take convergence to a new level, as Asus explores whether Android and Windows can co-exist on the one machine, and not just from the emulation point of view.
That last one is something any computer can do, provided you have Android's developer kit or BlueStacks, an emulated version of Android.
But Android running alongside Windows? That's something few companies attempt, and Asus is one of them.
For the Trio, that's more or less what the company has done, providing two computers in one machine. You've probably seen the Asus Transformer concept before, which connects a tablet with a laptop keyboard, mouse, and extended battery, and that's kind of the concept with the Trio, except for one change: now the laptop keyboard section has more than just a battery, keyboard, and mouse; now it has an actual Windows computer inside.
To understand how that works, you need to break the Asus Trio into two parts: there's the tablet with the screen, and the computer in the keyboard section.
In the tablet section, you're looking at an Android tablet under an 11.6 inch screen running Full HD's 1920×1080, a slightly bigger tablet than normal, but still something close to the 10.1 inch models we're used to seeing.
The specs in here include an Intel Atom processor running 2GB RAM and 16GB storage, with all the fix-ins your probably used to seeing, including 802.11n WiFi, Bluetooth, a 720p webcam up front, and a 5 megapixel camera at the back. Android 4.2 "Jelly Bean" runs natively here, with some minor cosmetic changes made by Asus.
And this tablet can be used as a tablet completely separate from your Windows computer, which is connects to, for when the tablet section connects using the docking mechanism on the keyboard, the Android 11.6 inch tablet also acts as the screen for your Windows computer.
Inside the Trio's Windows section, there's a fourth-generation Intel Core i5 clocked at 1.6GHz, 4GB RAM, and a 500GB hard drive. That's one of the conventional moving part hard drives, not one of those battery saving solid-state drives you might have come to expect.
With the tablet screen plugged in, you'll get Windows 8 on an 11.6 inch Full HD touchscreen, allowing you to do all the things in Windows 8 you would normally do, plus there's a mouse on the keyboard section for those who prefer a mouse to the touchscreen.
And hey, if you decide to detach the tablet screen section, the Transformer Trio's desktop section can be plugged into a monitor using a microHDMI port and used in the same way as you would a desktop to a monitor.