ASUS VivoMini UN68U is a member of the VivoMini family. There are currently 17 variations on the theme of the ultra-compact, fully featured VivoMini's available.
So, in many respects, this is more about VivoMini than a specific model.
What is an ASUS Vivomini UN68U?
(Australian webpage here)
Let's start by saying the Mini-format originally came from Intel as a NUC (Next Unit of Computing). Typically, it is a small form factor, 100 to 130mm square containing everything you need. They end up in interesting places.
For example, as they are VESA mountable many enterprises put them on the back of a monitor screen (most recent models support up to dual 4K monitors). It saves desk space and considerable energy.
I have seen them controlling shopping centre and shop signage where inbuilt Wi-Fi and Bluetooth make for easy updates.
Frequently uses are for MPC (Media PC) where you only need a basic PC to access media stored on NAS devices.
Perhaps the most interesting is on a fleet of giant mining trucks doing everything from engine monitoring to load statistics.
With so many models and types to choose from you will find exactly what you need from a barebones Celeron at $129 to the i5-8250U (as tested) at $1259. The top of the range 8th generation core i7-8550U is $1389.
What is inside an ASUS VivoMini UN68U?
An all-in-one motherboard that has
2 x SO-DIMM LPDDR4 memory slots (can take up to 2 x 16GB) 8GB tested
Support for Intel Optane memory
Either Intel 8th generation four-core, i7-8550U or i5-8250U Processor (as tested)
Intel UHD Graphics 620 that supports dual 4K (or lower) or one 5K monitor
Wi-Fi AC, Gigabit Ethernet LAN, Bluetooth 4.2 (on an M.2 2230 slot – upgradable)
Space for 2.5" Hard disk
2. 2242/2280 slot for PCIe NVMe 3.0 x 4 lane SSD (Test unit has a Hynix 256GB M.2 SATA/600 SSD)
2 x USB-A 3.1 Gen 2, 10Gbps, including 5V/1.5A sleep charging
2 x USB-A 3.1 Gen 1, 5Gbps, 5V/.5A charging
HDMI
DisplayPort
5mm audio combo jack
SD card reader
Kensington lock slot
Windows 10 Pro (or Home)
Power is via a 19V, 3.42A (65W) brick.
So, add a keyboard, mouse (or Bluetooth version) and plug it into a Monitor or 4K TV and you are away.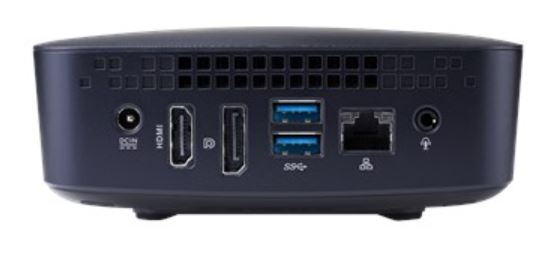 Performance
The i5-8250U is an excellent four-core, eight-thread, 1.6/3.4GHz processor. It is 40% faster than the 7th gen equivalent and uses 20% less power.
It has a TDP (thermal design power) of between 10 and 25W. As this runs on 240V power, it can run at turbo speeds with throttling only for exceeding a set temperature. It has a PassMark of 7675.
The i7-8550U, 1.8/4GHz, is similar in design and has a PassMark of 8304 – not a lot more.
Intel's dual-band Wi-Fi 8265 chip achieves the maximum of 867Mbps at 2 metres from our D-Link AC5300 router. Good!
The Hynix 256GB SATA/600 is slow at 560/267Mbps (sequential read/write). But it will support PCI NVMe SSD that will achieve around 3,000/1000Mbps. Still its faster than any spinning disk.
Interestingly all the VivoMini UN68U analysed at UserBench had used NVMe SSD. Half were i5 and half i7.
Fan noise was excellent. It ranged from around 20dB at idle to 40dB at maximum load.
Software
It is Windows 10, so we don't need to go there. Just a reminder that you can turn off all anti-privacy switches and it still works well. The test unit came with Pro – unless you need to join a network domain Home is fine.
Business Manager is ASUS's all-in-one backup, update, clean-up, power-saver, Audio Wizard and more. The Update function is perhaps less relevant as ASUS participate in Windows Update, and it generally uses Intel reference designs and components. My take – nice but not necessary and it is uninstallable.
It comes with McAfee LiveSafe 'free-trial' that incessantly kept nagging me to buy. Uninstall that too. Windows Defender is fine for most users.
Sound
Underlying the sound is a standard Conexant SmartAudio HD chip and drivers.
Audio Wizard by ICEpower provides a basic EQ function that can alter the audio stream over HDMI/DP or Bluetooth.
ASUS Wi-Fi/Remote Go! (not tested) looks interesting. It has Remote Desktop, DLNA Media Hub support, FTP, Remote Keyboard and mouse and more. It focuses on MPC operation. Logitech's Harmony remote controllers support VivoMini.
Displays
The Intel UHD Graphics 620 GPU supports up to thee monitors. HDMI 1.4 is 4K@24Hz, DP is 4K@60Hz or daisy chain to 4K@24Hz for a total of three screens. Alternatively, use a USB-A 3.0 to 4K adaptor, or it supports Miracast with sound to a compatible TV.
As it uses shared memory with the CPU, it is best to have 16GB or more if you are driving three 4K monitors. For dual 1080p 8GB is fine.
GadgetGuy's take. Small, powerful and discrete. ASUS VivoMini U68N can replace a desktop.
I am a fan of ASUS as well as its VIvoMini micro-PCs. Over many years I have owned many ASUS laptops, and not once have I been let down.
The VivoMini UN68U is a fully featured Windows 10 PC. Its price (as tested) is $1259 without keyboard, mouse and monitor. That may be a tad on the high side, but the convenience factor is the big positive.
Its competitors are Intel NUC, HP Elite Slice, GIGABYTE BRIX, MSI CUBI, Dell OptiPlex Micro, ARK, Lenovo Tiny and many more. I mention these because it is a serious computing format that you may have discounted for use.
Pro
You can buy an i5 or i7 fully configured OR
A barebones i5 or i7 and add memory and PCIe NVME SSD
Room for a second 2.5" HDD as well
Performance of the i5 is not too far behind the i7 so save your money
Video performance for 'light' games
ASUS quality
VESA mount
Con
I am waiting for USB-C and Thunderbolt 3 to come to a VivoMini
Rating
Micro-PCs are unique in that they need to provide as many features as possible in as smaller size as possible. As far as this goes it meets all criteria.
Overall:  4.9 out of 5
Features: 5 out of 5 – Full featured although I will wait for the USB-C/ThunderBolt 3 version!
Value for Money: 4.5 out of 5 – reasonable price for this kind device
Performance: 5 out of 5 – the i5 is a great low power, laptop processor
Ease of Use: 5 out of 5 – No assembly for the fully built kit but I would be looking for the barebones version and building it myself.
Design: 5 out of 5 – It is Zen-like attractive and very quiet.
Price
$1259 for the i5 as tested (price from mwave).
$1389 for the i7 (price from mwave).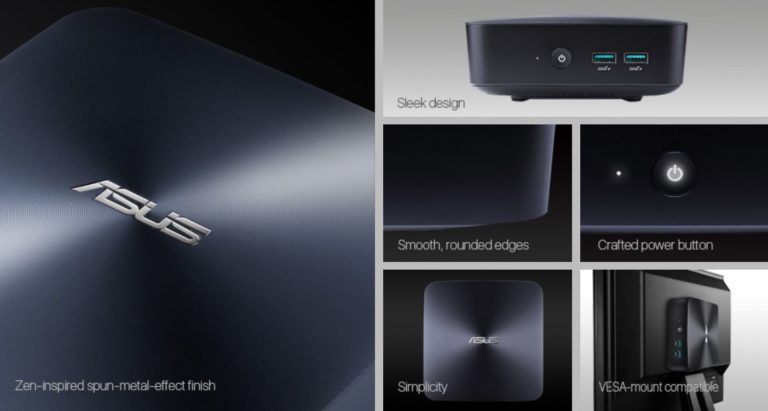 Small, powerful and discrete