Performance
Carrying the VivoTab around as a tablet, it's not a bad feeling device, and while it lacks the sleek metal feel that other tablets offer, the plastic shell is quite comfortable and light. The 580g weight is barely noticeable, and Asus has done a good job balancing the hardware here.
We haven't yet had the pleasure of reviewing a Microsoft Surface yet, but the experience of the VivoTab Smart tablet section is very similar to what we found in the Acer Iconia W510, and another Windows 8 tablet we're reviewing from Asus, the VivoTab TF810. These all run pretty much the same hardware, with an identical Intel Atom Z2760 inside all of them.
As such, Windows is relatively snappy, with the operation of the new UI in Windows 8 sliding by quickly and easily, a few apps running fine simultaneously, and even allowing a touch of Windows app-snapping so you can run a couple of apps on the same screen.
This isn't a machine you'll want to do an enormous amount of high-end processing on – such as photo or video editing – or even spend time with anything more than a casual game, but it will get you through web surfing, writing, calendar organising, news, and just about everything a regular tablet user might want to do.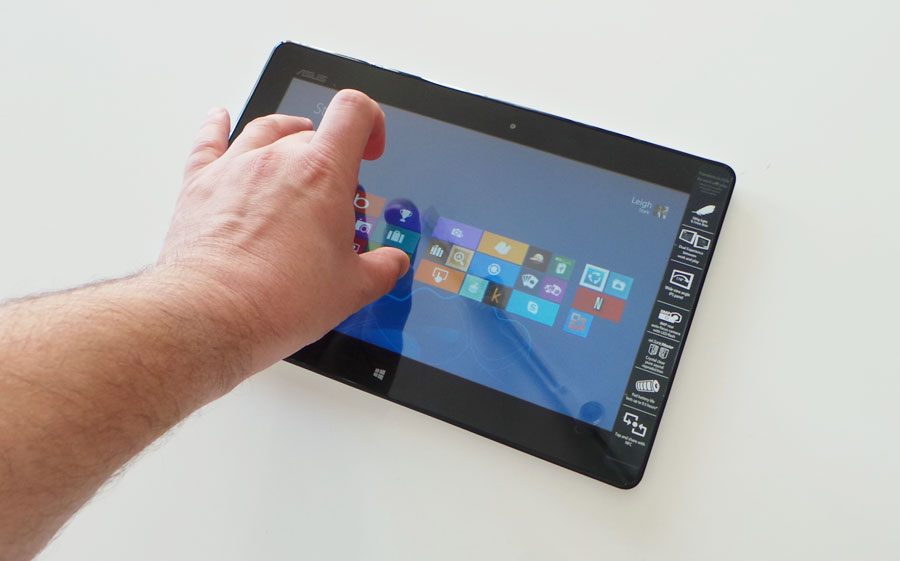 The choice of screen here is great too, with an In-Plane Switching panel that, while quite glossy, looks good from most angles.
There's a touch of dimming as you change angles along the flatter ones, but the picture is still decent enough that you shouldn't have any troubles finding a comfortable viewing position on this tablet at all.
We're also fans of the use of microUSB as a charging port, something so few tablets ever take advantage of. Even other tablets in the Asus staple don't normally take advantage of this, so it's an excellent point, making it easy to charge where ever you go, thanks to the universal compatibility that microUSB now has.
Battery life is decent too, and we managed roughly eight hours through the course of our test. We suspect you got probably get more juice out of this, provided you switched off WiFi and Bluetooth, which means it should last at least one overseas flight.
But it's not all great over here for the Asus interpretation of Microsoft's Surface. One of these is the keyboard and stand design, which can be seen as clunky, when used for the first, second, third, and fourth time.
First of all, neither the case – which has a stand in it – nor the keyboard are included accessories.
While the Asus VivoTab Smart does feature Microsoft's built-in virtual on-screen keyboard, it is by no means as good as an external one, and since this tablet competes directly with the Microsoft Surface, this tablet probably needs it.
Furthermore, these accessories haven't been priced yet, and from what we understand, will be sold separately: case for one amount, keyboard for another.
Unlike Surface, the stand isn't built in to the tablet. That's fine, and technically, that's no different to the iPad, so we can get around this with a case that folds origami-like into one. This case even clips to the tablet with one of those magnetic hinges like Apple's own Smart Covers.
Only one problem: it doesn't always work well as a stand.
As a cover, it protects the screen nicely and in a way feels like a slightly rubberised book cover. No worries there.
But to make it into a stand, you need to fold it over from behind using the little indents made in the case.
Bend it in the right places and it should make a sort of makeshift seat for the VivoTab to rest against. The tablet, though, can slip, and seems to require a relatively stable surface to sit on.