Another budget machine is ready for consumption for the masses, and this time it's Asus that is taking a swing, crafting a computer for people that need a keyboard, a screen, and something that won't hurt the back at all.
Features
A new budget machine, the Asus X205TA borrows a formula used with other slimline inexpensive machines and makes it its own, bringing Intel's system-on-a-chip to a low price point with the full edition of Windows 8.1.
As such, you'll find the familiar Intel quad-core Atom Z3735 processor here clocked at 1.33GHz, paired with 2GB RAM and 32GB storage. Windows 8.1 is installed on the computer out of the box, ready to go, with the storage able to expanded using a microSD slot found on the side of the computer, a change from the usual fare of a full-side SD card slot.
Connections are relatively standard for this machine, with 802.11a/b/g/n WiFi, Bluetooth 4.0, combined headphone and microphone 3.5mm jack, microHDMI, and the reliable USB 2.0 ports, of which there are two of them.
A camera is also provided in the unit, with a VGA camera found above the screen, as well as the regular trackpad and keyboard you expect a computer to have.
The display is something we haven't mentioned yet, with an 11.6 inch display used here running the resolution of 1366×768, with this screen being a glossy screen.
The battery is built into the Asus X205TA and is not replaceable, and charged with a small power pack reliant on a small proprietary port.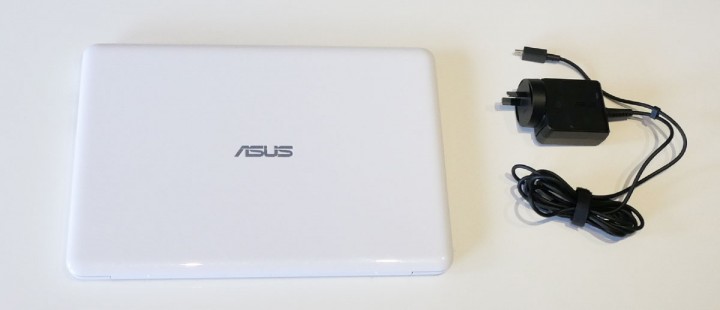 Performance
It's hard not to be a little envious of the computer choices they have this year, it really is.
We're only in the second month of 2015 and we've already played with several laptops that bring Windows to budget price that is just impossible to ignore, making us wish these sorts of options existed when we were still going to school.
The Asus X205TA fits in with this category, and is one of the low-cost computers Microsoft has been working with manufacturers to make, producing a full Windows 8 machine on a budget, and so much of a budget that it comes in at well under the $500 mark that used to indicate if a computer was indeed labelled "cheap".
In this model, Asus has taken a spec seen and used on most of the other ultra-light student-ready laptops out there, but given it its own design and style, and it's a look worth talking about, too.
On first glance, the X205TA has a fairly generic glossy white look to it, but then you pick it up and see what Asus has done, minimising everything and generally cutting out extra plastic to make it light, very light, hitting well below the average for budget computers and coming in under a kilogram.
Yes, if you know someone with small hands and not a lot of time or tolerance for heavy objects, the Asus X205TA wins points with its 0.98 kilogram weight.
Oh sure, 20 grams off the mark doesn't make it terribly different from a laptop that weighs the full kilo, but this computer is also closer to 200 grams lighter than the machines it competes with, and that's an important note, especially if you're buying for kids.
Asus has also provided a decent keyboard, and while it feels a little too flexible and soft, first-time typists shouldn't have any problems here. This isn't the best keyboard we've felt, but it was comfortable to type on, and provided you don't strike the keys too hard, you won't see any real issues with extra keys pressed or lost letters.
Performance of the computer was decent, too, in line with what we're seeing from the Windows 8.1 budget systems reliant on Intel's Atom Z3735 variants, the Z3735F in this case.
Paired with 2GB RAM, you'll find Windows won't really complain by throwing any lag or slowdowns your way, which is a good thing that other computers run into, especially those offering merely 512MB or 1GB RAM.
As such, we found the Windows live tile menu responded well, as did loading a few apps. Given that this laptop seemed aimed squarely at the little ones — something we can determine thanks to size, weight, and price (not to mention being released in time for the back-to-school season) — owners of the Asus Z205TA should find it can handle school work, web surfing, emails, and small bits of fun without any real problems.
Even the battery is admirable, with 10 to 12 hours of writing performance on offer, though this will drop if you decide to tackle some videos or gaming head on, since that will definitely flex the muscle of the laptop more than basic productivity does.
We do wish Asus would go with something less proprietary when it comes to dealing with the power port, though.
While some companies go with microUSB — which we like — and others go with small circular ports which have become standard, Asus has used a rectangular port that is reversible (yay!) but that looks like microUSB and isn't (sad face).
On the one hand, it's hard to mess up plugging it in, thanks to the reversible nature of the plug, and we're happy to see a very small power pack, but on the other hand, if you lose this power pack or damage the cord, good luck finding another, because we've never seen one like it, and you can't just find it off the shelf.
One thing remains consistent in budget computers, and that's the screen choice, with low-end screens that look good from one or two angles, but generally require a direct angle to view the screen comfortably.
It's also a highly reflective screen that lacks touch, but outside of the angle issues, it's fairly clear viewing and brighter than some of the displays we see on other low-priced laptops in line with Windows 8 on the cheap, so that's positive.
But the angles aren't good and some angles make text look faded while keeping the white contrasty while others give the white an off-yellow look yet provide clear and contrasty black.
It's confusing, but we're sure you'll work it out quickly, so just make sure to keep this screen quality in mind when eyeing this machine.
Not helping this screen is how glossy it is, and yet not including touch.
We get it: budget machines generally don't include touch panels, and the Asus X205TA is no different.
That's fine, we can live with that, but the screen is just so glossy, you'll constantly have to remind yourself that this is not a touchscreen. Even with how seasoned we are with laptops, we found ourselves touching the screen all the time, reminding ourselves that no, this wasn't a touchscreen, even though it looks like one.
What else isn't good?
The mouse, for starters, which is a large plastic trackpad button that doesn't always pick up on some of the necessary Windows 8 gestures such as swiping from the right to bring up the Windows charms, as well as swiping from the top to reveal application options.
We occasionally got these menus to show themselves after excess swiping, but the touchpad provided here certainly doesn't offer the best experience we've had on Windows 8, which is a real shame since there's no touchscreen and you'll want a decent trackpad to make Windows 8 work.
Our last issue is the space, which sits at 32GB flash storage when you buy it, but only provides 15GB once you flip the switch and start using the Asus X205TA.
We've said it before and we'll say it again: Windows needs more than the tiny amount on offer, and while 15GB might be enough for some documents and apps, you're going to find yourself needing to make use of that microSD slot on the side of this laptop quickly, you really are.
Even 64GB reveals merely 40GB out of the box, which isn't a lot, but would still offer more to work with than the measly 15GB you get here. As we said, it'll be fine, but more storage would have been more useful, because you could always do with more local storage.
Conclusion
If you're buying for someone where the weight matters, the Asus X205TA is a decent option as it provides Windows 8 on a budget with a soft keyboard and enough battery life to get a whole day of school work done.
The glossy screen may throw some people because you'll expect it to be touch-friendly, and the mouse could do with a little work, but if you're patient and you get used to Windows using only that mouse, it's easy to find a solid experience offered in the X205TA.
Bright screen; Very lightweight under a kilogram and easy to carry; Relatively comfortable typing experience, though mostly for new typists; Expandable via microSD; One year of Microsoft's Office 365 included in the box;
No touchscreen; Proprietary charge connector; 32GB storage isn't enough, with only 15GB available out of the box; Mouse feels very cheap and doesn't appear to support all gestures; No USB 3.0, only USB 2.0; Screen washes out at angles easily; No 802.11ac WiFi;