There's no doubt that single-box wireless speakers have their place. But for real stereo, you need two boxes. For example, the Audioengine A5+ Wireless speakers, which have recently launched in Australia.
Features
Let's get some terms clear first: the name of the product is Audioengine A5+ Wireless. That distinguishes them from the Audioengine A5+ powered speakers which are otherwise very similar. The 'wireless' aspect here means Bluetooth, not Wi-Fi. You can feed music from your phone or tablet or another Bluetooth-enabled device, not from your network.
But there are also two analogue inputs: one pair of RCA sockets and one 3.5mm stereo mini socket. So you can easily make these speakers work with your network just by plugging in a Chromecast Audio device ($59 from plenty of places). Or you can plug in a CD player or a turntable (so long as it has a built-in phono pre-amp). No need to be limited to your phone's contents.
The form of the Audioengine A5+ Wireless speakers is that of smallish bookshelf loudspeakers. Each stands 270mm tall and has a 180mm wide by 23mm deep footprint. Underneath each is a soft rubber pad which ought to protect your furniture. They are available in a white, black or (at extra cost) bamboo finish.
They do not have a front grille, so you might want to keep the delicate 19mm silk dome tweeter out of reach of small children. Underneath that on both units is 130mm Kevlar cone woofer. The speakers are bass reflex loaded, with a slot port at the top rear.
Inside the speakers
The left speaker contains all the electronics. It connects to the right speaker via binding post outputs and matching inputs on the other speaker. Included in the box is a four-metre-long speaker cable. Banana plugs are at the cable ends, so it takes only seconds to connect the two speakers.
The front of the left speaker has a small volume control. You can press that to put the speaker into standby mode. Pressing it again or adjusting the volume switches it back on. A LED shows power status: solid when it's on, pulsing when it's not.
Audioengine rates the built-in amplifier of the Audioengine A5+ Wireless speakers at 50 watts per channel continuous. There's plenty of power available. It also puts the frequency response of the speakers at 50 to 22,000 hertz ±1.5dB. That's one very impressive specification.
The Bluetooth version is 5.0. The enclosures are made from 13mm MDF, not the chipboard used in many inexpensive speakers.
There are some surprising quality touches. For example, also in the carton is a decent quality 2-metre interconnect. Plus a decent quality 2-metre 3.5mm to 3.5mm cable. The bundle of cables come in a soft microfibre bag, as do each of the speakers.
And there's also an infrared remote control. That is a small PC board fitted into a machined aluminium slab. It's like the kind of thing you'd get with some famous-brand Danish product.
Setting up the Audioengine A5+ Wireless speakers
As I've suggested, connecting up the speakers was easy. I put both on the stands I normally use for smaller speakers and had them wired up in no time.
I like using a GooglePixel 2 XL phone for sending music to Bluetooth speakers. That'sbecause of an under-reported feature of that phone: it supports all theBluetooth audio codecs. That is not justSBC, but also AAC (preferred by Apple devices), aptX and aptX HD, and LDAC.That last is Sony's own "high resolution" Bluetooth codec. In connecting tothese speakers, the phone confirmed thatit was using the aptX HD codec. But the speakers also work with standard aptX(available on many more Android phones) and AAC.
I also plugged a Chromecast Audio device into the Audioengine A5+ Wireless speakers to check out non-Bluetooth audio performance.
Ins and Outs
And that raises a question. There are three inputs – Bluetooth, stereo RCA and stereo 3.5mm – so how do you select between them? There's no switch on the speakers, and the remote only has volume, mute and sleep buttons.
Easy: all three inputs are on all the time. You can, if you're slightly insane, play three different things at the same time. The speakers will just mix all the sound in together. In practice, you will just stop one source from playing and start another in order to change inputs.
Audioengine says that the speakers have a wireless range of "100 ft +", which means somewhat more than thirty metres. My office isn't thirty metres long. So, I went outside and walked as far away as I could, which turned out to be twenty metres. No problems with that, even though there were a couple of walls between my phone and the left-hand speaker.
The speakers also have line level outputs so you can connect a powered subwoofer to enhance the bass.
Listening to the Audioengine A5+ Wireless speakers
I did a lot of listening to music with these speakers. It was across almost the full range: classical, rock, metal, folk. (But not Country and Western.) These speakers were extremely competent, far more so than their selling price would suggest.
For one thing, they had no difficulty in filling my office – around seven by five metres in size – with clean, undistorted sound. At more modest levels they produced finely balanced sound.
The Audioengine A5+ Wireless speakers very nicely rendered Rodrigo y Gabriela's live guitar performances in Manchester and Dublin. The speakers delivered a full body to his virtuoso guitar work, with the taps on the guitar body especially convincing. Stereo imaging was quite impressive.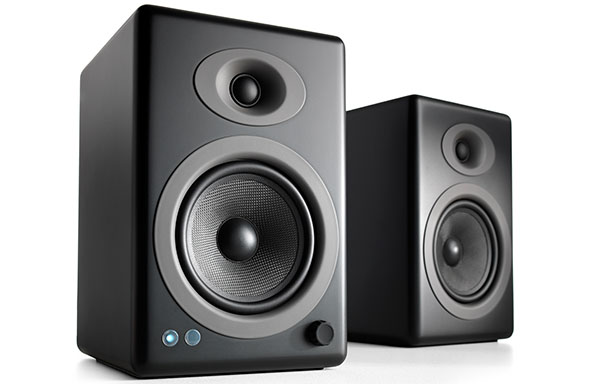 That one was via the Chromecast Audio device. Then I went to Pink Floyd's Animals, streamed via Bluetooth from my phone. The tonal balance was excellent, with even the kick drum solidly represented. Sometimes the kick did seem a little lazy, as though delayed by a few tens of milliseconds. That impression faded in and out, so I can't be entirely certain.
Playing UB40's Signing Off, some of the deepest bass was missing. These speakers don't go all the way down to 20 hertz, after all. But the bass that they did produce very satisfying.
I had the speakers on stands a good metre out from the rear wall. If you push them right up against a wall, the bass is likely to be a little stronger than perfectly balanced.
Some measurements
Measuring the output of the woofer up close, it peaked in the range between 100 and 250 hertz, which us upper bass territory. The output tapered away a little above that point and below it. The output from the rear port peaked at 59 Hertz.
Measuring from a distance of one metre –the traditional position – it seemed that the output extended all the way up to 20,000 hertz, although the treble was down by around 3dB compared to the upper bass. At 50 hertz the output was in line with the treble or 3dB down from the upper bass. That's a very creditable performance.
What's missing
There is one small feature I'd like to see added to the Audioengine A5+ Wireless speakers. The speakers already have a digital to analogue converter built in – it's a real one from a high-quality brand. All Bluetooth speakers use a DAC of course, but most Bluetooth speaker makers don't bother with something like an AKM AK4396.
Anyway, since it's there, it would have been nice to have an optical digital audio input. You could use it for a Chromecast Audio device and another network streamer. But also with TVs. Sure, most TVs can be plugged into one of the analogue inputs, but we went through a period a couple of years ago when some TV makers were trying to save costs by not including analogue audio outputs. So, if you wanted to use an analogue audio system for TV sound, you'd have to fork out for an external DAC.
Conclusion
The Audioengine A5+ Wireless speakers are a fine way to get real high fidelity sound from your phone. And they do that at a lowish price. Plus, you can add other functions thanks to the analogue inputs. They cost $699 in black or white, and $799 with a bamboo finish.
If you don't need Bluetooth, then the visually identical Audioengine A5+ speakers are available for $100 less.
The US website for the Audioengine A5+ Wireless speakers is here.
Good solid sound
High quality Bluetooth codec support
Excellent value for money