You can't always bring the biggest and most awesome pair of headphones with you, and if you want the best sound from your smartphone or media player, that means finding something smaller yet still awesome enough for your audiophile ears. One brand might have the solution though, and it's Australian made, too.
Features
Designed and engineered by musicians, AudioFly is an Australian company that wants to get across that it knows what musicians want.
That's the line being touted by many a headphone company lately, and we've certainly heard it from Beats by Dr. Dre and Soul by Ludacris to name but two. We suspect that a headphone experience closer to that of what the engineers and musicians intend is a constant in this industry, so all headphones are vying for this outcome.
Regardless, AudioFly intends to get this across in the AF78M in-earphones by offering dual-drivers in each ear, consisting of one 9mm driver and one balanced armature driver. Both of these sit inside an alloy housing connecting to either silicone or memory foam tips, of which there are varieties of each in the box.
The cable connecting the headphones is coated in Cordura, which is a type of waterproof nylon, with the length of this cable measuring 1.2 metres. The AF78Ms come with a small remote along the cable for pausing and playing music, and a tiny microphone on the cord for the left earphone.
A version of the earphones has been made without the remote and microphone which also, unsurprisingly, loses the "M" model variant (AF78).
AudioFly's package for the AF78M also comes with a small storage tin and several accessories, including a dual-prong airline adaptor, 3.5mm signal splitter to allow two pairs of headphones connecting to one source, and a small cleaning brush.
Performance
Audio is entirely subjective, which makes reviewing headphones difficult, especially since everyone has a different way of interpreting the sound.
First the comfort: while some earphones can often feel too angular, using the memory foam tips with the AF78M, these sit in the ear nicely. You'll want to press them in so the back of the earphone piece sits in the recess provided by the ear, and then they're quite a comfy fit. Silicone tips are provided in several sizes, but for us, the memory foam was more comfortable.
Audio comes next, and there is a decent amount of bass, plus a solid feeling from the mids and highs. While some headphones can sound like they're trying too hard to pack bass or treble in, the AF78s have a very balanced sound to them, almost to the point where it really does make you feel like you're plugged into a high quality pair of headphones.
While some headphones and earpieces struggle with different types of music, the AF78M doesn't seem to have a specific type of sound it has any issues with. In fact, it really plays the sounds just like the engineer has put down in, with no extra bass or treble changes, which we've seen in other cans.
You can hear that punch from tracks like Daughtry's "It's Not Over" where the guitar is meant to cry out, as well as Jimi Hendrix's "Voodoo Chile" from Electric Ladyland, with an immersive sound that makes you feel as if the guitars are sending waves into your eardrums.
That same strength from real instruments is extended into jazz tracks such as Trombone Shorty's "Buckjump," though with less attack and more balance across the parts of the band, similar to the overall comfort and equal sound we have from the Miles Davis classic "All Blues."
Pop and electronic music are just as balanced, and while you can hear the difference between specific electronic sounds in Imogen Heap's "Headlock," it is by no means as impactful as some of the rock tracks, which is a decision on the part of the original track, not the headphones. The sounds are distinct, though, and it never feels like it's all coming together in one big mess.
Even Carly Rae Jepsen's popular track "Call Me Maybe" sounds excellent, with the doof-doof beat not blowing out the eardrums while these earphones spot every sample in this overly-engineered track.
Simply put, the sound quality is among the best we've heard from in-earphones in the 78s, and regardless of what sort of music you're jamming through them, these headphones work a treat, providing you with the sound that was laid down in the first place. There's no extra oomphy bass in these, and from what we can tell, you're hearing what was meant for you to hear.
It's in the jack build where we take aim at AudioFly, which, within five days of playing with, decided to unglue itself and fall off.
The cord, on the other hand, is completely fine, and is soft, feels strong, but can be prone to tangles. We can deal with tangling, though, but the casing of the 3.5mm jack bugs us.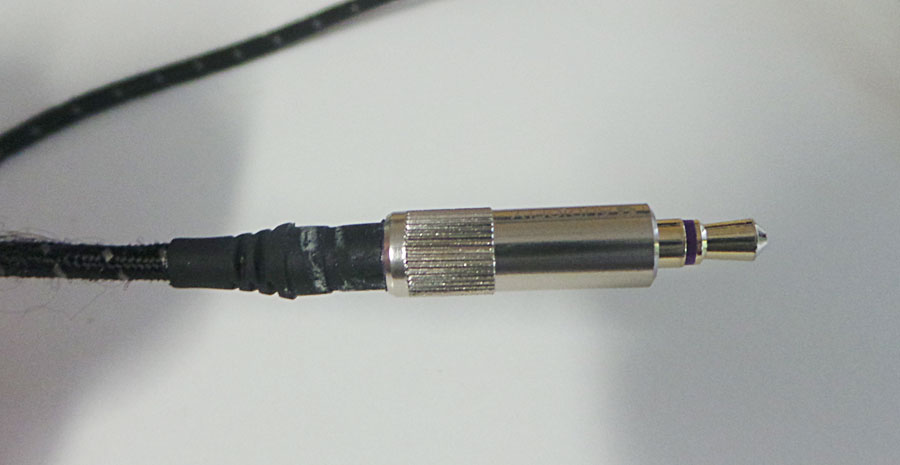 Sydney isn't exactly particularly humid right now, and these headphones were designed and developed in an even hotter part of the country – Western Australia – so we're a little surprised why the glue hasn't survived and the jack has fallen off. A quick look to Amazon where customers have been posting reviews reveals the same problem is affecting some of them, suggesting this isn't just a fluke with out headphones.
The fix is pretty easy: either push the socket protector back in place – it's a metal casing over a purple jack – and it will usually stay there, or you can just take it off and use it without the metal casing.
Conclusion
It's generally easy to find headphones that claim to bring you music the way the musicians intended: they're everywhere, and many of the brands seem to do this with tweaked drivers that emphasise bass or push the mids up where normally the highs would be overly tinny, but AudioFly's flagship earphones feel different.
There's a sense here in the AudioFly AF78 earphones that you're just getting the music and only the music, in the way it was put down and mastered on the disc or digital file, and that's important because for many of us, this is exactly what they want.
Could the build quality on some of the parts be improved? Sure, and that's the first area we'd have AudioFly look at for follow-up models, but if you're after some solid sound that doesn't over-emphasise, we'd be looking at these.
Good luck taking them out of our ears.
Well balanced audio; Corded cable feels very strong; Comes with plenty of tips; Extra 3.5mm jack separator and aircraft jacks are an awesome inclusion;
The metal jack covering isn't glued down well;