First, there was USB – 5V/500mA; then it crept up to 750mA, 1A and then 2A – now we have devices that need even more. Enter the 'huge ' Belkin USB-C 45W charger F7U010au
The Belkin USB-C 45W charger (F7U010au) is is no ordinary 5V charger – it has USB-C Power Delivery (PD) 9V, 12V and 15V as well so it will fast charge PD compatible devices like the MacBook, Pixel Chromebook, Samsung Galaxy Tab/Book, ASUS, Dell, Lenovo, HP and more.
We tested it with a huge range of devices – smartphones, tablets, laptops and older USB 500mA devices – all charged with aplomb as it meets USB-C intelligent power delivery.
It comes with a 1.8m USB-C to USB-C cable. You can get adaptors for USB-C to micro-USB so it can do headphones and more.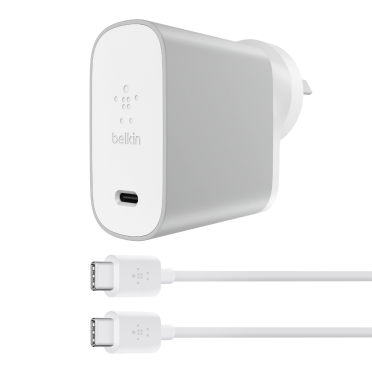 It comes with a $2,500 connected equipment warranty where Belkin will repair or replace electronic devices damaged by an electrical charge while properly connected to this charger.
GadgetGuy's take – Belkin USB-C 45W charger
One charger to rule them all.
Price:
$89.95
Pros
Fast charge any compatible device
Will work on legacy devices too
Belkin equipment warranty
8m cable
Only takes one slot in a power board
Cons
A little larger and heavier than the typical charger
You can read other GadgetGuy Belkin news and reviews here
Positives
One charger to rule them all
Negatives
A little larger than other chargers