First, there was USB – 5V/500mA; then it crept up to 750mA, 1A and then 2A – now we have devices that need even more. Enter Belkin's enormous 45W/3A USB-C F7U010au charger.
But wait there is more – this is no ordinary 5V USB charger – it has 9V, 12V and 15V as well so it will fast charge compatible devices like the MacBook, Pixel Chromebook, Samsung Galaxy Tab/Book, ASUS, Dell, Lenovo, HP and more.
So, we tested it with a huge range of devices – smartphones, tablets, laptops and older USB 500mA devices – all charged with aplomb as it meets USB-C intelligent power delivery standards.
It comes with a 1.8m USB-C to USB-C cable, but you can get adaptors for USB-C to micro-USB so it can do headphones and more.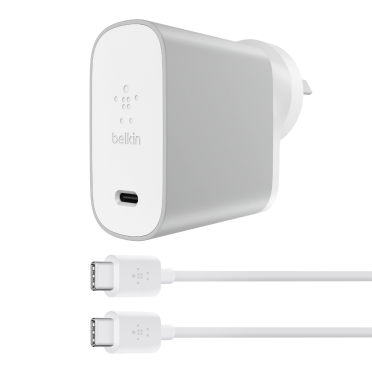 It comes with a $2,500 connected equipment warranty where Belkin will repair or replace electronic devices damaged by an electrical charge while properly connected to this charger.
GadgetGuy's take
One charger to rule them all.
Price:
$89.95
Pros
Fast charge any compatible device
Will work on legacy devices too
Belkin equipment warranty
8m cable
Only takes one slot in a power board
Cons
A little larger and heavier than the typical charger
One charger to rule them all
A little larger than other chargers