Home projectors are making a comeback during the COVID crisis. The BenQ TH585 is one of its more affordable 1080p projectors in the huge BenQ range including 1080p, 4K and large venue projectors.
We are looking at the BenQ TH585 which is one of six of its 2020 Home Entertainment Projector range. Ironically as we review this, BenQ is frantically trying to get more stock due to increased sales.
Why? Well, it is not just the BenQ TH585 but almost all models
A projectors attraction is a giant screen. If you have space, it can turn your home into a sports arena, a Pilates studio, gym or even a French countryside for cyclists. And there is nothing quite like a 100-200" blockbuster movie.
For example, the 16:9 (TV widescreen format) can easily extend up to 200" (5-metres diagonal) if you have a clear 6-metre projection distance. At the extreme, you can get 300" (7.6m) if you have 10m projection distance. Although as we found the sweet spot for brightness and resolution is somewhere between 100-150".
Because of the huge range, we will review this as part of an explanation of various projector terms.
Do I need a projector?
With 55-65" 4K TVs now from well under $1000 and top-of-the-range at <$5000 you would be right to wonder why projectors continue to exist at all.
It comes down to things like space, ambient light control, and ironically portability (for such a big image).
Space: You need at least a 3 metre, uninterrupted projection distance (100" screen)
Ambient light control – you need to have a darkened room – darker the better
Portability means instead of a hulking big heavy TV you want something you can pick up and move around
And on dollar-per-inch screen size, a projector is hard to beat.
BenQ has a buyer's guide here.
Is it as good as OLED or QLED TV?
No. Even the top laser 100-120" projectors don't quite have the same HDR/Dolby Vision image qualities, but they are not far off. In the right circumstances – e.g., a dedicated media room – a projector can provide a great viewing experience.
Review: BenQ TH585
Website here
Price: $1399 from Mwave and Videopro
Country of manufacture: China
BenQ is a Taiwanese company
Warranty: 2-years Australian ACL Warranty and 6mth/750hr lamp life
What is a Home Entertainment series projector?
Simply put it projects an image from a PC, Blu-ray, DVD, set-top-box, smartphone or more as long as these have an HDMI, HDMI/MHL, VGA or a USB drive.
The BenQ TH585 is a 1920 x 1080, SDR (standard dynamic range) and costs $1399. You can get 4K HDR a Home Entertainment series projector from $1795 to $2999.
This range sits below the CineHome, CinePro and CinePrime range. Call it a value projector.
Brightness
For some reason, projector makers quote brightness in ANSI Lumens. BTW 3.426 Lumens is approximately one nit. In my opinion, nits is a more consistent way to measure brightness at a TV screen or projector screen.
This has 3500 Lumens, and it defaults to 50% brightness (you can increase that). That is about 1000/500nits. Do not get me wrong – that is a lot of nits – a top TV may reach 800-1000 nits (more in small patches if they are Dolby Atmos/HDR10+ certified).
Back to nits (approximate)
Pitch black <50
Dusk to Night 100-200
Indoor, daylight (daylight ambient) 200-500
Ambient indoor office lights 400-500
Indirect sunlight (in the shade) 500+
Task lighting 700-1000
Outdoor daylight >1000
The reality is that this projector cannot defeat ambient office light or greater. You really need to use it in a darkened room or ramp up the brightness – but that washes out the colours and shortens lamp life.
So, this is fine for night use where you can control light but in no way is it a day/office light device.
You can read more from Ti – the makers of DLP projector engines here (it is a PDF). In essence, Ti says the 3000/1500 lumens produces a 100/200 nit brightness at 120" diagonal image size.
Another interesting read is from BenQ here. Not surprisingly, it agrees with my summation above. While BenQ would like the projector industry to stop quoting crazy figures, it is fighting a long and lonely battle.
Contrast
Contrast is the difference between 100% black and 100% white. The higher the black level, the lower the contrast. Most projector makers (and therefore BenQ) quote Contrast Ratio as FOFO (Full on/Full-Off at the light source). It is not the same as at the screen where ANSI Contrast takes into the projection optics, average contrast over the image and other things like the screen efficiency into account.
I strongly suggest you read BenQ's take on FOFO and why it must use that measurement here. Hint – it does not support FOFO measurements, but it has to use them to remain in the ballpark.
This is a 10,000:1 FOFO and at the best guess it is more like 1,000:1 at the screen which is a little lower than a good 1080p IPS monitor.
And that is a perfect segue into a screen.
A good screen and ambient light control are essential
If you project onto a painted wall, curtains or blinds, you will get an inferior image. These surfaces absorb light. You would have to saturate it with a lot of Lumens to get a good daylight image. They are fine in the dark!
Hidden under the Display menu is 'Wall Colour' and it can change the colour gamut to compensate for wall colours – Off/Light Yellow/Pink/Green/Blue. This makes quite a difference, although at the expense of colour purity.
A proper projector screen is satin (between matte and gloss) white to minimise reflections. It has a gain factor of at least 1.0. In other words, if you throw 3500 Lumens, it will reflect 3500 Lumens.
Typically, a 100" screen will cost $700-900 and a 120" $900-1100 – motorised screens cost about $300-500 more.
Or you can try projector screen paint (we have not tried this). This paint needs to be latex-based, satin, neutral white (before any pigments).
The trick here is to ensure the surface is absolutely smooth and ideally applied via spray paint (to avoid mottled roller finish). SmarterSurface has it at A$138 to cover about 6m2. It states a gain factor of 1.0 and a viewing angle of 140°. If you have the right wall and light control, then it could be a low-cost option. It also has a Pro version (two-coat – primer and paint) that has a gain of 1.1 for $215.
So, you are not just buying a projector but a screen as well.
Ambient light control is the ability to reduce light in the viewing area to below 200 nits so that the projector can be brighter.
BenQ has an article on screen types here.
Image adjustment
The projector can cast an image from the front (desk height or flip it over for ceiling mount) or from behind a screen. It has a +/-20° digital lens shift (shift the image up or down) and a grid test pattern to make sure things are straight.
There is also keystone adjustment if you need to straighten the sides.
Sound
The unit as a 10W mono speaker and while it can reach over 70dB it has limited fidelity (more for voice) and high distortion at volume. It is the one disappointing feature for this 'home entertainment' projector.
Depending on what you use this for you are going to need at least a 2.0 or 2.1 soundbar.
We tried with a JBL Bar 2.1 ($549), and it added that necessary movie gravitas. It would be OK with a JBL 2.0 ($279.95) for general free-to-air TV and entertainment use (connected to a set-top-box).
The projector has 3.5mm stereo audio in and out ports. It also attaches via HDMI to the soundbar and your content device.
Colour
Colour depth is 30-bits – 1.07 billion colours. BenQ claim 95% Rec.709 for 1080p standard dynamic range HDTV. Rec.2020 and DCI-P3 have replaced this for 4K, HDR. So, while 95% sounds good, it is probably around 70% of DCI-P3.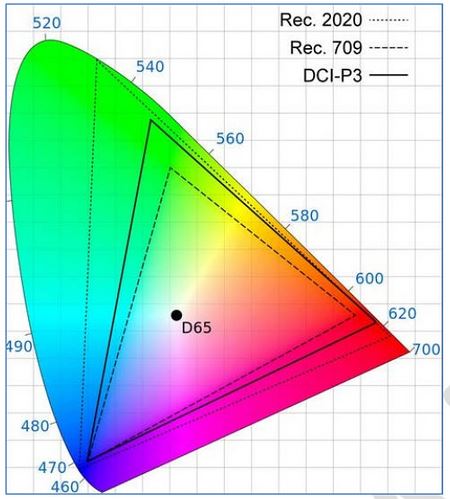 BenQ has pre-sets for Bright/Living Room/Cinema/Sports/ Game/User1/User2 that allows you to adjust colours to suit your taste. We all like saturated colours, even if they are not entirely accurate. But wait – you can actually adjust colour temperature and hue (if you know what you are doing otherwise there is a handy 'reset all' option). This is 'calibratable' if you have Calman software and a camera.
Colours are remarkably good given it is a 1080p SDR, DLP projector. But the colours are no match for an OLED or LED/LCD TV. It comes down to expectations, and this meets my expectations as a general entertainment device.
Gaming
BenQ claims a 16ms response time (not specified if it is G-t-G) which should be fine for console gaming. It has a game mode that tries to give some HDR quality to SDR images and can help to reduce tearing.
Power
Our EmberIQ meter showed a 200W power draw in 50% eco mode –340W at the maximum draw. At peak/shoulder rates, that is a few cents per hour.
The 5J.JHH05.001 bulb is user-replaceable. You can buy a lamp from BenQ $219. Lamp life (expressed as 50% of original brightness) and use (based on 4 hours per day) is
Normal 4,000 hours (2.7 years)
Eco 10,000 hours (6.8 years)
SmartEco 8,000 hours (5.5 years)
LampSave 15,000 hours (10.2 years but no one uses this!)
While it is fan-cooled, the ambient noise never went above 32dB.
Ports
VGA D-sub in
VGA D-sub out (attach a monitor)
HDMI IN
HDMI/MHL IN (attach a smartphone with video out)
3.5mm Audio in
3.5 mm audio out
Remote management RS232 DB-9
GadgetGuy's take – BenQ TH585 2020 Home Entertainment Projector is not bad at all
I decided to do this review (instead of our AV expert Thomas Bartlett) more to refresh my understanding of where projectors are at.
In my business life (from 1979!) I bought many 'data' projectors, and it is fair to say that all I looked at was ANSI Lumens and 'apparent' colour quality! The latter test was to compare the basic CMYK colours using a primary colour coded Excel spreadsheet. If yellow/green/red/black on the PC monitor was a close match to yellow/green/red/black on the projected screen, then it was good enough for me.
I have to say that early BenQ projectors using the original Ti DLP single-chip had 'ghastly' colours, and I eventually settled on way more expensive Sony 3LCD projectors.
But things move on, and it is a pleasure to say that the 2020 BenQ TH585 using the latest Ti-DLP chip and its 6X, 2-speed colour wheel is a great performer.
Although it is not the model, I would buy if I had more funds. I think that its time to move to 4K and as such the TK800M or TK850 at $1795/2999 have more appeal. But also remember the extra cost of a screen, a better sound system and light control.
You can see some of GadgetGuy's BenQ review here.
Decent value for 1080p SDR performance
Game mode improves motion tearing
Use it in darkened rooms despite what marketing may say!